Khloé Kardashian Shows Off Her New Waist Trainer at the Gym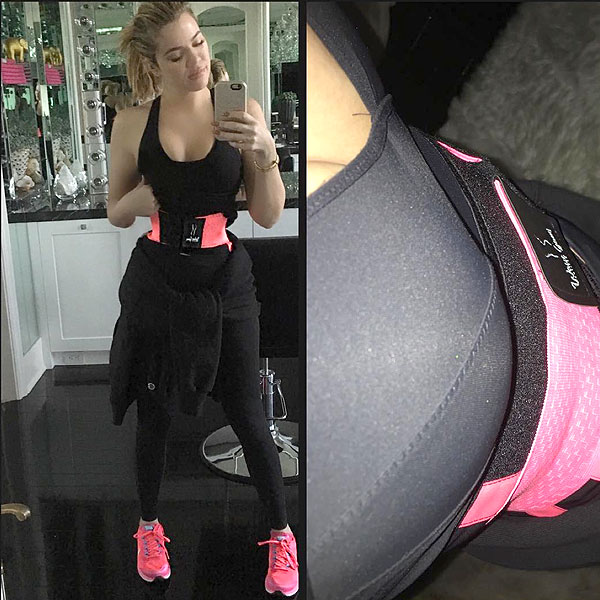 Courtesy Khloe Kardashian
What's better than a waist trainer for your workouts? A hot pink one that perfectly coordinates with your outfit!

Khloé Kardashian posted a gym selfie on Instagram Monday morning as she worked out wearing her new waist trainer.
"Finally! @premadonna87 @waistgangsociety is giving me what I have been missing!!!" she captioned the post. "The sweat band is a super easy comfortable band that I can wear while I'm working out. This band makes me sweat more in our tummy area so it give me that extra boost when I'm feeling a little bloated. I love how my posture in the gym is even better due to wearing it. The support is incredible!!!"
"Don't cheat ya self. Treat ya self!!!"
RELATED: Khloé Kardashian's Insane Fitness Closet Cannot Be Missed
The Keeping Up With The Kardashians star, 31, is a well-documented fan of waist training. "I'm obsessed with the gym but a little extra help never hurt nobody," she wrote in an earlier post.
Kardashian recently talked about how going to the gym helped her maintain her sanity as she kept a vigil by estranged husband Lamar Odom's bedside.
"I had such anxiety going to the gym, but as soon as I left, and Kendall and I worked out with my trainer, I felt like, 'Oh my god, I'm okay. I'm a human again!' " she said.
But now she's back on her regular workout grind, which she says has helped her drop 35 lbs.
The gym queen even posted tips on her blog for staying fit during the holidays, while still enjoying them.
"DO indulge!" she says. "I eat what I want—in moderation. It's all about small portions. That way I feel good, I eat what I want and I enjoy the holiday. I don't want to feel like I can't eat a cookie if I want a cookie! Making sure it's just one cookie, though, keeps me from feeling guilty about it."
RELATED: Khloé Kardashian Opens Up About Her Diet Transformation: 'I Was a Mindless Eater. I Ate When I Was Unhappy'
"DO prepare some easy, at-home workouts if you're traveling and can't get to the gym," Kardashian adds. "You can do squats and planks ANYWHERE, so don't tell me you can't squeeze in a quick workout! I always pack a jump rope in my suitcase, too. It's just light and easy."
-Julie Mazziotta