13 Terribly-Terrific Thanksgiving Pinterest Fails We Are Eternally Grateful For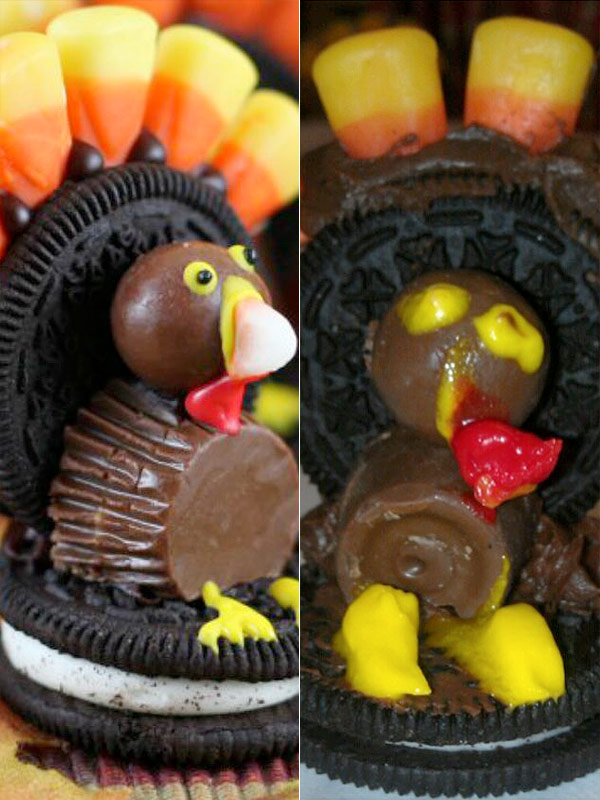 Courtesy Pinterest
While we're partial to the beautifully roasted turkeys, perfect pies and mounds of leftovers that come with Thanksgiving, we'd also like to give thanks for Pinterest fails.

The fall feast prompts bakers, home cooks and Pinterest fanatics to craft every food imaginable into the shape of the turkey. Most of those attempts are met with success, while others (lucky for us) sadly result in failure.
RELATED: 18 Thanksgiving Desserts That Aren't Pie
From lopsided Oreo balls to crudité that's less inviting than a live turkey, take a peek at some of our favorites.
CINNAMON BUN TURKEYS

Okay, so these breakfast treats look a little cock-eyed, but cinnamon rolls and bacon are still an unbeatable combo.
TURKEY CRUDITÉ
Raw vegetables have never looked so…evil.
PUMPKIN PIE COOKIES

We think it's safe to say these treats prove pumpkin pie is better left in its original form.
RELATED: Follow PEOPLE Great Ideas on Pinterest
TURKEY OREO BALLS
Crafting small details like turkey eyes and beaks out of icing is clearly not this Instagram user's forte.
CANDY TURKEYS

These gummy globs read more bug-like than bird-like.
APPLE ROSES

Not even a heavy dusting of powdered sugar would save this user's failed attempt at the gorgeous fall dessert.
RICE CEREAL LOLLIPOP
The face on this taste tester says it all.
LEAF JAR
Instructions for a crafty candleholder led this Instagram user to believe she could use real leaves. Turns out '#itlied,' she wrote.
APPLE TURKEYS
"My poor attempt at apple turkeys. Forgot the beaks," wrote this user. But we're not sure that's all they missed.
PRETZEL TURKEYS

Following instructions was obviously not top of mind for this sweet and salty lover.
PUMPKIN DEVILED EGGS

"You miss 100% of the shots you don't take," wrote this optimistic Instagram user. We'd urge him to keep shooting.
CARAMEL APPLE CAKE
There's no way this confection's presentation is any reflection of its taste. Salted caramel + apple + Snickers = perfection.
OREO TURKEY

This user's craftsmanship could use some work but she gets an A+ for overall effort.
RELATED: 14 Thanksgiving Treats Almost Too Adorable to Eat
—Ana Calderone, @anacalderone