Chef Kenny Gilbert Blogs: Spice Up Your Weekend Tailgate with This Easy Seafood Boil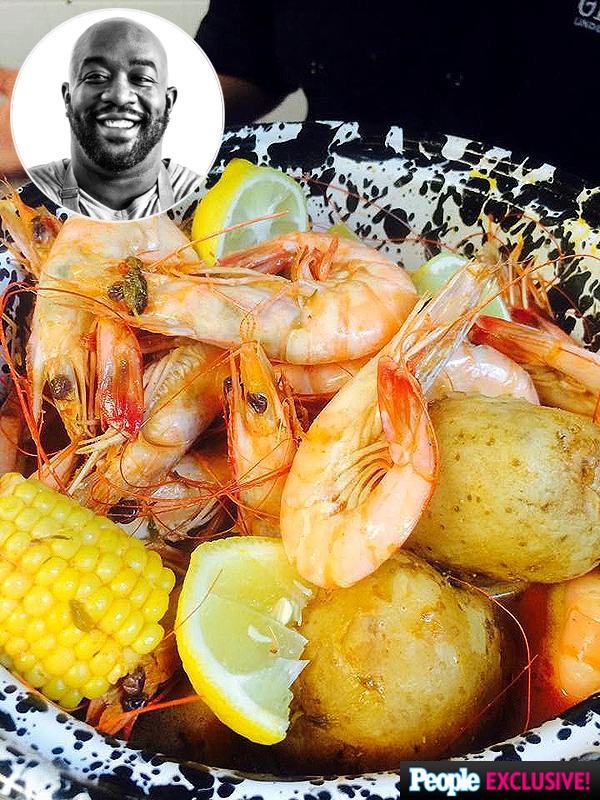 Gilbert's Underground Kitchen; Agnes Lopez
To celebrate Super Bowl 50, we've partnered with Taste of the NFL and their chef partners all season long. The charity helps to raise awareness and funds via the season-long Kick Hunger Challenge. For more information or to donate to your favorite team's city, visit their website, and be sure to check PEOPLE.com every Thursday for a new game day recipe from your favorite celebrity chefs. Here, Chef Kenny Gilbert gives us his recipe for Shrimp and Crab Seafood Boil.
This shrimp and crab boil is great for game day entertainment because it's a fun, interactive conversation starter all on its own.

It's an easy one-pot recipe that has loads of great flavor. The best part? You can make it all beforehand, then spend the game watching the excitement and chowing down on succulent seafood.
RELATED: Wolfgang Puck's Beer Can Chicken Recipe Is What Your Tailgate Needs
Shrimp and Crab Seafood Boil
Serves 6
2 qt. chicken ctock
2 qt. shrimp stock
2 cup lemon juice
1 cup cajun spice
½ cup minced garlic (store brought jar)
½ cup granulated garlic
½ cup soy sauce
2 tbsp. salt
4 tbsp. scallions, diced
2 lbs. shrimp, head on
2 lbs. snow crab legs
4 each red bliss potatoes
2 ears corn, shucked and cut into thirds
2 links andouille sausage, cut in half
1. In a large pot, combine stocks, lemon juice, cajun spice, chopped garlic, granulated garlic, soy sauce and salt to make the broth. Bring to a boil.
2. Add potatoes, corn and sausage to the broth and cook for 20 minutes or until potatoes are tender. Continue cooking and add the crab legs to the broth and continue cooking for 3 minutes,  then add shrimp to the broth and cook for 4 more minutes.
3. Strain the seafood, vegetables and sausage out of the broth and place into a large serving platter or pot.
4. Pour 8 oz. of spiced garlic butter over seafood (recipe below). Garnish with scallions and serve with lemon wedges and remaining garlic butter.
RELATED: The Best Concessions from Every NFL Stadium in the Country
Spiced Butter
1 lb. butter
¼ c. minced garlic
3 tbsp. cajun spice
¼ cup granulated garlic
1 cup lemon juice
¼ c. soy sauce
1 tbsp. salt
Combine all ingredients into a pot. Bring to a simmer, stirring often, and cook for 10 minutes. Remove from heat and reserve until ready to serve.
RELATED: Alex Guarnaschelli Blogs: Win Taco Tuesday with These Garlic Shrimp and Avocado Tacos