What's the Super-Simple Secret to a Juicy Thanksgiving Turkey? Chef Wylie Dufresne Has Answers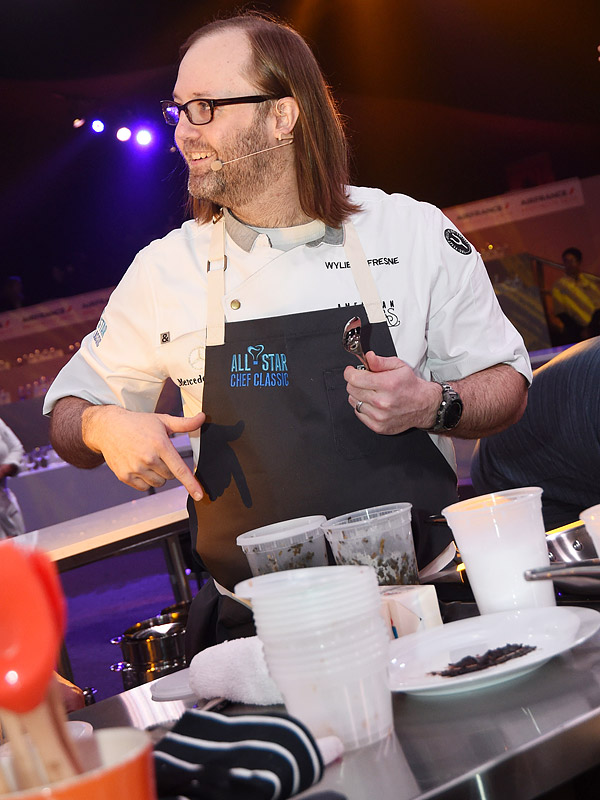 Adam Pantozzi/Bernstein Associates, Inc./Getty
It's easy to get wrapped up in the brining vs. anti-brining debate (these chefs certainly have thoughts on it), but the secret to a moist turkey may be far simpler…and have more to do with what you do with the bird after you cook it.
"The most important thing with turkey is to let it rest — most people don't let it rest long enough," chef Wylie Dufresne told PEOPLE at his Strongbow Hard Apple Ciders dinner in New York City. "It will get juicier the longer you let it rest."
RELATED: Emeril Lagasse, Mario Batali and More Chefs Answer Your Thanksgiving Cooking Questions
Dufresne, a prominent figure in the molecular gastronomy movement and chef at the now-closed restaurant WD-50, considers himself a master carver.
"I'm always happy to help carve. I use a carving fork and a knife. First you take the legs and thighs off. Then you take the breast off and then slice the breast," the chef said of his technique. His other Thanksgiving contribution? "I pull corks. I am happy to bring all the alcohol to your house if you want me over for dinner, but I don't want to cook anything."
RELATED: How to Cook the Most Awesomely #Basic Thanksgiving Spread
Dufresne is enamored with his mother-in-law's "Pepperidge Farm-style" stuffing — "if it ain't broke, don't fix it" — and likes to fool around with it for brunch the next morning.  (There are usually quite a bit of leftovers, as she makes a whole extra batch just for him, he said.)
"For breakfast, I like to form the stuffing into a patty and sauté it with a fried egg on it," he said. "Turkey hash is also great for leftovers."
RELATED: 12 Epic Turkey Sandwiches to Make with Your Thanksgiving Leftovers
As for leftover mashed potatoes — one of the trickier leftovers to re-imagine — he doesn't over-think it.
"I would take some and fold a lot of gravy into it, so it's neither gravy nor mashed potato. It has a life there."
—Maria Yagoda, @mariayagoda