How Ian Ziering Stays in Shape for the Sharknado Movies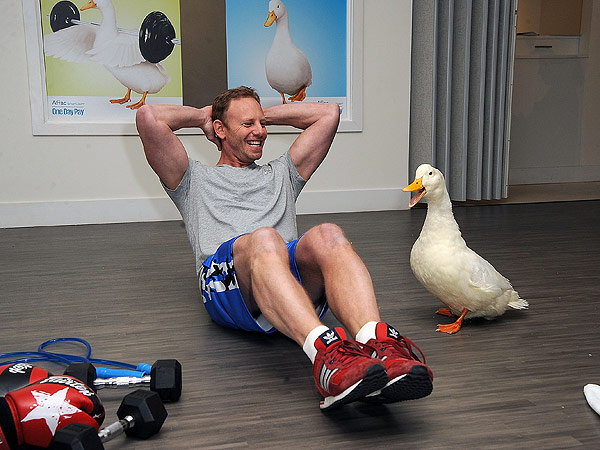 Chance Yeh/FilmMagic
There are two things that help actor Ian Ziering maintain a proper body composition: healthy diet and leg day.

"Leg day is my favorite day," Ziering, 51, told PEOPLE. "You can't have a thorough leg workout without feeling completely spent. It's a challenge, but the benefits of maintain muscle mass on my legs is important because, as the biggest muscle group in the body, it also helps me keep the proper body composition in terms of fat to muscle ratio."
Typically, the Sharknado actor focuses on one muscle group a day and tries to workout as often as possible.
"Ideally, it would be five days a week, spending at least an hour at the gym doing cardio three of those days and resistance training all of those days. My cardio is typically interval training," Ziering said.
Although, he enjoys all of his workouts, he says arms day isn't as fun as all of the others. "It's just that there's not a tremendous amount of variation you can do for biceps."
Being vigilant about what he eats is also a crucial part to the Beverly Hills, 90210 alum's fitness regimen. He insures he eats several times a day while avoiding bad carbs and only eating "good quality proteins."
This holiday season, Ziering, teamed up with Aflac to lead an ultimate training day. The event, which featured the Aflac duck, was meant to encourage people to workout while enjoying all of this season's delicious offerings, and to do so safely.
Ziering, father to Mia Loren, 4, and Penna Mae, 2, definitely doesn't plan on denying himself during the holidays.
"I just had a fantastic turkey dinner with all of the trimmings. My wife didn't hold back with the string bean casserole and sweat potatoes casseroles and all of that," he said. "But, I paid the tax in the gym. I enjoy the holidays, but I'm back to work pretty quickly."
— Chancellor Agard, @chancelloragard