Wolfgang Puck Blogs: My Easy, No-Fuss Recipe for Fall-Off-the-Bone Ribs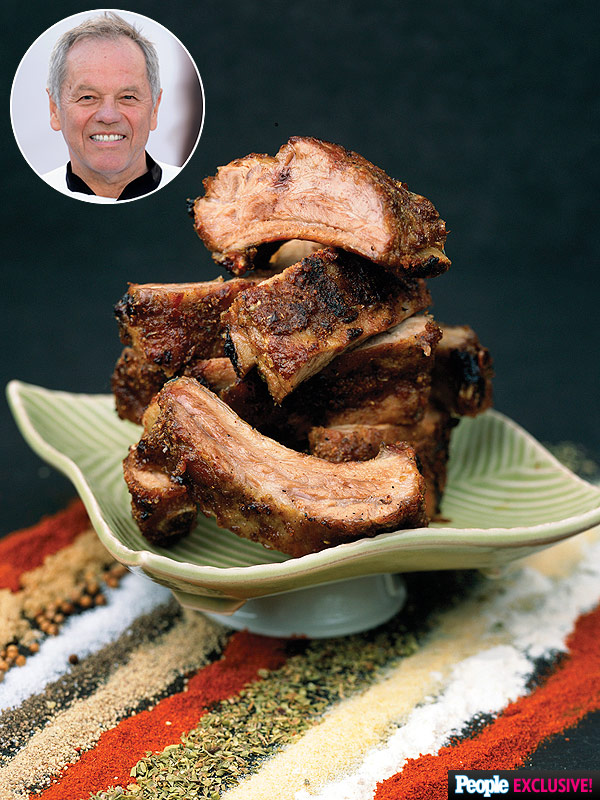 Eric Stringer/Getty; Starbucks
To celebrate Super Bowl 50, we've partnered with Taste of the NFL and their chef partners all season long. The charity helps to raise awareness and funds via the season-long Kick Hunger Challenge. For more information or to donate to your favorite team's city, visit their website, and be sure to check PEOPLE.com every Thursday for a new game day recipe from your favorite celebrity chefs. Here, Chef Wolfgang Puck gives us his recipe for BBQ Pork Ribs.
Game day should always include ribs, and these are perfect for a tailgate. Not only are ribs great for a group, but this recipe has a spicy dipping sauce that gives it an extra kick.

RELATED: Wolfgang Puck's Beer Can Chicken Recipe Is What Your Weekend Tailgate Needs
Pork Back Ribs with Spicy Dipping Sauce
4 tbsp. brown sugar
4 tbsp. onion powder
4 tbsp. garlic powder
4 tbsp. dried thyme
4 tbsp. dried oregano
2 tbsp. mild paprika
2 tbsp. hot paprika
4 tsp. cayenne
4 tsp. ground coriander
2 tsp. black pepper
2 tsp. white pepper
2 tbsp. kosher salt
2 racks of back ribs, membrane removed
Olive oil
¼ cup apple cider vinegar
2 tbsp. honey
1 red jalapeno, seeded and minced
1 tablespoon chopped fresh oregano leaves
1. In a bowl, mix together first 12 ingredients to make a seasoning rub. Sprinkle ½ cup of the rub on the ribs (reserve the rest for future use) and rub in well with your hands. Cover and refrigerate for 1 hour or overnight.
2. For spicy dipping sauce: In a small bowl, combine the vinegar, honey, jalapeno, oregano, and season with salt and whisk well. Reserve in the refrigerator.
3. Preheat the grill on high. When the grill is very hot, turn off 1 side, or push the coals to 1 side, keeping only 1 side hot. Place the ribs, fattier side down, on the cooler side of the grill and close the cover. Cook until browned, about 20 minutes. Turn the ribs over and continue to cook until the bones wiggle easily when twisted, about 1 1/2 hours, turning every 20 minutes or so. Remove from the grill and let rest for 10 minutes before slicing. Slice the ribs into desired size and serve with the spicy dipping sauce.