These 5 Celebrity Signature Cocktails Will Keep Your Holiday Guests Buzzing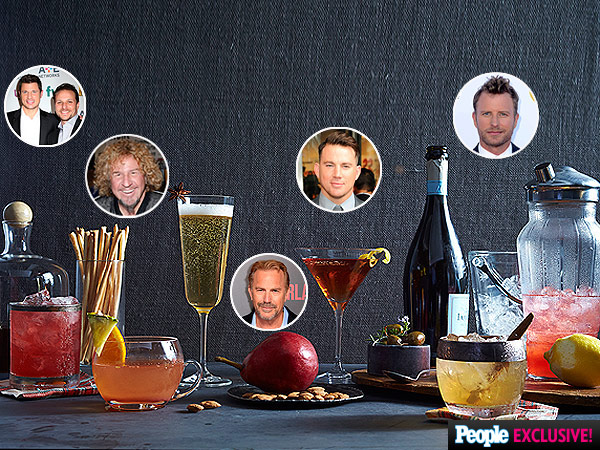 Hector Sanchez
If you're looking for a unique cocktail to get your party started this holiday season, these celebs have got you covered.

With everything from a cranberry-spiked tequila twist on a martini to a festively fizzy champagne cocktail that's perfect for ringing in the New Year, these drinks are easy enough to whip up on short notice but fancy enough to make everyone think you're a genius mixologist.
RELATED: One, Two, Punch! The Best Big-Batch Cocktails for a Party
Get the recipes below from Nick and Drew Lachey, Channing Tatum, Sammy Hagar, Kevin Costner, and Dierks Bentley, each of whom owns a bar serving these boozy concoctions for holiday patrons. Each recipe makes 1 drink, so you can make adjustments based on how many thirsty guests you've got.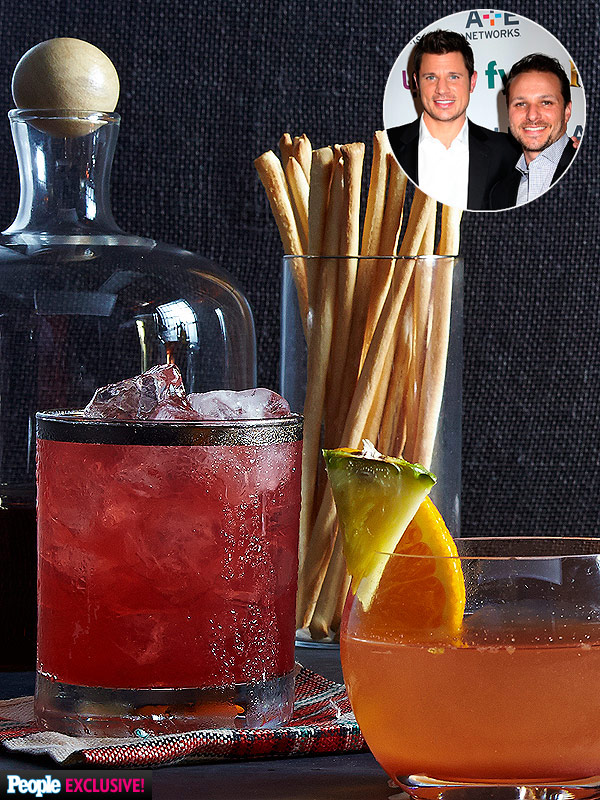 Hector Sanchez; Greg Allen/Invision/AP
Nick & Drew Lachey's "The Gift"
A sweet-and-spicy cranberry concoction from Lachey's bar in Cincinnati
1 cup sugar
1 (8-oz.) bag fresh or frozen cranberries
6-8 whole cloves
1½ oz. spiced rum
½ oz. lemon juice
1 dash orange bitters
To make cranberry syrup, bring 2 cups water, sugar, cranberries and cloves to a boil in a small saucepan. Reduce to simmer and cook for 15 minutes. Let cool and strain. (Store leftover syrup in an airtight container in the fridge.) In a shaker filled with ice, add rum, ¾ oz. cranberry syrup, lemon juice and bitters. Pour into an ice-filled glass.
RELATED: Look Inside Nick and Drew Lachey's Sports Bar (PHOTOS)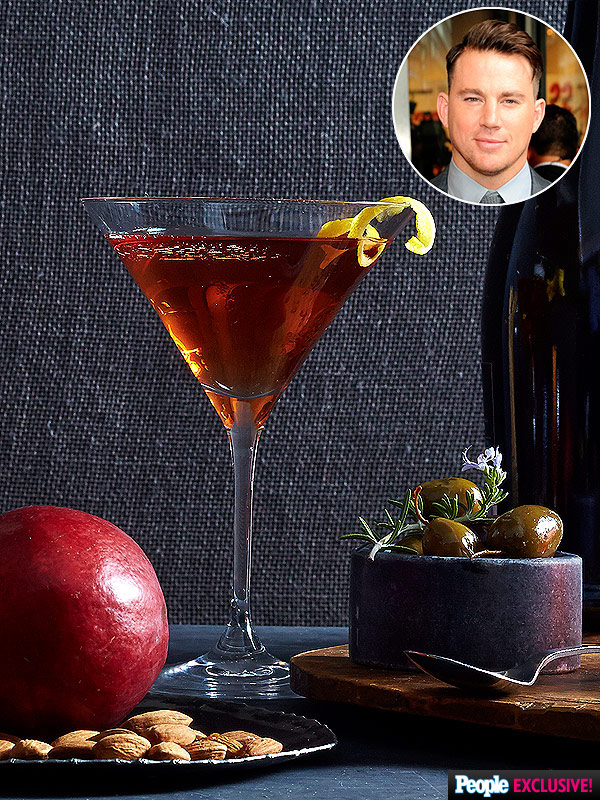 Hector Sanchez; Catherine Nance/Sipa USA
Channing Tatum's "The Sin 'Tini"
A surprisingly smooth twist on a martini from Saints & Sinners in New Orleans
2 oz. tequila
1 oz. apple juice
1 oz. cranberry juice cocktail
Pinch of cinnamon
Lemon peel, for garnish
In a cocktail shaker filled with ice, shake all ingredients except lemon peel. Pour into a martini glass and garnish with lemon peel.
RELATED: We Tried It: Channing Tatum's Peanut Butter, Jelly and Cheetos Sandwich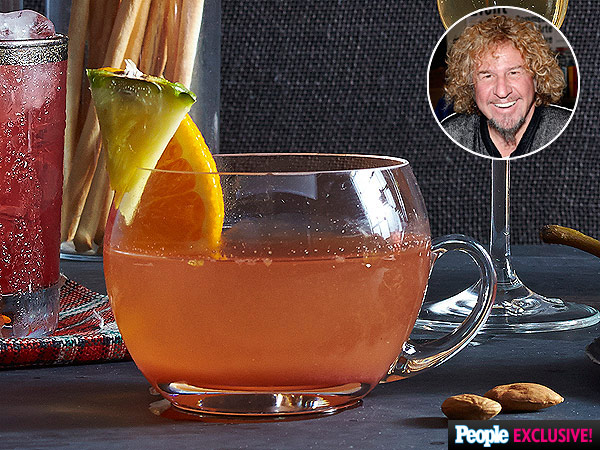 Hector Sanchez; Paul Archuleta/FilmMagic
Sammy Hagar's "Maui Rocker"
Spring-break-in-a-glass from Cabo Wabo Cantina in Cabo San Lucas, Mexico
1½ oz. rum
1½ oz. pineapple juice
1 oz. sour mix
½ oz. orange curaçao
¼ oz. grenadine
Orange wedge, for garnish
Add first five ingredients to a cocktail shaker filled with ice. Shake and strain into an ice-filled punch glass. Garnish with orange wedge.
Adapted from Hagar's book Are We Having Any Fun Yet?
RELATED: Sammy Hagar's Spicy Tequila Shrimp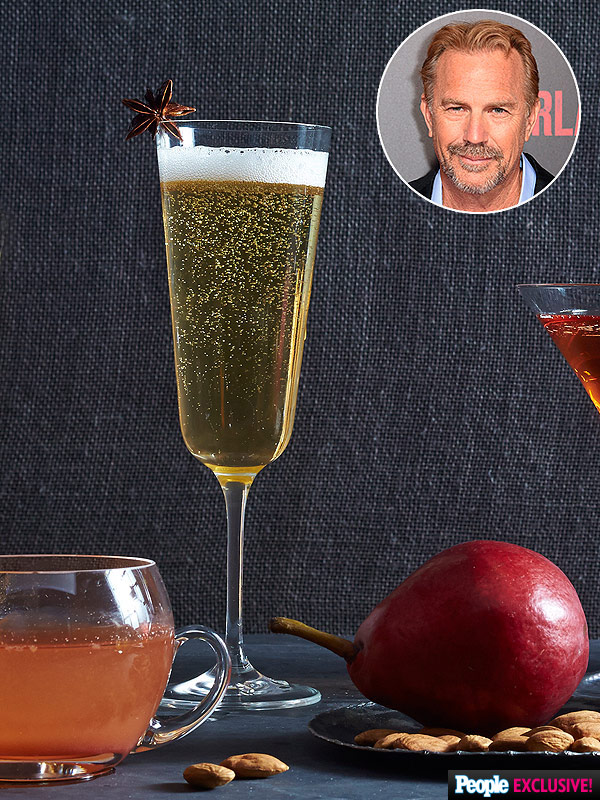 Hector Sanchez; Rob Latour/REX USA
Kevin Costner's "The Star"
An almond-kissed aperitif from Diamond Lil's in Deadwood, South Dakota
1 oz. chilled amaretto
2 dashes bitters
3 oz. chilled prosecco or champagne
Star anise, for garnish
In a champagne flute, add amaretto and bitters. Fill to top with prosecco and garnish with star anise.
RELATED: Get the Recipe for Jennifer Lawrence's 'Favorite Cocktail' from Vanderpump Rules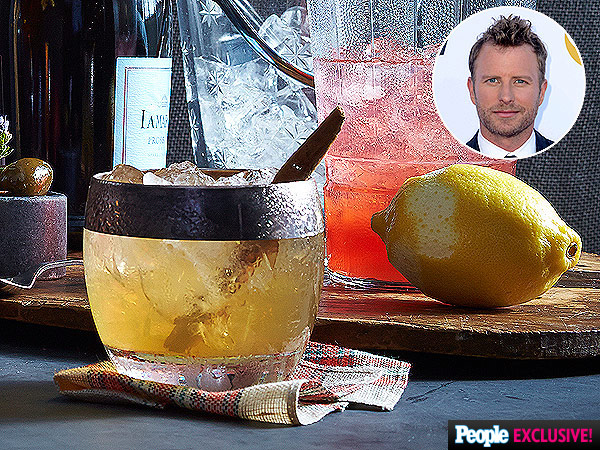 Hector Sanchez; C Flanigan/FilmMagic
Dierks Bentley's "The Dierks Dram"
An updated take on the old-fashioned from Whiskey Row in Scottsdale, Ariz.
½ cup sugar
3 cinnamon sticks
2½ oz. bourbon
½ oz. lemon juice
To make cinnamon syrup, bring sugar, 2 cinnamon sticks and ½ cup water to a boil in a small saucepan. Reduce to simmer and cook for 15 minutes. Discard cinnamon sticks and let cool. (Store leftover syrup in an airtight container in the fridge.) In a cocktail shaker filled with ice, add bourbon, 1 oz. cinnamon syrup and lemon juice. Shake well and pour into an ice-filled rocks glass. Garnish with cinnamon stick.
—Shay Spence, @chezspence