RECIPE: Curtis Stone's Giftable Granola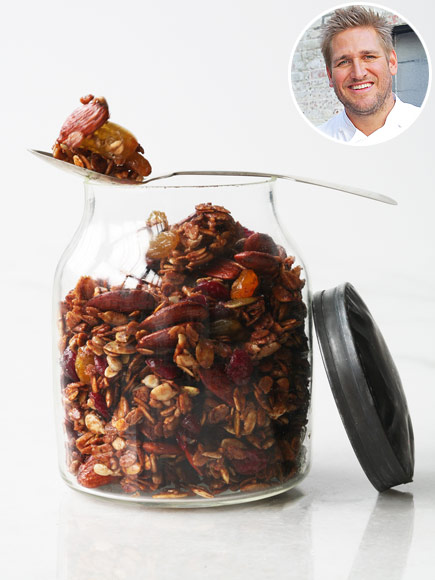 Quentin Bacon; Inset: REX/Shutterstock
Curtis Stone's Giftable Granola
Makes 7 cups
½ cup pure maple syrup
¼ cup (packed) golden brown sugar
¼ cup (½ stick) unsalted butter
2 tsp. finely grated orange zest
2 tsp. ground cinnamon
¼ tsp. ground cloves
2 cups rolled oats
1 cup shelled pumpkin seeds
1 cup shelled sunflower seeds
1 cup whole almonds
Nonstick cooking spray
½ cup dried cranberries
½ cup golden raisins

1. Preheat oven to 350°F. In a small heavy saucepan, stir maple syrup, brown sugar, butter, orange zest, cinnamon, and cloves over medium heat for about 5 minutes, or until sugar dissolves and mixture comes to a simmer.
2. In a large bowl, toss oats, pumpkin seeds, sunflower seeds, and almonds with syrup mixture to coat. Spray a heavy large baking sheet with nonstick spray. Transfer oat mixture to baking sheet, forming an even layer.
3. Bake for 20 minutes, stirring occasionally, or until mixture is dry. Stir in cranberries and raisins. Continue baking for 10 minutes, or until granola darkens slightly. At this point, granola will still be soft, but becomes crunchy when cool. Cool granola completely.
4. Break granola into pieces and store in an airtight container.