RECIPE: Rocco DiSpirito's 'Pappardelle' of Chicken with Winter Pesto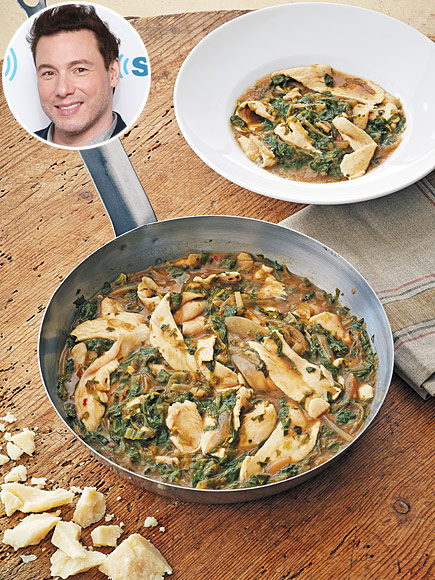 Flavorworks Inc.; Inset: Taylor Hill/Getty
"The Italian word pappardelle derives from the Italian verb pappare, to gobble up — which is exactly what you'll do with this dish," DiSpirito says. "As I was contemplating how to create it, it occurred to me: Why not make noodles out of the protein? Thinly sliced chicken cooked quickly makes a wonderful stand-in for the rustic pappardelle-style pasta."

"Dressed with nutritious escaroleand a hint of winter spices, this recipe will not only bring you down from carb overload but energize you with a protein punch."
Rocco DiSpirito's "Pappardelle" of Chicken with Winter Pesto
From The Negative Calorie Diet by Rocco DiSpirito
Serves 4
Olive oil cooking spray
6 cloves garlic, chopped
Dash of cinnamon
Dash of paprika
Crushed red pepper flakes
1 cup fresh basil leaves
1 small onion, thinly sliced
8 cups finely chopped escarole
4 cups unsalted chicken stock
12 oz. boneless skinless chicken breast, sliced lengthwise into ¼-inch strips
1 oz. Parmagiano-Reggiano cheese, finely grated
1. Bring 2 quarts water to a simmer in a medium pot.
2. Lightly coat a medium skillet with cooking spray and place over medium-high heat. Add the garlic and cook until golden brown. Add the cinnamon, paprika, red pepper flakes, basil, and onion, and cook until onion has softened. Add the escarole and cook until it had wilted and softened, another 2 minutes. Add the stock, bring to a simmer, cover, and cook until tender, about 5 minutes.
3. Add a pinch of salt to the simmering water. Turn off the heat and add the chicken and stir so that all the strips are separated.Cook just until the strips have turned white; they will be half-cooked. Transfer to a plate to cool.
4. Check the escarole mixture: You want to cook it until most of the stock has evaporated and it looks like a thick soup or sauce, then turn off the heat. Stir in half the cheese and season with salt to taste. Add the chicken strips, toss to coat and continue to cook until cooked through, about 90 seconds. Spoon the mixture onto four plates and top with remaining cheese.