Kathy Griffin's Food Diary: What I Eat in a Day (Sugar-Free Gum and Red Bull)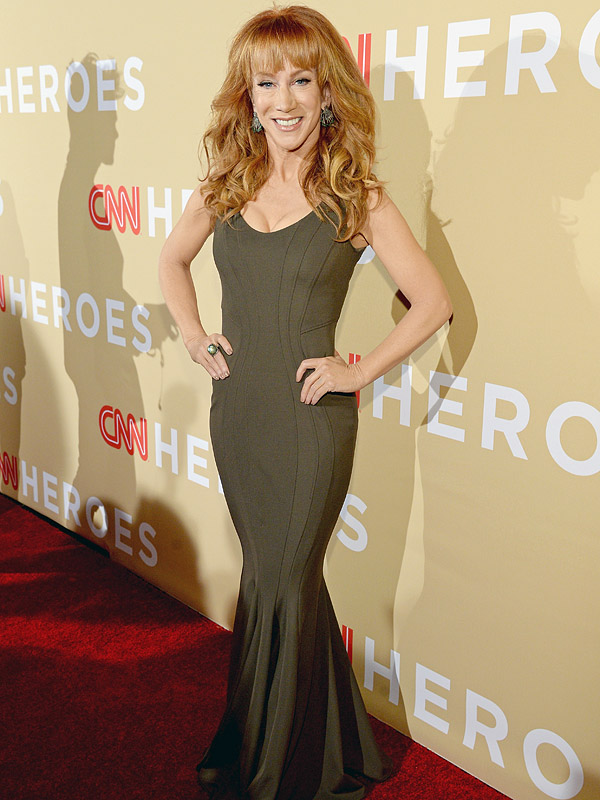 Kevin Mazur/Getty
For Kathy Griffin, making sure she is at the top of her game during her 80-city Like a Boss standup tour means treating her body right.

"I have to eat smart to fuel my body through the day and well into the night," Griffin, 55, tells PEOPLE.
The comedian — who will cohost CNN's New Year's Eve Live with Anderson Cooper and Kathy Griffin for her ninth consecutive year — sticks to a diet filled with protein and fresh fruits to help her power through her shows. And right before she hits the stage, Griffin leans on sugar-free Red Bull for some "quick energy."
RELATED: Singer Leona Lewis' Food Diary: What I Eat in a Day
When she's wrapping up for the night, Griffin reaches for a cheeseburger or a bowl of pasta—but always with some greens on the side.
"I love comfort food after a show," she says. "Since I burned all those calories on stage, I'm going to reward myself."
And she doesn't shy away from desserts. "Like every woman, I have a sweet tooth as big as my smile," says the actress. "Some nights it's the most decadent chocolate I can find. Other nights, I'm happy with a low-fat Fudgsicle."
RELATED: Lyndie Greenwood's Food Diary: What I Eat in a Day
Check out her daily food log below, and pick up the new issue of PEOPLE (on newsstands now) to read more about her diet.
Hydration
5 bottles of water a day
Breakfast
16 oz. coffee with a double Nespresso shot, two packets of sweetener and splash of skim milk
1 cup Cheerios with skim milk and a sliced banana
Snack
Smoothie with ¼ cup blueberries, ¼ cup strawberries, handful of grapes, 1 cup orange juice and a Yakult probiotic shot, blended with ice 
Lunch
Cobb salad with lettuce, one boneless, skinless chicken breast, cherry tomatoes, crispy bacon, one hard-boiled egg, ¼ cup pine nuts and 2 tsp. low-fat Caesar dressing on the side
Snack
Half an avocado drizzled with 1 tbsp. olive oil and sea salt
Piece of sugar-free gum
Sugar-free Red Bull
Dinner
Well-done cheeseburger
Diet cola
Side salad
Dessert
Low-fat Fudgsicle
Total Calories
1,872
The Verdict: "Kathy's breakfast is low on nutrients. I would love to see a little healthy fat and fiber," says dietitian Keri Glassman of NutritiousLife.com. "Cheerios may be fortified, but a less-processed grain like oatmeal would be a better option." Glassman praises Griffin for her protein-filled lunch and her "super satisfying" avocado snack but would prefer she ditched the Red Bull in favor of a "natural buzz from green tea." As for dessert, she says, "go for the real thing with a ½ oz. of dark chocolate!"
NOTE: It is recommended that women eat at least 1,200 calories per day, and men eat at least 1,800 calories per day.
—Ana Calderone, @anacalderone