Nate Berkus & Jeremiah Brent's Tips for Throwing the Easiest Holiday Party Ever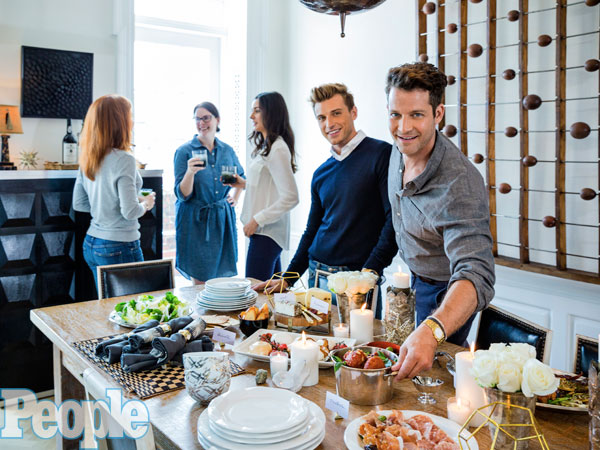 Larsen & Talbert
Despite their busy schedules as design gurus and parents to a 9-month-old daughter, Poppy, Nate Berkus and Jeremiah Brent manage to throw at least one party a week at home. But they have a short cut that can work for anyone: takeout food!

"It's fine to order in," says Berkus, 44, who recently celebrated the 20th anniversary of his design firm Nate Berkus Associates. "Just pick a place that you know is always good and pick it up or have it delivered."
Then, says Berkus, whose new collection of holiday items is in Target stores now, "set it out in beautiful plates and bowls and platters." The key to minimizing stress, he says, is to keep it simple and, of course, stylish. "Our motto is: Nothing's uptight."
RELATED: 15 Super Creative Holiday Cookies That Are Surprisingly Easy
And nothing's red or green. The chic couple—who wed in 2014 and now divide their time between L.A. and their downtown N.Y.C. duplex, which is filled with neutral pieces that still make a big impact—stay away from clichés when it comes to setting the scene for a holiday gathering. "We don't want it to be religious-specific, because we have friends from all walks of life," says Berkus, who is Jewish, while Brent, 30, is Christian. Adds Brent: "So really, for us, it's about metallics, mercury glass, the warmth of candle glow."
"I like to use beautiful handmade things to change up the table settings," says Berkus. For a finishing touch, he suggests using only white unscented candles, so the fragrance doesn't compete with the food. "White candles work regardless of the season or event," he says "When you see white votives that are 99 cents, buy them and hang on to them because you will use them."
RELATED: A Christmas Miracle: You Can Now Dine Inside This Edible, Life-Size Gingerbread House
These days, the couple keep a drawerful, ready to lend ambience at a moment's notice. "One of the great things about Nate is that the ceremony of serving a meal is very important to him," says Brent, who hosts the  DIY show Home Made Simple on the OWN Network. "Now, having a daughter, you realize how important those moments are to connect with family and friends. It makes me want to do it even more."
Tips from the Pros
Pick a Color Scheme
"Stick to a palette of two or three colors," says Brent. "It will feel much more cohesive and less like a holiday explosion."
Be Prepared
"Before the guests arrive, make sure the music is on and the candles are lit," says Berkus. "You don't want to just be getting out of the shower! Build in an extra 30 minutes."
Offer a Parting Gift
"Have an ornament that's part of the table-scape that people can take home with them," says Brent.
RELATED: 15 Insane Gingerbread Houses We Wish We Could Live In
For more on Berkus and Brent's tips for the holidays check out PEOPLE's subscriber-only Holiday Entertaining issue.
—Antoinette Y. Coulton @diamondtennis