Chef Ludo Lefebvre's Step-by-Step Guide to Making a Perfect Bûche de Noël for the Holidays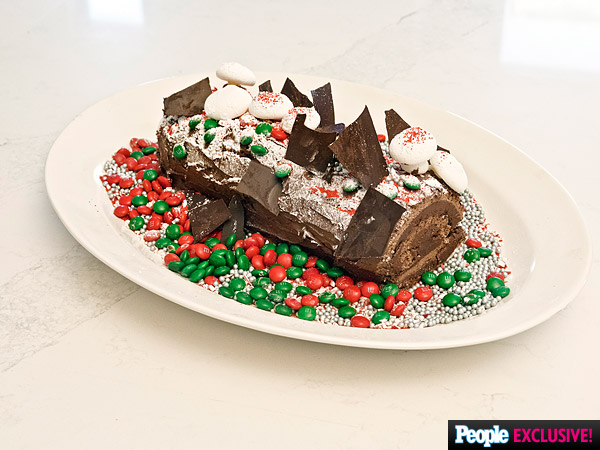 Lionel Deluy
A bûche de Noël (the classic yule log cake) represents the pinnacle of Christmas baking excellence: a beautiful centerpiece for your holiday spread that not only tastes awesome, but shows you put some time and effort into feeding the people you love.

Making one, however, can feel like a daunting task — mixing, baking, rolling, unrolling, frosting, rerolling, decorating. Even the name sounds intimidating.
But let's take a breather here. You can do this, and it doesn't have to be difficult. Case in point? This easy recipe from Ludo Lefebvre.
RELATED: Ludo Lefebvre Dishes on Family, Food and Mastering the Perfect Crepe
Here, the French chef gives us a step-by-step guide on exactly how to make the cake without churning out a total Pinterest fail — and even has his wife, Krissy, and their four-year-old twins, daughter Rêve and son Luca, help him out in their family kitchen, designed by Ginny Capo.
"Now they're big enough to cook with us," Ludo tells PEOPLE. "They appreciate playing with the candy and everything to decorate the cake." Adds Krissy: "Anything chocolate and cakey, they love!"
RELATED: Sally's Baking Addiction: These Soft Ginger Molasses Cookies Are a Christmas Miracle
Chef Ludo Lefebvre's Bûche de Noël
Serves 8 to 10
8 large eggs, separated
1 cup sugar, divided
1 ¼ cups cake flour
2 tsp. baking powder Kosher salt
¼ cup unsweetened cocoa powder
2 cups powdered sugar, plus more for dusting
14 oz. bittersweet chocolate, roughly chopped
¾ cup Nutella
1½ cups heavy cream
½ cup sweet chestnut puree
1 tbsp. dark rum
Seeds from 1 vanilla bean
Holiday candy, for decorating
RELATED: Nate Berkus & Jeremiah Brent's Tips for Throwing the Easiest Holiday Party Ever
1. Preheat oven to 375°F. In the bowl of an electric mixer, beat the egg yolks with ¾ cup of sugar until very creamy, about 2 minutes. In a separate medium-size bowl, mix the flour, baking powder, ½ tsp. salt and cocoa powder. Slowly add dry ingredients to the egg mixture, beating on low until fully incorporated.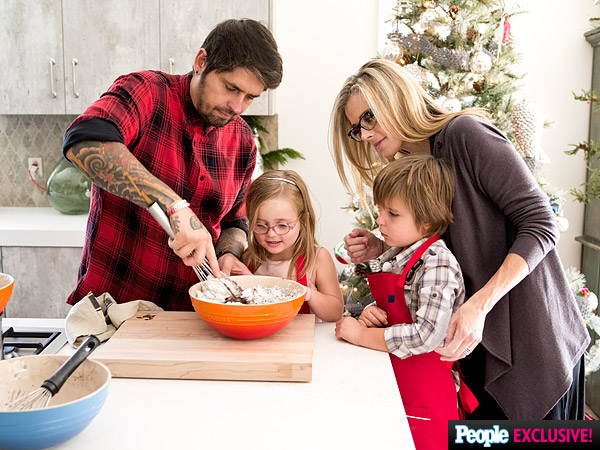 Lionel Deluy
2. In a separate bowl, whisk the egg whites on medium-high until foaming, then add a pinch of salt and gradually add the remaining sugar until lightly stiff. Using a spatula, slowly fold the egg whites into the batter, adding about ¼ of the egg whites at a time. Fully incorporate so you don't see any streaks of egg white, but do not overmix.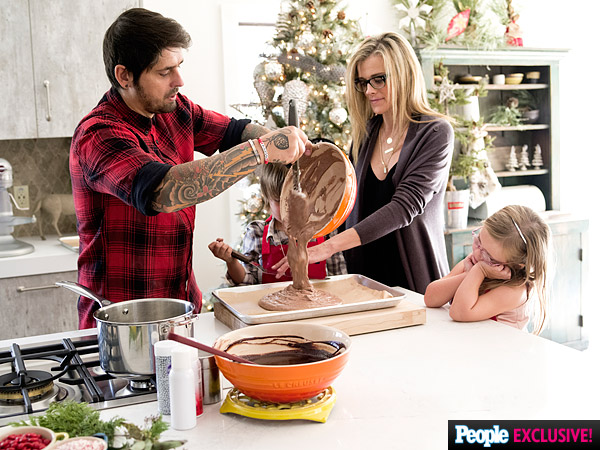 Lionel Deluy
3. Coat sides of a 15×12-in. jelly-roll pan with cooking spray; line bottom of pan with parchment paper. Pour batter into pan and bake until toothpick inserted comes out clean, about 10 to 12 minutes.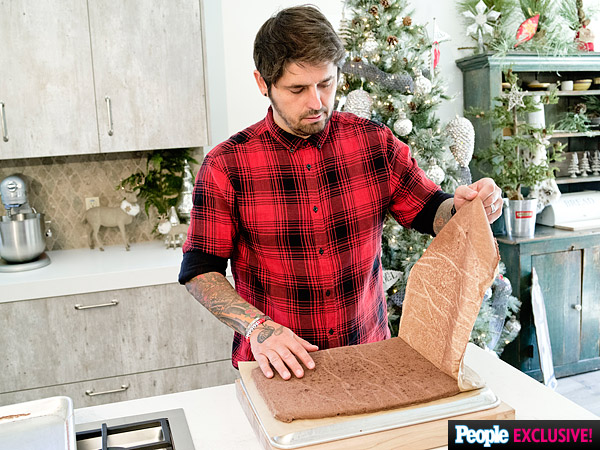 Lionel Deluy
4. When the cake is finished, invert onto a piece of parchment paper that has been dusted with powdered sugar. Peel the baked parchment paper from the top, and carefully roll the cake, starting on a short side, in the sugar-coated parchment paper to make a log. Cool completely.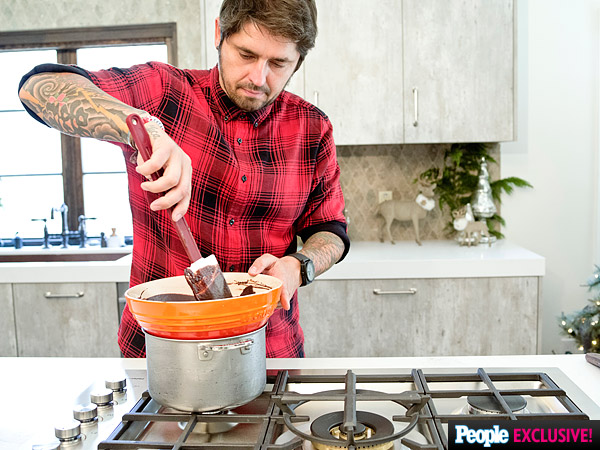 Lionel Deluy
5. To make the frosting, melt the chocolate, Nutella and heavy cream in a medium heatproof bowl over a pot of simmering water, stirring with a rubber spatula. Once completely melted, about 4 minutes, whisk until smooth and creamy.
RELATED: 15 Super Creative Holiday Cookies That Are Surprisingly Easy
6. Transfer to the bowl of an electric mixer and allow to cool completely. Stir in chestnut puree, rum and vanilla. Gradually add powdered sugar until incorporated; whisk on high 3 to 5 minutes.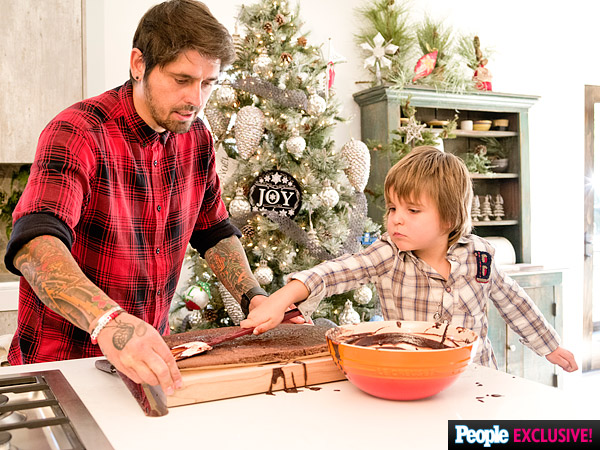 Lionel Deluy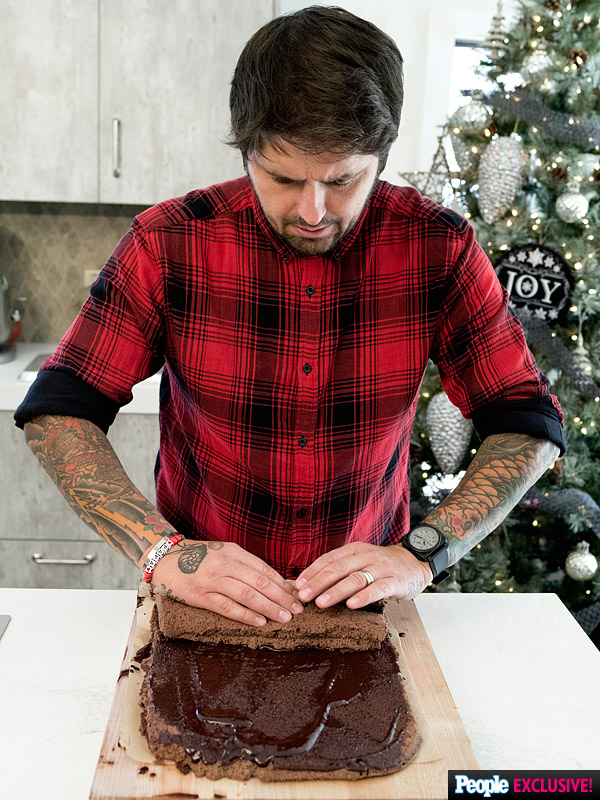 Lionel Deluy
7. Unroll the cake and trim edges so they are even. Spread a ¼-in.-thick layer of frosting evenly over the cake, leaving a ½-in. border on the long sides. Roll the cake back up.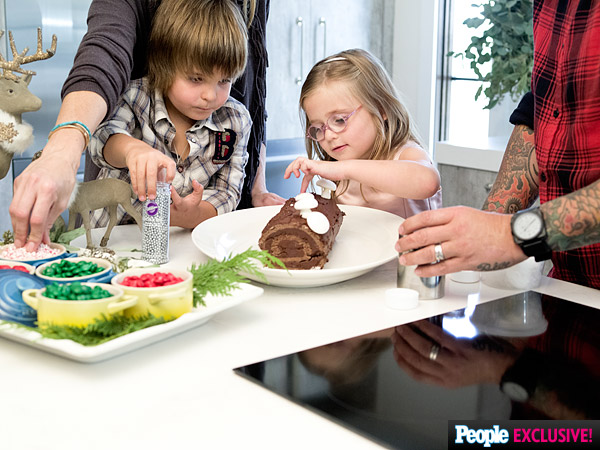 Lionel Deluy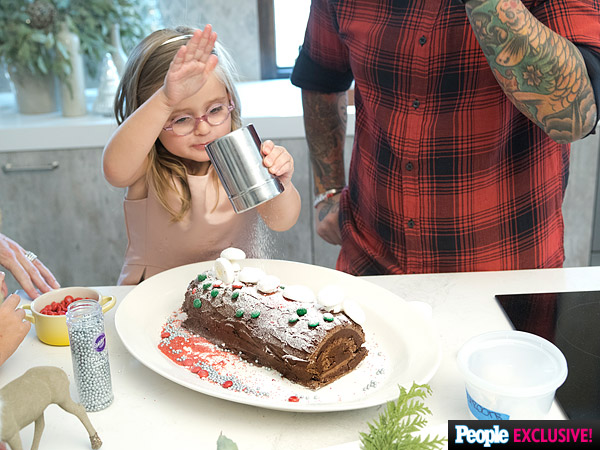 Lionel Deluy
8. Cover the exterior of the log with frosting. Allow to set for 15 minutes; use a fork to create a bark design in the frosting. Decorate with powdered sugar and holiday candy, if desired.
Pro decorating tip: To recreate the white "mushrooms" on his cake, simply place a storebought meringue cookie on top of a marshmallow and stick a toothpick through them!
—Shay Spence, with reporting by Gabrielle Olya