Hungry Girl: How To Make Candy Cane Doughnuts (Pssst: They're Less Than 200 Calories!)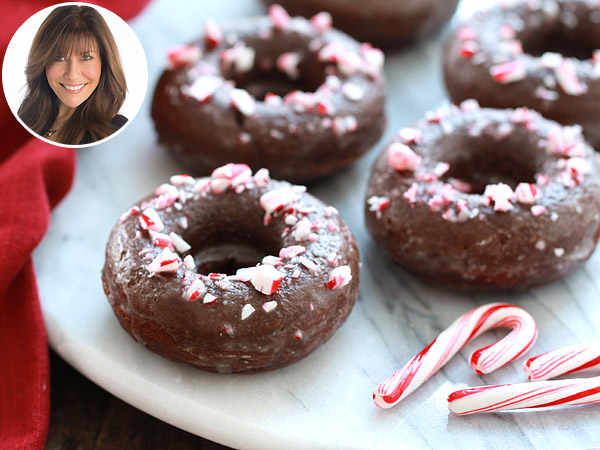 Courtesy Lisa Lillien
Lisa Lillien is the author of the popular Hungry Girl website and email newsletter, featuring smart, funny advice on guilt-free eating. She is also the author of nine books, six of which debuted at number one on the New York Times Best Sellers list. Read her PEOPLE.com blog every Monday for slimmed-down celebrity recipes and more.

Forget swinging by the donut shop to pick up a dozen. A batch of these baked treats will be much more satisfying and way less fattening. An added bonus? They're super simple to whip up and will be the life of any holiday party. Season's eatings!
'Til next time… Chew the right thing!
RELATED: Hungry Girl: Sip This 100-Calorie Candy Cane Milkshake All Season Long
Hungry Girl's Candy Cane Glazed Donuts
Makes: 6 Donuts
Donuts
1 ¼ cups moist-style devil's food cake mix
½ cup canned pure pumpkin
¼ cup egg whites or fat-free liquid egg substitute
¼ tsp. peppermint extract
Glaze
½ cup powdered sugar (not packed)
1 ½ tbsp. unsweetened vanilla almond milk, light vanilla soymilk, or fat-free dairy milk
2 – 3 drops peppermint extract
Dash salt
1 full-sized candy cane (or 3 minis), crushed
1. Preheat oven to 400F. Spray a 6-cavity standard donut pan with nonstick spray.
2. In a large bowl, combine all donut ingredients. Add ¼ cup water, and mix until completely smooth and uniform. Evenly distribute batter into the rings of the donut pan, and smooth out the tops.
3. Bake until a toothpick inserted into a donut comes out mostly clean, about 12 minutes.
4. Place a cooling rack over a baking sheet. 

Let donuts cool completely, about 10 minutes in the pan and 15 minutes on the cooling rack.
5. In a medium bowl, combine glaze ingredients except candy cane, and whisk until smooth and uniform.
6. One at a time, dunk the tops of the donuts into the glaze, coating the top halves. Return to the cooling rack, and sprinkle evenly with crushed candy cane.
7. Allow glaze to set, about 10 minutes. (Glaze will run off; that's why you've got the rack over that baking sheet.)
Prep Time: 10 minutes, plus cooling
Cook Time: 15 minutes
RELATED: Hungry Girl: My 5 Genius Cauliflower Hacks
⅙ th of recipe (1 donut): 181 calories, 2g total fat (1g sat fat), 300mg sodium, 39g carbs, 2g fiber, 26g sugars, 3g protein