Drinking and Harry Potter Come Together in Magical Way for Quidditch Beer Pong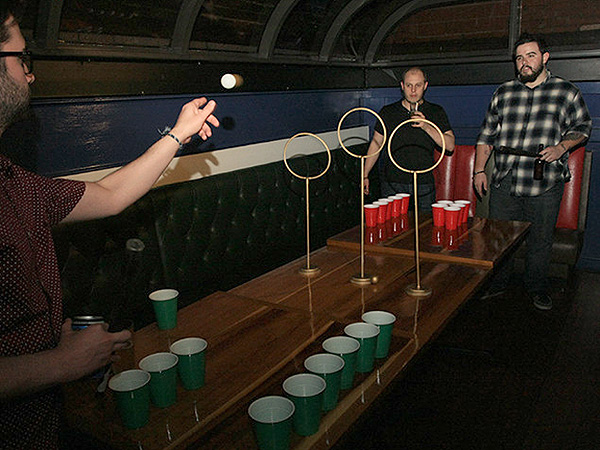 Unofficial Quidditch Pong
Whether or not J.K. Rowling intended them to, drinking and Harry Potter have always gone together like Chocolate Frogs and Butterbeer. (Actually, that sounds disgusting, but bear with us here.)
Now, our two favorite pastimes — pretending to be wizards and drinking beer — finally have a Muggle-world application: Quidditch Beer Pong.
RELATED: Mom Turns Cupboard Under Staircase into Magical Harry Potter Room
Actually, Quidditch Beer Pong is a devastatingly difficult game to play while inebriated — it's intensely complicated. The gist is this: Three Quidditch rings (through which you have to shoot your ball) are placed between the standard 10-cup array of beer pong cups, with an additional "snitch" cup placed apart from the rest. Beater bats are involved, as are spells you can cast on the opposing team. Here's the full list of rules if you're interested in all the nerdy details.
Sadly, the set is sold out, but we suppose you could rig up your own version at home.
Anyway, when we get our hands on one, we just can't wait to answer the question "Anyone up for Quidditch Pong?" with a sotto-voiced, straight-faced: "Always."
— Alex Heigl, @alex_heigl