Alex Guarnaschelli's Essential Recipe: Homemade Caesar Salad Dressing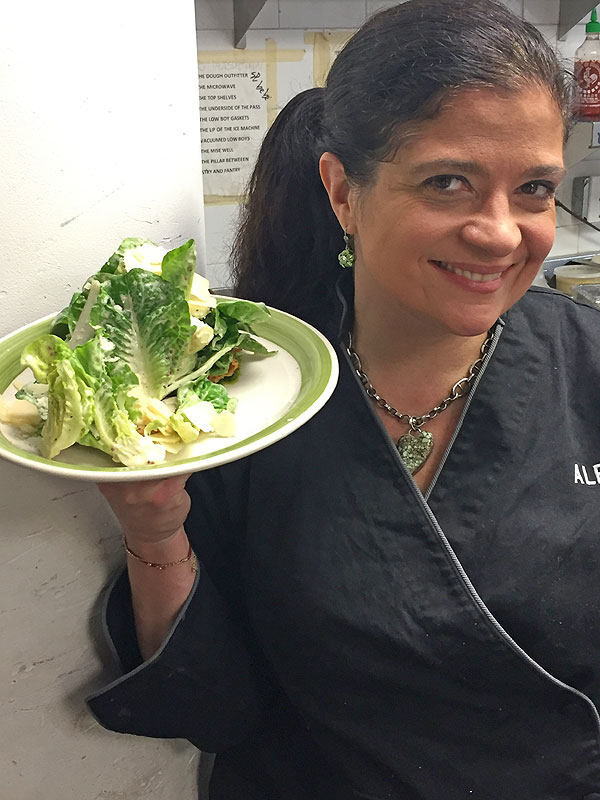 Courtesy Alex Guarnaschelli
Alex Guarnaschelli is an Iron Chef, Food Network celebrity chef, author of Old-School Comfort Food and the executive chef at New York City's Butter restaurants. Read her PEOPLE.com blog every Tuesday to get her professional cooking tips, family-favorite recipes and personal stories of working in front of the camera and behind the kitchen doors. Follow her on Twitter at @guarnaschelli.

After some holiday carousing and office "cookie parties," I seek refuge in a salad that becomes a lighter meal.
There are so many ways to go with this caesar dressing as a starting point. As far as ingredients go, I'm a fan of the classics but I don't add the egg yolk. I do find that the flavor of the anchovy, even if you just use a little oil that the anchovies are packed in, becomes more important if you omit the egg. I also have used the liquid from a can of tuna packed in oil to flavor this dressing in place of the anchovy and simply crumbled the tuna over the lettuce.
I like to make the dressing in advance and keep it in the door of the fridge but then mix it with the lettuce at the very last second. What kind of lettuce is best? I am a fan of romaine. There is little better here than a juicy, sturdy lettuce. I also love iceberg or Boston lettuce as back up.
Alex Guarnaschelli's Eggless Caesar Salad  
Serves 6-8
Dressing:
1 tbsp. smooth Dijon mustard
1 large clove garlic, grated
Kosher salt
Coarsely ground black pepper
½ cup lemon juice
1 tbsp. caper juice
⅔ cup olive oil
½ cup canola oil
3 anchovy filets, finely chopped
½ tsp. of the anchovy oil (optional)
Parmesan cheese
Salad:
3 heads romaine, outer leaves removed, washed, dried and cut into 1-in. pieces
1. Make the dressing: In the bowl of a food processor, combine the mustard, garlic, a pinch of salt and about 1 tsp. coarsely ground pepper. Pulse to blend. With the machine running, pour the lemon juice and caper juice into the mix. Then, slowly pour in the olive oil and then the canola oil. Transfer the dressing to a bowl. Taste for seasoning. If the dressing is too lemony, add more oil. If it's too oily, add more lemon. Stir in the anchovies, anchovy oil and a few tablespoons of grated Parmesan cheese. Refrigerate.
2. Serve the salad: In a large bowl, add about ¾ of the dressing and toss the romaine with the dressing. Grate some Parmesan over the leaves and serve immediately.
RELATED: Alex Guarnaschelli Blogs: My Boozy Pear and Almond Tart Recipe
How to turn this recipe into a full meal:
1. Shrimp is one of my favorite things to add to this salad. Simply add poached or grilled shrimp (tossed in some remaining dressing) around the salad. I break the "no cheese and fish together" rule for this combination all the time. I toss in a few basil leaves with the shrimp if I have some in the house.
2. Roast some chicken breasts with the skin on until they are cooked through and then slice and serve warm with the salad coated with a little of the remaining dressing.
3. Seared or grilled hanger or skirt steak is great with this salad. I cook and allow the meat to rest for a bit then slice and serve warm with the salad coated with some of the remaining dressing.
4. I love a few hard-boiled and quartered eggs with this salad. The eggy flavor fits perfectly with the hints of garlic and anchovy in the dressing.
RELATED: Alex Guarnaschelli Blogs: The Secret to Delicious Chicken Soup Is This One Simple Step
A few notes about this recipe:
1. If you are able, grate your Parmesan for this recipe fresh from a chunk of cheese. Grating just before you eat it will give you more flavor than using pre-grated.
2. Grate your garlic on a micro plane or box grater (instead of chopping by hand) so it integrates well without any chunks.
3. Have your lemons at room temperature to extract more juice than when they're cold out of the fridge.
4. You can also make the dressing in a bowl using a whisk. I just find the food processor better assures good consistency. If your dressing doesn't come together, whisking in a splash of warm water can often help!