EXCLUSIVE: Lindt Is Creating a 25 Lbs. Golden Globe Statuette Made Entirely of Chocolate — Get the Details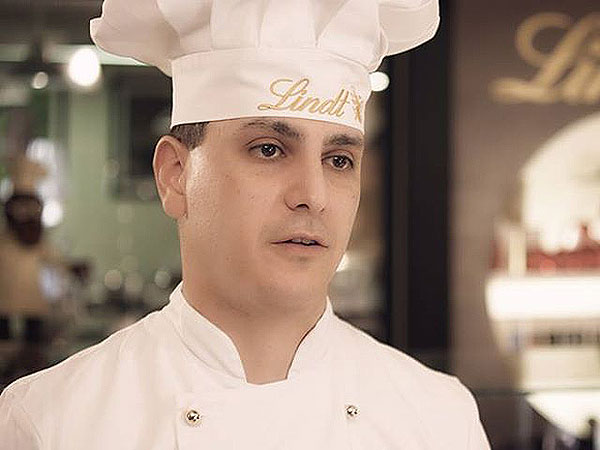 Courtesy Lindt
Some people spend their whole lives dreaming of a Golden Globe award. We, however, are more interested in the 25 lbs. pure chocolate replica that will be built for the ceremony.
Dimo Simatos, the Lindt Master Chocolatier, was charged with crafting the giant chocolate 'statuette', which he will prepare for the event on Sunday. Constructing the sculpture will take roughly 14 hours and 120 bars of dark chocolate to make, and requires a detailed understanding of how chocolate melts, as well as a trained hand to carve the details.
And Simatos is more than up for the task. To start, he'll research the statuette's dimensions, which requires putting a grid over an image of the award and measuring its ratios, allowing him to enlarge it to the proper, scalable size.
RELATED: Of Course People Were Caught Licking the Chocolate Benedict Cumberbatch Statue
"To begin creating the actual sculpture, I will melt Lindt chocolate and then cool correctly. This process is called tempering," he tells PEOPLE. "Tempering will allow me to take the liquid chocolate and pour it into various molds. Upon cooling, the mold will release the chocolate and provide the desired shape for the sculpture. I will then use various polycarbonate and metal chocolate molds, such as spheres, rings and cones to create the defined structure of the award."
For finishing touches, Simatos will use a small paring knife to clean the edges and then add a clear, edible glaze for a lifelike sheen.
RELATED: Gina Rodriguez Says Winning a Golden Globe Is Like 'Eating Red Velvet'
Now, to the question on everybody's mind: Who gets to eat the statuette? No one. (Tragic, we know.) Lindt, the award ceremony's "Official Confectioner Partner," will set up the chocolate replica inside the Golden Globes lounge for admiring purposes only.
— Maria Yagoda, @mariayagoda