Interested in the Taco Cleanse? Wait Until You Hear About Taco Yoga (It's Just as Beautiful as It Sounds)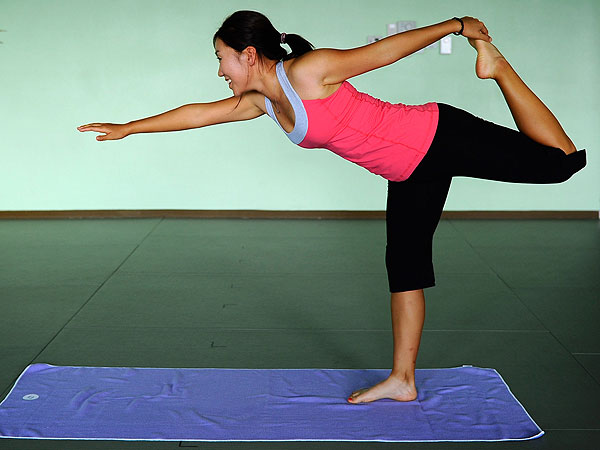 Getty
You can finally live the taco-oriented life you've always dreamed of.

In The Taco Cleanse, a new book that explains how non-stop taco consumption can help you achieve your health goals, self-proclaimed "taco scientists" tout the benefits of eating tacos to feel better. But why stop there? The taco philosophy should be applied to all aspects of wellness, including fitness.
RELATED: The Taco Cleanse Is a Real Diet — and Involves Eating Tacos All Day
Enter "taco yoga." The book outlines a series of simple poses inspired by tacos that you can do at home, from Upward Facing Taco to Tostata Pose. Here are just a few of the taco-inspired moves, illustrated by Amey Mathews (of the blog Vegan Eats and Treats.)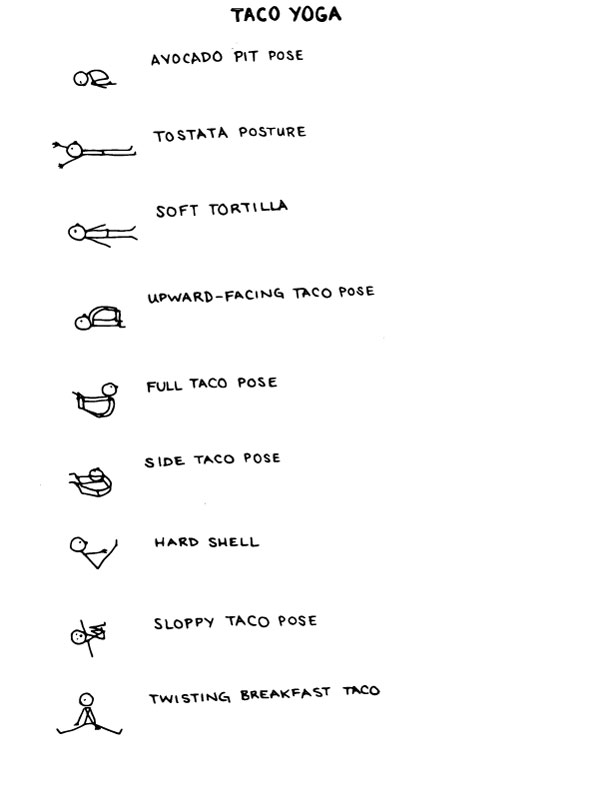 Amey Mathews

Here are three simple poses from The Taco Cleanse that will get your blood flowing…and will whet your appetite for tacos.
FULL TACO POSE:
"Lying on your belly, bend your knees and catch your outer ankles. Press the hips in the floor, kick your shins into your hands and lift the knees and chest. Every one has experienced the disappointment of a brittle hard shell taco breaking and spilling our precious taco goodies onto their plate… or that of a soggy tortilla, unable to support the bounty of goodness, that rips and shreds — again resulting in taco disaster. Thus, through yoga, we seek to become neither brittle nor sloppy — but strong and pliable, and ready for all the taco fillings that life has in store for us."
RELATED: We Tried It: What Is it Like to Do Naked Yoga?
TOSTATA POSE:
"Lying flat on the floor, stretch your arms up overhead. Spread your fingers and firm the muscles of your arms and legs. Be firm and still, like a tostata awaiting its many toppings."
UPWARD FACING TACO:
"Lying on your back, bend your knees and hold your outer ankles. Press the feet into the floor and lift the chest and pelvis. A perfect tortilla provides both the structure to hold many goodies and the suppleness to bend and adjust to the infinite possibility of taco fillings. Likewise, through yoga we aim to achieve a container that is both reliable and supple, so that we may aptly contain our own infinite possibilities."
RELATED: Eva Longoria Is Just as Obsessed with Tacos as You Are
Authors Wes Allison, Stephanie Bogdanich, Molly R. Frisinger and Jessica Morris developed the book after eating (vegan) tacos for breakfast, lunch and dinner for 30 days straight. The new book has 75 recipes — and promises big benefits.
"A taco consumed within three hours of waking, colloquially called a 'breakfast taco'' has been anecdotally proven to erase the ill effects of the previous night's toxic indulgence. A midday taco frequently results in more positive physical effects," reads the book. "The spicy taco consumed prior to sleep stimulates the nocturnal imagination and has been used by taco spiritualists to induce prophetic dreams."
We salute these scientists for legitimizing what we've always believed: Tacos are magic.
—Maria Yagoda, @mariayagoda
Skip to content
The Latest Craze in Disco Styles Is See-Through Jeans—but Beware of Foggy Bottoms
On a clear day, you can see forever—or at least that's the wicked thought behind L.A. designer Agi Berliner's transparent idea: see-through jeans. Exhibitionists notwithstanding, most folks wear them over bathing suits or as attention-getting evening wear with halters, garter belts and body stockings. Created for the disco crowd, the $34 jeans are selling like, well, hot pants. In just six weeks, 25,000 pairs have already been sold in such major department store chains as Macy's, Bonwit's and Saks.
"What's limiting American designers is that we're afraid to do something different," says Berliner, 32, a Hungarian émigré who fled with her family to the U.S. in 1956. Agi thought up the gimmick in London while marveling at the way plastics were being employed by designers of punk fashion. In her L.A. office, where she designs for La Parisienne junior sportswear, Agi spent five days on the phone and six weeks testing to come up with the right plastic.
Agi herself tried out the French-cut jeans with the zipper in front, and quickly found several problems: Some plastics tore away from stitching, others wouldn't bend and all fogged with perspiration. The ideal material proved to be a vinyl supplied by a bookbinder. The steam was eliminated with a series of vents behind the knees and in the crotch. "They're no hotter than polyester pants," claims Agi, "and if you wear them with tights, they won't stick to your legs."
Whatever the discomfort and despite the problem of Saturday night feverishness, discomaniacs report one major advantage of the plastic pants: no laundry bills. To keep Berliner's see-through jeans clear, all the wearer needs is a little Windex.