Here's the Dessert Your Favorite Stars Will Eat at the Golden Globes — Get the Recipe!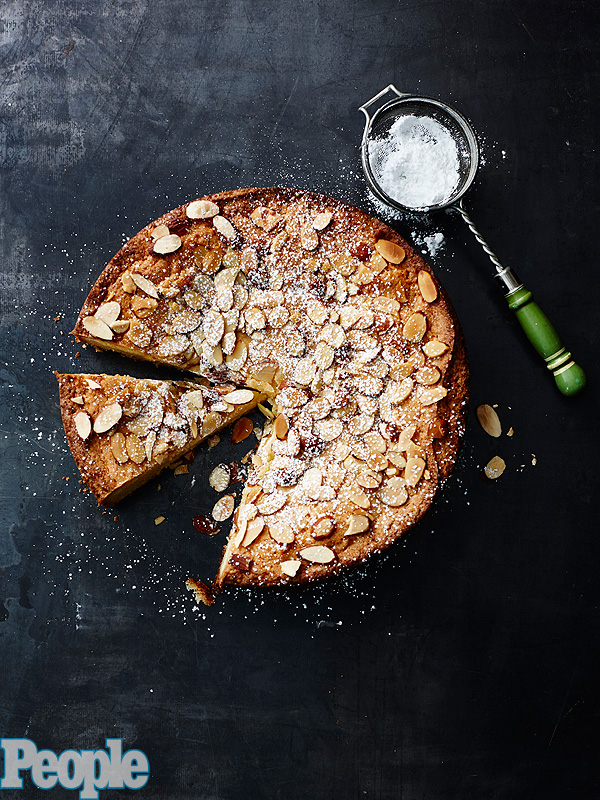 Iain Bagwell
Win or lose, stars like Jennifer Lawrence and Amy Schumer (with her new boyfriend in tow) will all be treated to a show stopping meal at the Golden Globes on Sunday.

For the big event, the executive chef at L.A.'s Beverly Hilton Troy N. Thompson and the hotel's executive pastry chef Thomas Henzi will prepare a four course dinner for nearly 1,300 guests.
RELATED: PHOTO SPECIAL: Golden Globes Gowns That Make Us Hungry
The stars will begin the feast with eggplant, bok choy, daikon, lotus and mustard greens with ginger dressing; a fillet of beef with marinara crust and slow-roasted black-garlic steelhead trout as the main course; salt-baked heirloom sweet potatoes with creamed-corn glaze as a vegetarian option; and finish with a variety of desserts.
So you can get a taste of the night, PEOPLE has the recipe for one of Henzi's sweet confections. The simple, delicious almond cake is the perfect treat to snack on while listening to Ricky Gervais' (drunken) jokes – just add a glass of bubbly!
Thomas Henzi's California Almond Cake
Makes: One 9-in. cake
16 oz. almond paste
1 cup butter, softened
1¾ cups sugar
⅓ cup triple sec
3 large eggs
1 cup all-purpose flour
1 tsp. baking powder
Sliced toasted almonds
Powdered sugar
1. Preheat oven to 350°. In the bowl of a stand mixer using the paddle attachment, cream together the almond paste, butter and sugar on medium-high speed for 2 minutes.
2. Reduce speed to medium-low, and slowly add the triple sec and eggs. Do not overmix.
3. Sift together the flour and baking powder; add to butter mixture and mix only until blended.
4. Pour batter into a greased and floured 9-in. springform pan. Bake for 45 minutes. Cover the cake with foil to prevent over-browning, and bake for another 30 to 35 minutes.
5. Allow the cake to cool in the pan, and turn out onto a platter. Sprinkle with sliced almonds and powdered sugar before serving.
Prep time: 15 minutes
Cook time: 1 hour 20 minutes
RELATED: EXCLUSIVE: Lindt Is Creating a 25 Lbs. Golden Globe Statuette Made Entirely of Chocolate — Get the Details
The 73rd annual Golden Globes air Sunday at 8 p.m. ET on NBC.
—Ana Calderone, @anacalderone