Jealous! Chef Art Smith Whipped Up Fried Chicken Sandwiches for Newlyweds Sofia Vergara and Joe Manganiello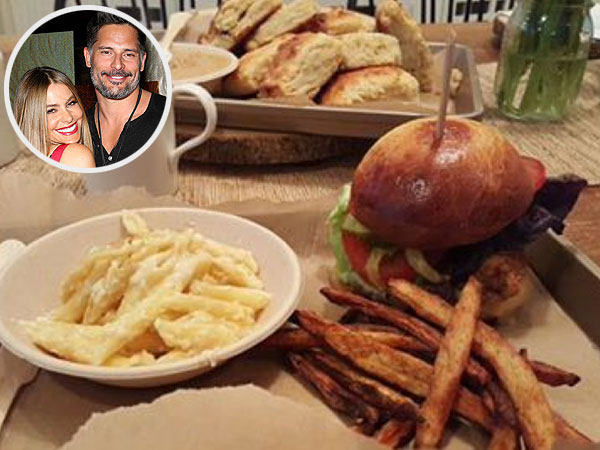 Joe Manganiello Instagram; Inset: Getty
Newlywed life really is delicious — especially if you're Sofia Vergara and Joe Manganiello.

The actors were treated to an extra special dinner Wednesday night by celebrity chef Art Smith, who up until 2007 served as Oprah Winfrey's personal chef. Unlike Gisele Bundchen and Tom Brady's ridiculously healthy meals, Vergara and Manganiello (otherwise known to the world as Jofia) were gifted with a calorie-packed dish that included fried chicken sandwiches, biscuits, mac 'n' cheese and fried grit sticks (pictured above).
RELATED: See Sofia and Joe's Gorgeous Five-Tier, Floral Wedding Cake
Hungry yet?
Manganiello called the take on classic comfort food "the best of [his] life," which gives us a really bad case of FOMO about not scoring an invite to the intimate gathering. (Note to Jofia: Keep us in mind next time a famed celebrity chef vows to wow your taste buds — a slew of Instagrams is such a tease!)
RELATED: Sofia Vergara & Cake: A True and Endless Love Story
But the dinner didn't stop at the entrée. Smith also offered a delectable berry dessert with a big scoop of vanilla ice cream "to complete the sin," according to Vergara.
While we doubt these hearty dinners happen on the regular, the couple is certainly no stranger to cheat meals. The Modern Family actress regularly posts photos of herself with cake (her second love, of course) and the pair has also documented their many foodie adventures, including a late-night ice cream run in New York City.
Their first year as a married couple is a sweet and savory affair, indeed.
—Grace Gavilanes