Shaun T Blogs the Premiere of My Diet Is Better Than Yours: 'This Was an Emotional Journey For Me'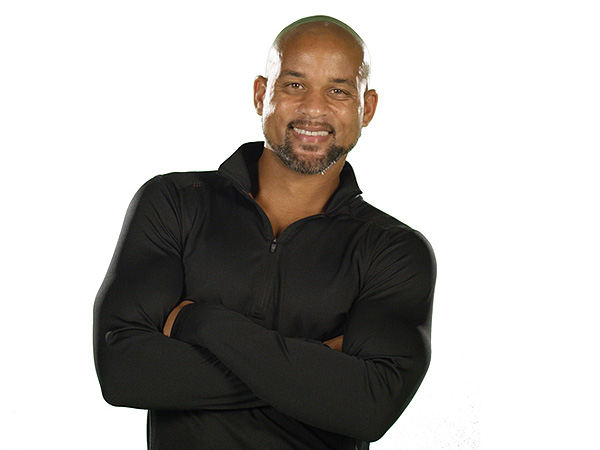 Guy D'Alema/ABC/Getty
As an elite personal trainer and creator of the hugely popular Insanity program, Shaun T knows fitness. Now he's hosting ABC's new weight loss competition My Diet Is Better Than Yours – where five average Americans are paired with a celebrity trainer to help them shed pounds. The winning team will be featured in PEOPLE. Shaun T will be blogging exclusively about what really went down after every episode – check back each week and follow him on Twitter @shauntfitness.

I'm about to take you behind the scenes of my brand new show, My Diet is Better Than Yours, and give you the lowdown about things you didn't see and more insight on the things you did see. As with any blog, most of my thoughts here are free flowing.
First, I want to say that this was an emotional journey for me. I have been helping people get healthy and fit for almost 20 years and it all started because I once was 50 lbs. overweight myself.
When I walked out to see the contestants for the first time, I literally almost cried because I remembered what it was like to embark on my own weight loss journey. Thank goodness they didn't show me getting teary-eyed on my first entrance onto national TV! I was extremely thrilled for the contestants though, so I guess it would have been worth it.
Hosting a show can look very easy on the outside, but when you're dealing with people who are beginning a significant weight loss journey, combined with some of the best nutrition experts on the planet, it's kind of tough. For instance, I'm not sure if a lot of people understood Carolyn (Clean Momma Plan). She is very expressive and she's pretty brilliant, but she also gives very long answers to my questions. So, most of the time I had to pay super close attention or else I would have been lost.
While she is very articulate she is also very creative so I had to respond to her in a way that ensured that she got me and I got her. Our bonding moment was in the dressing room one day while waiting to go to set (and by waiting, I mean for a long time – days on sets can be extremely long because of set prep, lighting, camera placement, talent, makeup, wardrobe and even trains passing by on set! The list goes on and on and on!). Our conversation led us to our mutual love of musicals, especially Pippin! When we broke into singing our favorite songs, I knew from that point forward, we were golden.
RELATED: Get an Exclusive First Look at ABC's New Weight Loss Show My Diet is Better Than Yours
When it comes to the contestants, Taj and I had a playfully fun, love/hate relationship. As you see on the show, she has a very strong personality. One of the first things she said to me was, "We got fighting words!" I learned it was because her wife had a crush on me! So to get me back, Taj decided that every time my husband Scott would walk by (because he was on set every day), she would purposely flirt with him! It was so hilariously funny – her batting those eyelashes at my man! Good times.
Anyway, that's kind of how it went with everyone. Different personalities require different communication.
Interesting behind the scenes fact #1: I had minimal to no communication with the contestants or experts during the week.
When they showed up for the weigh-ins, I had no idea how much weight they had lost, what had gone down, who was getting along with whom, etc. I was in the dark just as much as you at home, but it was my job to look at this competition and be the voice of the home viewer (and I loved it!).
With every show that airs on television, you need to know how much work it takes to film a scene. For every 10 minutes you see, we probably filmed for 12 hours.
Fun behind the scenes fact #2: We filmed at the same location as the movie Hunger Games and the hit TV show, The Walking Dead.
That made this experience really cool but there was one thing you didn't see: the trains! The set was located next to approximately ten train tracks and about every 7-15 minutes, a freaking train would fly by, making so much noise that we had to stop taping! Imagine at every weigh-in, while I was trying to get the contestants to open up about their plans, their struggles, their emotions of trying to lose 100 lbs. on camera, and someone yells, "Cut! Hold for the train!" #Annoyballs! Really? Really?! We were having a moment and you're yelling cut? At first it was annoying, but then it became comedic, annoyingly comedic.
Behind the scenes fact #3: The microphone picks up everything!
Whether it's a train nearby or a plane flying overhead. That also means that you better keep your mouth shut when you're in your dressing room because, let's say I was talking to Anna Kaiser about something, everyone would hear it.
Anna Kaiser is the fitness expert on the show. She did an amazing job developing the challenges and working with a team of producers to give great information about health and fitness, especially when it came to this week's sugar challenge! When Anna and I saw that sugar, we were floored that the average American consumes that much sugar in a year. It's crazy! But it was good for the contestants to have to carry it around because it replicated what they're carrying in their body. That challenge was sticky! (And somewhat dangerous.)
Behind the scenes fact #4: Anna was one of the fitness models in my Insanity workouts seven years ago!
Did you see when Jasmin fell over the wheelbarrow? For me, it happened in slow motion. I was only ten feet away and it was so tough to not be able to save her from the fall. I went to help her up but when you see blood, you aren't allowed to touch people. That was tough because she is the sweetest person ever. She stayed strong and took it like a champ and showed up to the weigh-in still smiling.
RELATED: Weight-Loss Contestants' Bold New Diets
Behind the scenes fact #5: I have an IFB (Interruptible Fold Back). It's an audio monitor in my ear, which made the weigh-in during the second episode hilarious.
It's kind of like a Bluetooth device that's designed so I can communicate with the showrunner (the incredible Susan House!) in the video village. A "showrunner" is the director of a reality show – this person literally runs the show. The "video village" is where the showrunner, all of the producers and the director sit and see every camera angle possible.
During that weigh-in when Taj walked up to the scale with Jovanka, I heard my showrunner say, "Ask her about cookiegate." So I said, "Tell me about cookiegate." That's when Taj starts telling the story about Jovanka giving her a cookie and describing it's amazingness: "Well, this cookie looks amazing! It's cooked to the perfect brown, somewhere between my complexion and your complexion," and I said, "That must be a good cookie!" What you didn't see is that we cracked after that! Of course they had to cut it out because it's only an hour show and we were talking innuendos.
Anyway, the show is fun, emotional and educational all at the same time. I learned a lot! I want to give a huge shout out to Jovanka and her Wellness Smackdown Diet.
Her plan worked for her and healed her of her sickness and she has helped thousands of other people get healthy. Even though Taj decided to switch plans, Jovanka is an #amazeballs person and an extremely knowledgeable expert. We still wish her the best!
Stay tuned for my blog next week. Trust and believe, it only gets crazier from here on out and the weight keeps falling off!