Jennifer Lawrence Invented This Insane Spaghetti-Chili-Pizza Sandwich…So We Made It Ourselves, Naturally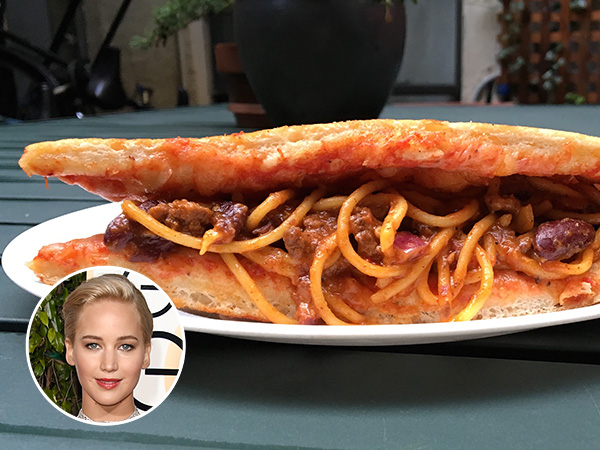 Shay Spence; Inset: Jason Merritt/Getty
What Is It: Jennifer Lawrence's crazy chili-noodle-pizza sandwich concoction
Who Tried It: Shay Spence, associate food & lifestyle editor
Level of Difficulty: 2 (on a scale from 1 to 10)
Why We Did It: Because it involves Jennifer Lawrence and pizza…? I don't understand the question

Jennifer Lawrence is many things: Oscar-winning actress, activist, Vanderpump Rules expert, adorably terrible walker, best friend to Amy Schumer, imaginary best friend to every other woman in the world. And to celebrate her big Golden Globes win on Sunday night, it seems some binge-eating is in order.
When it comes to food and drink preferences, Jennifer is apparently just as endearing as she is in all other aspects of her life. She recently said that not only is her "signature scent" a rich Cabernet, but she also pairs this love of wine with an inventive taste for junk food.
RELATED: Get the Recipe for Jennifer Lawrence's 'Favorite Cocktail' from Vanderpump Rules
"It's called a chili pizza sandwich," she says of her greatest culinary invention. "You have a piece of pizza, you put chili in it with noodles, like southern chili with noodles, and then another piece of pizza, and then you eat it like a sandwich."
Okay, first things first: As a Texan, the phrase "southern chili with noodles" is baffling and, if I were less open-minded, sacrilegious. Texans do not serve their chili with noodles — if anything, we'll serve it on top of Fritos, because we are a classy, highly-evolved species.
RELATED: Amy Schumer Wants This Sandwich to Be Named After Her—So We Made It for Her
So while it was hard for me to initially conceptualize, I did recall the Chili 3-Ways — a dish that my mom and I would always eat at the burger chain Steak 'n' Shake when we would visit her hometown of Peoria, Illinois. It's a tomato-based chili with ground beef and (cover your ears, Texans) beans, served on a bed of spaghetti. It was exotic and, in my youthful mind, the epitome of a fine dining experience.
This chili (called Cincinnati-style, technically) is pretty common in the Midwest, but my research on southern chili with noodles led me to a Kentucky-style chili, in which the spaghetti is actually cooked in with the chili at the end. Since Lawrence is a Louisville native, I imagine this is what she was referring to.
Now having the right knowledge and tools, I moved forward to recreate this insane concoction, ignoring my guardian angel's questions along the way: How will all that chili stay in the pizza? Should you microwave the pizza first or will that make it too flimsy? Aren't you trying to eat healthier this year? (My guardian angel is kind of a nag.)
RELATED: 9 Cool Ways to Hack Your Pizza
For the chili, I went with my Texan instincts, though I substituted ground beef for the cubed chuck roast I usually use. Oh yeah, and I added the beans. Sorry, but I like them here! I still root for the Longhorns and cry every time I watch Selena, so you can't take away my Texas card yet.
It was delicious. And kinda pretty! I even Instagrammed it!
RELATED: Jennifer Lawrence Says Life-Sized Cake Statue of Katniss Made Her 'Dreams as an Actress Come True'
The cooked-in spaghetti was a great touch because it soaks all the flavor into the noodles themselves. I ate two entire bowls as an appetizer before moving into the main event. It's not rocket science how it all goes down, but in case you're still confused, I made this lil' video for you.
For me, the trickiest part is the pizza — assuming you're using cold leftovers, reheating it in the microwave does make it too flimsy. Instead, reheat it in a skillet on the stove top. Do it on low heat and cover the pan loosely with foil — this will crisp the crust and remelt the cheese, making it ideal sandwich bread material.
RELATED: Patrick Stewart Sparks International Twitter Debate on Pizza Crust
As for the taste? Y'all. Y'all. I don't know if it was my tequila hangover talking (I had spent the previous night celebrating my birthday at Señor Frogs in Times Square, naturally), but this was so. dang. good. The noodles are actually a necessity because they hold all the chili filling in place, making it a surprisingly clean eating experience. (That's what people mean by "clean eating," right?)
I ate the whole thing. I am a monster.
Get my full chili recipe below, then go shove it between two slices of pizza because, let's be honest — that's the closest any of us are going to get to being best friends with Jennifer Lawrence.
Kentucky-Style Chili with Spaghetti
Serves 4
1 tsp. vegetable oil
1 lb. ground beef
1 large red onion, chopped and divided
2 tsp. chili powder
1 tsp. garlic powder
½ tsp. smoked paprika
½ tsp. dry mustard
1 bottle beer
1 (14.5-oz.) can fire-roasted tomatoes
3 cups beef broth
1 (16-oz.) can kidney beans, drained and rinsed
½ lb. spaghetti
Sliced jalapeños and shredded cheddar cheese, for garnish
1. Heat the oil in a large pot over medium-high heat. Add beef and season with salt and pepper, breaking up the meat with the back of the spoon. Cook until nicely browned, 8 – 10 minutes. Add half of the onions and the spices and cook until onions are slightly softened, about 5 minutes.
2. Add the beer and use your spoon to scrape up the browned bits at the bottom of the pan. Add the tomatoes and broth and reduce heat to medium-low and let simmer, partially covered, for an hour.
3. Add the spaghetti and cook until just done (if it feels a little thick, you can add more broth to thin it out.) Season with salt and pepper and serve immediately garnished with remaining red onion, jalapeños, and cheese.
4. Stuff the chili between two slices of cheese pizza, if you are a psychopath.
—Shay Spence, @chezspence