We Tried Gwyneth Paltrow's 2016 Goop Detox — and Here's What Happened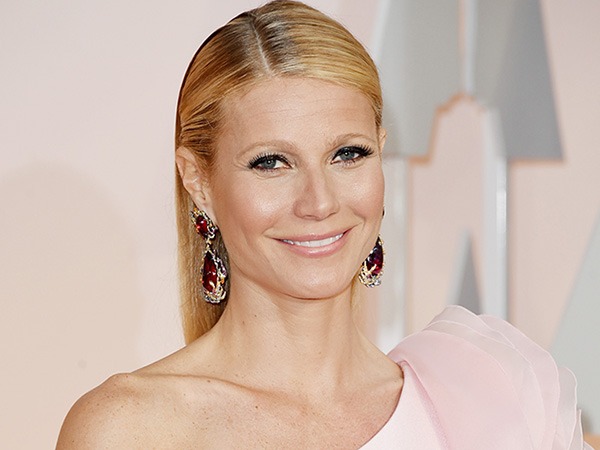 Jason Merritt/Getty
What Is It: Gwyneth Paltrow's 2016 Goop detox
Who Tried It: Catherine Kast, Style Editor
Level of Difficulty (on a scale of 1-10): 9 (if you have a full-time job)
You all knew it was coming: Gwyneth Paltrow's annual January reset diet plan. The 2016 Goop Detox is a set of recipes and guidelines to help undo everything that was done to your body during the overindulgent holiday season. After trying last year's detox, I wanted to jump right in for this year's. Goop.com published full detox on Thursday, Jan. 7, and I needed to start as soon as possible.

Here's what's not allowed: gluten, dairy, corn, soy, caffeine, alcohol, added sugar, red meat, shellfish, white rice, or nightshades (tomatoes, eggplant, peppers, potatoes). Gwyneth also says you don't have to follow her meal plan precisely, and that you can also just go to a salad bar and get whatever fits the guidelines. This is really kind of her.
There is food on this plan, and it's really good. But it's not all easy.
The cornerstone of Gwyneth's plan is her "smoothie." She puts the word "smoothie" in quotes, and I'm glad she does, because the Oxford English Dictionary defines "smoothie" as "A thick, smooth drink of fresh fruit pureed with milk, yogurt, or ice cream." This isn't that.
RELATED: Gwyneth Paltrow's Goop Team Responds to Stephen Colbert's Jabs in the Most Amazing Way
It's almond milk, coconut oil and almond butter and six (SIX!) different powders that you can only buy at Moon Juice, a wellness and juice boutique in L.A. You can find some iteration of these powders elsewhere online (Maca and Ashwagandha are pretty well-known supplements). You also could seek out a Chinese herbalist if you were so inclined. But I didn't have time for that, so I opted to get everything from Moon Juice, just like Gwyneth did.
The breakdown of what you need and what it costs is below: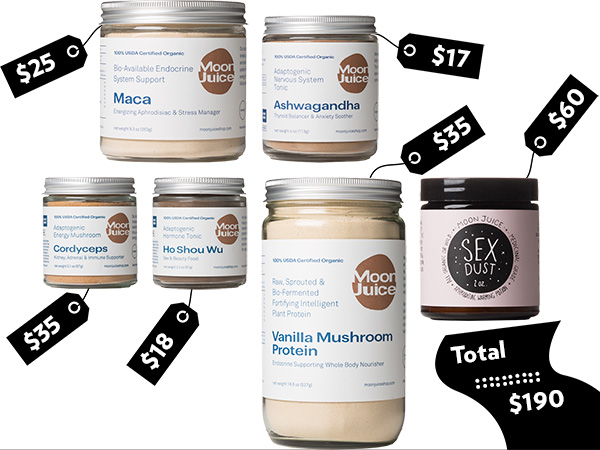 Courtesy Catherine Kast
The Sex Dust is only one of six different "dusts" in production by Moon Juice. I'll let Gwyneth explain:
"Action Dust to soothe overworked muscles, Beauty Dust for a glowy complexion and healthy hair, Brain Dust to combat mental fogginess, Goodnight Dust when sleep has been evasive, Sex Dust, for, you know, and Spirit Dust to get that extrasensory perception going."
If you wanted to buy all of the dusts, it would cost $340. Urban Outfitters has a set of mini-dusts for just $20, which might be your best bet if you're not looking to fully commit, or you're traveling. Luckily, our Style and Beauty Director Andrea Lavinthal had samples of all of them so I was set.
Moon Juice is only sold in L.A. and nationwide shipping is fairly new. I had to spend $170 to get all the other powders shipped to me quickly (the two-day shipping cost $40).
RELATED: See the Gorgeous Decor and Food at Gwyneth Paltrow's Goop Summer Soiree (PHOTOS)
Just in case our $190 total for all the Moon Juice items seems off to you, or you're like "but that makes a lot of 'smoothies,'" you're only partially wrong. Each "smoothie" calls for two tablespoons of the protein powder and one teaspoon of each of the other powders. We did the math, and it appears that you'd run out of most of the powders after roughly 20 smoothies and would have to head back to Moon Juice for more. Meaning you might've just spent around $10 a smoothie, not including the other non-powder ingredients. It's up to you if that's a good price to pay for being healthy!
Anyway, I put in my order on Thursday afternoon and worked the rest of the day. I got home around 7 pm and put some chia seeds in almond milk with a little cinnamon to get me ready for the first meal of the detox, a very simple Chia Pudding.
DAY ONE (FRIDAY):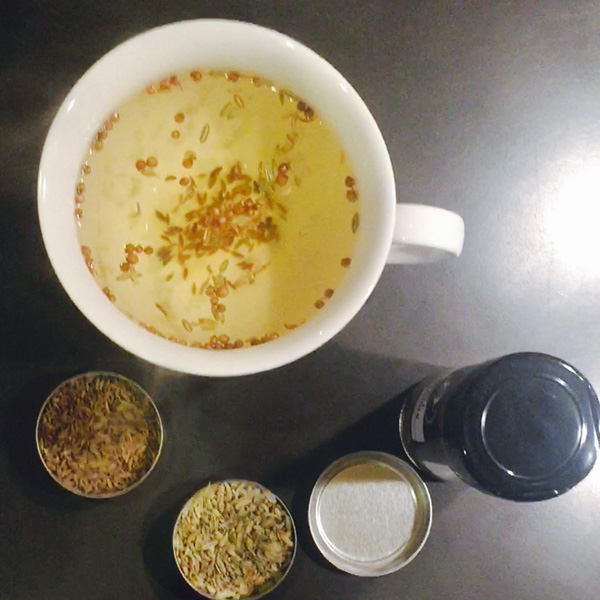 Courtesy Catherine Kast
I kicked things off with the daily ayurvedic tea that Gwyneth borrowed from L.A.'s Surya Spa. Goop.com shows the tea just as I do in my photo—with a teaspoon each of whole spices cumin, fennel and coriander floating in the hot water. Please note that while this looks beautiful, it is impossible to drink without inhaling whole spices, which I'm assuming is not the point. I put it through a mesh strainer and drank it but vowed to find a better way before tomorrow's tea-time.
I then ate the chia pudding which I topped with shredded unsweetened coconut and almonds. Sorry I don't have a picture—it didn't look like much since I didn't have any berries. Then I went to work.
Even after just a few hours, I longed for coffee. All I wanted was to take a walk with a pal for a cappuccino and a little complaining. You know… too much work, not enough food. Instead, I waited for lunch and ordered a mushroom and spinach omelette ("Are these eggs cage-free?") with undressed mesclun on the side and ate with the only friend I have who spends the extra $3 on gluten-free toast.
RELATED: Does the Taco Cleanse Actually Work? One PEOPLE Staffer's Brave Journey
Day one's afternoon "snack" was the "smoothie." I have a small blender at my desk (I know, I know), and I added all the ingredients I had, which at this point was not much besides some pea protein, some leftover maca I had from Organic Avenue (RIP) and the sample I had of Brain Dust. My co-workers Snapchatted me disrupting the newsroom with my smoothie. I loved it. I walked around the office showing off the second-rate "smoothie" like I was in a Broadway show: greeting everyone I saw with a congenial wave, taking bigger steps than usual, smiling with my mouth open.
"When, oh when, will my Moon Juice arrive?" I wondered.
The day went on and since I didn't have time to grocery shop and then cook I ordered an STD (Safe To Detox) dish of brown rice and Brussels sprouts from Dig Inn in my office building before I left for the night at 8:30 pm. When I got home, I prepped some more chia pudding for the next day, Saturday, the day when I could spend all the time in the world cooking for Gwyneth and my health!
DAY TWO (SATURDAY):
I awoke around 8 a.m. to make my tea with a new method: using the David's Tea Perfect Tea Mug since it has a built-in, dishwasher-safe infuser. I ate my chia pudding again, same as yesterday, and said a prayer that my Moon Juice order would arrive that day thanks to the two-day shipping.
I'd booked a 10 a.m. yoga class with a friend since Gwyneth says you can do some light exercise on the detox in order to sweat out your toxins. My sweat smelled like cumin, which I think was a good thing. Later, toxins!
RELATED: Gwyneth Paltrow: 'There's a Lot of Misinformation About What I Actually Eat'
I then trotted over to my fancy neighborhood grocery so I could buy everything I needed for the salmon burgers. 1 lb. of salmon cost me $12, which I think is a lot considering it was farmed, not wild (Gwyneth's recipe calls for 1 ½ lbs but I was only feeding myself for two days so I cut it down a little).
Everything else on the ingredients list was reasonable and I pretty much had it all: ginger, scallions, five-spice powder, garlic, toasted sesame oil, tamari (gluten free soy sauce, actually not that hard to find but you can easily get it on Amazon or Thrive Market).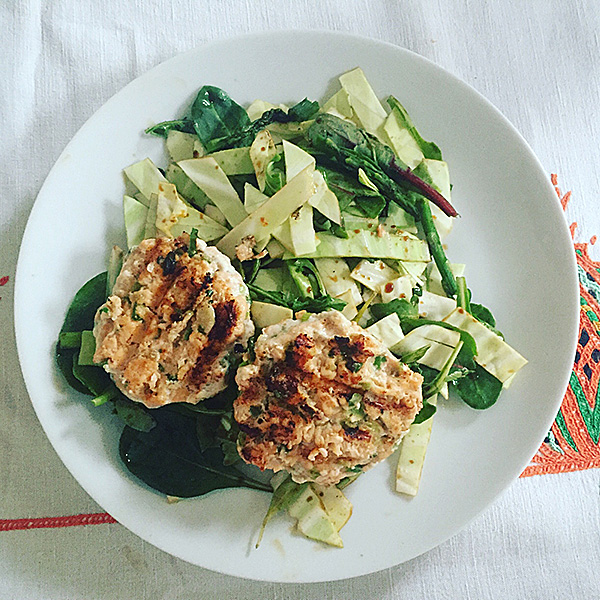 Salmon Burgers and Asian Detox Salad, Courtesy Catherine Kast
This recipe isn't too hard. You cut the salmon up into 1-inch pieces and put it in the freezer for a few minutes to firm it up. Then you put it in a food processor (I have a really good mini one that works wonders if you're just cooking for one), take it out and blend all your other ingredients. Mix it all together and form burgers and you're ready to grill. It's not my favorite thing to have to clean out a food processor just for an ordinary day's meal, but it wasn't hellish.
The detox Asian salad—cabbage, spinach, snap peas, asparagus– that went with it was pretty yummy and didn't have any tough-to-find ingredients besides coconut sugar for the dressing, but again, amazon.com, you guys.
RELATED: We Tried It: An Underwater Spin Class
Alas, my Moon Juice order did not arrive! For my "snack" I skipped her suggestion of rice cakes and almond butter and made another smoothie with my protein, maca and the Sex Dust. Hey, life is short and this cleanse is long. At around 4 p.m. I headed off to go see The Big Short with the friend who I subjected to my cumin-sweat at yoga. She had popcorn. I had air.
I found myself attracted to everything and everyone in the film including Christian Bale's glass eye and the dorky one who calls his mom a bunch of times. Then I remembered the Sex Dust. Ding!
Dinner was a Chickpea and Kale Curry, and it was so easy to make that I wanted to give Gwyneth a high five. Aside from chopping up the kale, it's pretty much dump-and-stir. And it was warming and delicious. Not much to say about it but it's a good, easy go-to with a bunch of leftovers which I vowed to bring to work the next week.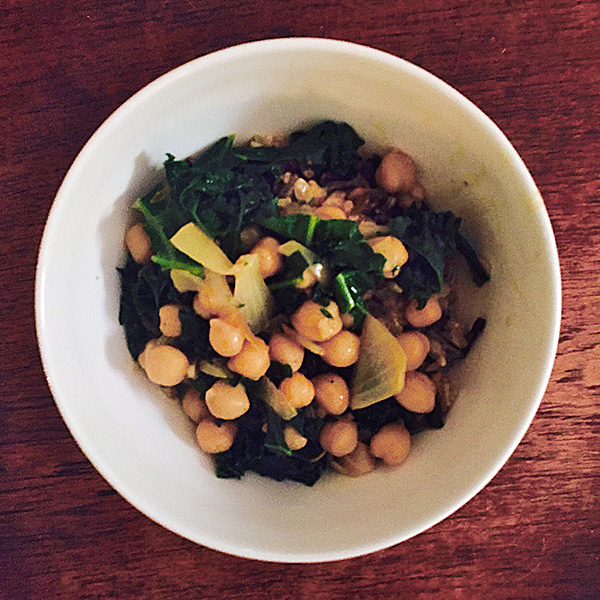 Chickpea and Kale Curry, Courtesy Catherine Kast
DAY THREE (Sunday):
Another cup of ayurvedic tea, but still no Moon Juice order (obviously, no USPS on Sundays), which meant another "smoothie" for breakfast. When I realized I wasn't fully prepared to make that day's elaborate lunch, I made my husband run to the bodega and buy me some cashews since I'd forgotten to soak them overnight for the dressing for my Detox Tostada Salad. He listened. Must've been the Sex Dust.
Luckily Gwyneth is very forgiving and understands that people may potentially forget to soak their cashews overnight. At least one hour would suffice, she writes in the recipe.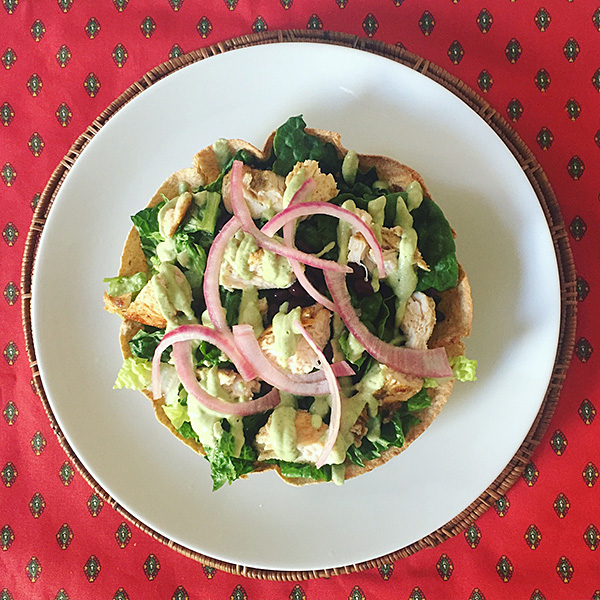 Detox Tostada Salad, Courtesy Catherine Kast
I blended my soaked nuts in my Vitamix with some cilantro, lime juice, water and salt. It was delightfully creamy. While that happened, I thinly sliced some red onions and "quick pickled" them with six peppercorns, red wine vinegar, salt and boiling water. As they sat, I marinated ⅓ lb. of chicken in olive oil and cumin. While the chicken marinated, I preheated the oven to crisp up my tortilla for the tostada. You see where I'm going with this: There were a lot of steps. BUT IT WAS SO DELICIOUS. And pretty.
That said, I have a confession to make: My tortilla wasn't the brown rice gluten-free one Gwyneth suggested. I couldn't find it anywhere in my neighborhood. Mine was a regular whole wheat flour tortilla. I'm so sorry. Please forgive me.
RELATED: Cameron Diaz and Benji Madden Cook for Gwyneth Paltrow: See Their Stunning Dish
For dinner, Gwyneth suggests leftover salmon burgers and bok choy. I only had spinach so I used that to accompany my leftover salmon. Delightful.
I also prepped my lunch for the next day, Kimchi Chicken Wraps. I grilled another ⅓ lb. of chicken and wrapped up the slices with kimchi and a little brown rice in nori papers and was ready for the next day.
I spent about 4 hours in total prepping, cooking and doing all the dishes that day. And then it was the Golden Globes! A lot happened on that red carpet and I worked until around 12:45 am.
DAY FOUR (Monday):

I had to be at work at 7:30 a.m. to do some post-Globes chit chat for our web show PeopleNow. I ran out the door and forgot to have my tea! It was just…not going to happen. Too tired.
Once I finished in our studio, I made another smoothie at my desk and tried the Spirit Dust to amp up my awareness. But after this particular smoothie, I was weirdly hungry and wanted another smoothie from a cafe in my building. I couldn't understand why they were sweetening my spinach and almond milk smoothie with apple juice. Didn't they understand that much sugar could've KILLED ME at this point in the detox? Awareness. Get some.
RELATED: We Tried It: A Dance Class Based on Justin Bieber's Music Video 'Sorry'
My kimchi chicken wraps I'd packed for lunch did not travel well, so there is no photo. The nori they were wrapped in somehow got kind of wet and floppy. But they tasted good and were fairly satiating. They would've been way better fresh but I wasn't in my home kitchen so I couldn't make that happen.
After the hangry breakdown and limp nori I needed some good news and I got it… MY MOON JUICE ORDER HAD ARRIVED. I went home that night with an awful headache, ate a small portion of my leftover kale curry and brown rice and went to sleep dreaming of ALL THE POWDERS and achieving my FULL GWYNETH POTENTIAL!
DAY FIVE (Tuesday):
On this day, something amazing happened: It started working.
I brought all the Moon Juice jars to work in a backpack (they're heavy!) so I could make a breakfast smoothie at my desk with the Spirit Dust again. I was filled with glee that everything was working out for me and my powders. My coworkers who had to listen to my blender, not so much.
Someone asked me later if I felt better than I did the day before. I did, I realized, feel better… better than everyone else around me who ate Pringles off the snack table in our newsroom.
What was happening to me? Was I energized by the adaptogenic mushrooms? Or was I simply feeling superior because I'd suddenly developed willpower? I don't know. All I know is that on day five I found myself bragging that I didn't finish the kale and chickpea curry leftovers I brought for lunch. That, my friends, is not a venerable success.
I'd become calm yet energized, focused yet politely chatty. In short, I'd become Gwyneth.
RELATED: Gwyneth Paltrow Visits Capitol Hill to Advocate for Mandatory GMO Labeling
I went home that night feeling skinny, peppy and overall thrilled about my life. I whistled a happy tune while I cleaned and de-stemmed a pound of mushrooms for the Hot and Sour Soup. "Tom and Gisele don't eat mushrooms," I thought. "But Gwyneth allows them. Who, if anyone, can I trust?" I also wondered why there were red pepper flakes in this recipe when peppers are not allowed on the plan. Maybe I was thinking too much into that.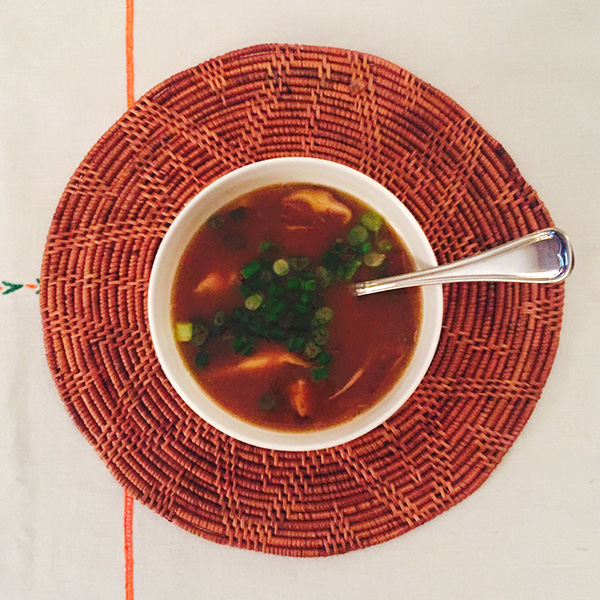 Courtesy Catherine Kast
The soup was great. It was a meal I would make again, non-detox. The only semi-confusing ingredient to me was arrowroot to thicken the soup, but my local bodega happened to have it! I used the Bob's Red Mill brand which you can get online if you can't find it.
DAY SIX (Wednesday):

I had to get on a plane that day. In addition to packing everything I needed for the trip, I packed my lunch: Some hot and sour soup and the rest of the leftover kale and chickpea curry with brown rice, which I ate around noon at the office.
I headed home to get my suitcase and, duh, make my final "smoothie" before my departure. I drank it in my Uber on the way to the airport and admittedly was sad when I slurped down the last bit of creamy vanilla mushroom protein. I left all my powders and dusts at home. Something told me that zip lock bags of brown powder wouldn't get through TSA.
And so, my detox was inadvertently coming to an end. I had crudites that I'd packed on the plane but ended up eating a hamburger when I finally got to my hotel.
I'm not sure who to apologize to for not being able to finish the full week of detoxing. Gwyneth and the Goop team? You, readers, for actually reading this far in this article? I'm sorry I wasn't able to take you through the remaining recipes: a yellow-lentil dal, chicken paillard and a soba noodle salad with miso dressing. I actually really regret not being able to make it to the part where I had to hack open a whole coconut to make the Surya Spa Aloe + Coconut Smoothie in the middle of the workday. But I tried, and made some headway in creating healthy habits–an herbal tea first thing in the morning, for example? And a smoothie for breakfast? Not the most depraved ideas out there.
My only excuse for not exactly following the detox was that I simply had to live my life and I couldn't make this whole plan fit into it. I love cooking and I love Gwyneth's recipes, but they are not easy for anyone who has a normal job — essentially anyone who isn't near a kitchen during the day.
Try reheating salmon burgers in an open office. Actually, don't. That would be gross.
—Catherine Kast