These Crazy, Over-the-Top Milkshakes Are Taking Instagram by Storm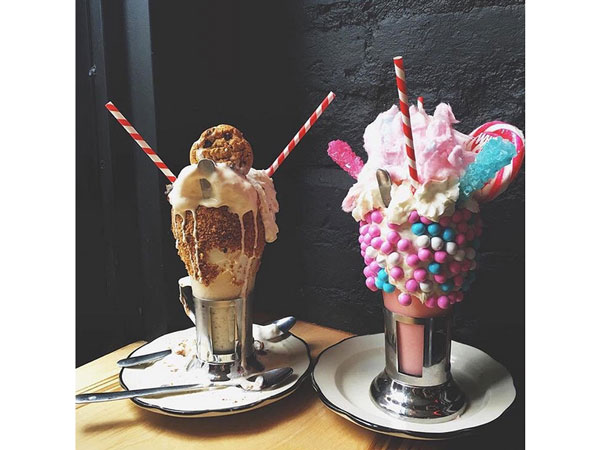 @rampaige_K/Instagram
Black Tap Craft Burgers & Beer in New York City is on a mission to satisfy your sweet and savory cravings.

While the eatery is known for its burgers and beers (you know, in case the name didn't tip you off), the Manhattan restaurant, with two locations, is garnering attention for its wide selection of ridiculously decadent milkshakes.
RELATED: These Magical Milkshake Creations Are Seriously Changing the Dessert Game (PHOTOS)
And you'll have to believe us when we say Australia's Pâtissez café, another concocter of whimsical milkshakes, has got nothing on these mile-high, calorie-packed beauties.
While they found a permanent home at Black Tap over a year ago, the shakes in question have taken over social media in recent weeks — with customers posting photos of the over-the-top creations, which include Birthday Cake, Cotton Candy, Cookie Dough and S'mores shakes, just to name a few.
What makes these shakes so striking, aside from the obvious (they're milkshakes; they're striking by nature — duh!) is the fact that each glass is packed with whole ingredients such as a slice of cake for the Birthday Cake concoction and a whole caramel apple for the Caramel Apple mixture. Keep scrolling to see the most memorable picks among the bunch.
RELATED: 10 Pie Milkshake Recipes You Need In Your Life A.S.A.P.
BRB, adding to our cheat meal bucket list ASAP. Is your sweet tooth ready for this milkshake madness?
—Grace Gavilanes