'Chew' Your Smoothies? Channing Tatum's Nutritionist Reveals the Secrets for a Hot Body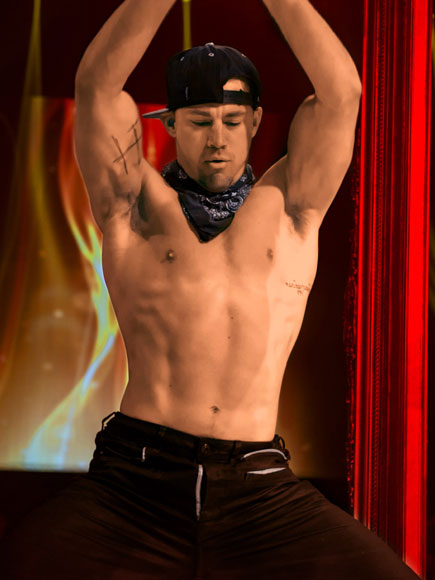 Claudette Barius
The miracle known as Channing Tatum's body didn't just happen overnight.
The actor's trainer and nutritionist, Kimberly Snyder, opened up to Elle about all the diet tips, tricks and no-nos that keep the actor in his famously impeccable shape. When devising plans for clients, Snyder says she always focuses on the bigger picture — never just quick fixes.
"We can do Atkins or Paleo and drop a lot of weight in a week, but that's not sustainable," she says. "I never have a client where my only goal is weight loss, I want them to have more energy and have better skin."
RELATED: Jennifer Lopez's Diet Is 'Very Clean' and 'All Organic'
Above all, it's essential to revamp your mornings, according to Snyder — the period from 9:00 am to noon sets the tone for your whole day.
"Rather than be like 'I'm going to be healthier this year' or 'I'm going to overhaul my whole diet,' start with measurable stuff in the morning," she says. "If you want to make a difference in your energy, you have to start with the morning. Even if you can't change your whole routine right away, try and really revamp your morning because the morning routine really impacts how you feel the rest of the day."
She recommends starting with some "nourishing" hot water and lemon before that first sip of coffee, which not only gives you vitamin C but also enzymes that help your liver detoxify.
RELATED: Watch Steamy Magic Mike XXL Trailer Performed by…Hot Dogs
And don't start off with eggs, not even low-fat, protein-packed egg whites.
"Some people eat really hard-to-digest things in the morning like egg white omelets. If you want to eat eggs, I say eat them later in the day," she says. "So imagine you wake up in the morning and you have something that hard to digest. You're going to just not feel as good throughout the rest of the day. Then you start having sugar cravings. Even if you eat really well for lunch and dinner, it's all sitting on top of that glue. So I always say with my clients, morning to noon is like the sacred time."
While we're having a difficult time imagining breakfast without eggs, we are definitely enticed by Snyder's super fresh, go-to breakfast: fruit and a green smoothie.
"When you do have smoothies, chew them. If you chug them—remember this is a whole food in your stomach. If you drink it too fast you could get bloated," she says.
We can't believe we've been drinking smoothies wrong our whole lives, but if Tatum chews his smoothies, we'll chew our smoothies.
— Maria Yagoda, @mariayagoda