We Tried It: A Muscle Relaxation and Recovery Class Taught by Kelly Osbourne's Trainer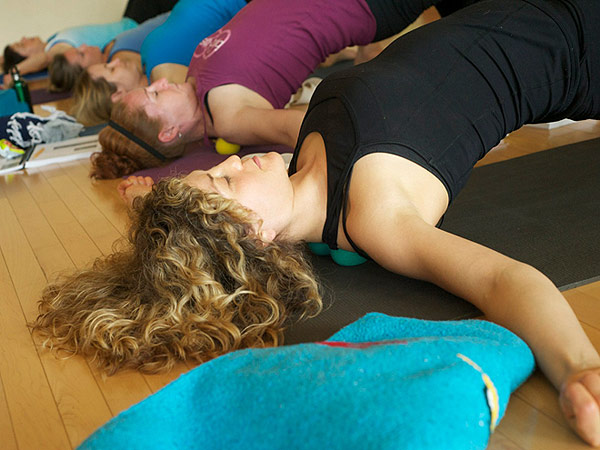 24 Hour Fitness
What Is It: Treat While You Train is a relaxation and recovery class taught exclusively at 24 Hour Fitness locations nationwide, based on the method developed by celebrity trainer Jill Miller (who works with Kelly Osbourne and Elisabeth Hasselbeck)

Who Tried It: Gabrielle Olya, PEOPLE writer and reporter
Level of Difficulty: 2 (on a scale from 1 to 10). The class utilizes therapy balls, which can be a bit tricky to place in the right spot on your body. Once you have that figured out, the class is all about relaxation and relieving your body, rather than challenging it, so it's not "difficult" (though it is effective).
I wasn't sure what to expect when the class began, and I was faced with a bunch of balls of varying sizes and pliability. Luckily, Miller herself was there to teach the class, and she talked us through various ways to use the different sized balls to really soothe and relax all the muscles from the top to the bottom of our bodies.
"My whole approach is self-care fitness," Miller tells PEOPLE. "The Treat While You Train class is best practices pulled from all of the different modalities that I teach – strength, mobility, flexibility training, soft tissue conditioning and stress reduction strategies that incorporate proper breathing techniques and mindset training."
Throughout the class, we placed various-sized balls on different muscles, and gently rolled our bodies over the balls to soothe the muscles. This felt especially great on my neck! I had mostly used foam rollers before to soothe muscle pains, but the balls provided more of a deep penetration into the muscles.
"The balls have three primary properties that make them more effective than foam rollers or sports balls – they're grippy, they're pliable, and they're portable," says Miller. "Grip creates friction, which helps break up adhesions or stiffness in soft tissue layers of your body. They're springy and spongy, so the ball caresses around joint junctions, instead of compressing and pinching into the bone."
The class is great for a warm-up or cool-down, and on those days when you're still feeling sore from a previous workout. I left feeling relaxed, with any muscle pains I had greatly reduced.
24 Hour Fitness
The Verdict: I really enjoyed this class. Who knew balls could be such an effective stretching and soothing tool?