This 5-Ingredient Buffalo Blue Cheese Bread Is a Super Bowl Miracle (VIDEO)
There's something about pulling on a string of melty cheese that just, well, pulls on our heart strings.
It's like that first bite of a piping hot mozzarella stick when the cheesy center just won't break away and you start to worry that this giant glob is about to come at your face and possibly burn/choke you. But, like, in a such good way.
The point is, everyone loves cheese, particularly in accompaniment with nearly illegal amounts of bread. And with the Super Bowl quickly approaching, you have to give the people what they want. This recipe has everything you desire in a game day snack: It's a little spicy, a lot cheesy, and oh-so-easy to make.
RELATED: Super Bowls: These Game-Time Snacks Are Served in 'Dishes' You Can Actually Eat
Once you understand the method, you can customize it however you like. Afraid of spice? Try a garlic butter instead of buffalo sauce. Think blue cheese is nasty? You're wrong, but you can substitute any cheese you want if you must. The basic recipe has only 5 ingredients, but we added in some chives to jazz up the sauce a little bit if you want to splurge on a 6th.
Check out the video above to see how it all goes down, then go forth and make it yourself (you should probably do a test run by yourself before the big game. Just, you know, to make sure it's good…)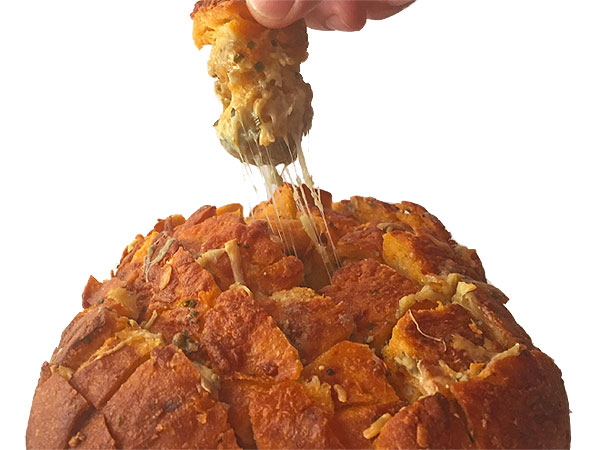 Shay Spence
Buffalo Blue Cheese Pull-Apart Bread
Serves 6-8
1 nice loaf of white bread, cut on the diagonal each way to create 1-inch diamonds
¼ cup butter, melted
¼ cup hot sauce
3 tbsp. minced chives (optional)
1 cup crumbled blue cheese
1 cup shredded mozzarella cheese
RELATED: Score Big Points at Your Super Bowl Party with These Buffalo Chicken Poppers
Preheat the oven to 350°F. In a bowl, stir together butter, hot sauce, and chives, if using. Brush the bread all over (including inside the bread) with the sauce, then stuff in the cheese. Wrap the bread in foil and transfer to oven for 30 minutes. Remove the foil and return to oven until crispy, another 10 – 15 minutes. Serve immediately.
—Shay Spence, @chezspence