John Seymour Blogs: The Creamy, Crunchy Mac 'n' Cheese Recipe You've Always Dreamed Of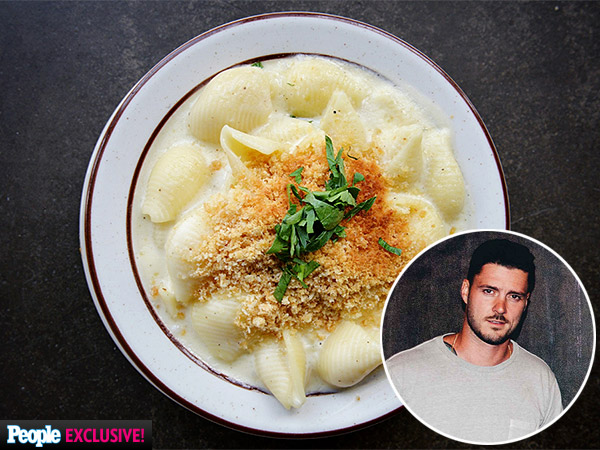 Sweet Chick Restaurant
To celebrate Super Bowl 50, we've partnered with Taste of the NFL and their chef partners all season long. The charity helps to raise awareness and funds via the season-long Kick Hunger Challenge. For more information or to donate to your favorite team's city, visit their website, and be sure to check PEOPLE.com every Thursday for a new game day recipe from your favorite celebrity chefs. Here, John Seymour of N.Y.C's Sweet Chick gives us his recipe for mac and cheese. 

Mac & Cheese is one of those side dishes that should be a game day staple. In this recipe I use a mixture of Fontina, Cheddar and Gruyere to give the this dish a rich taste and texture. And to make this dish even more nostalgic, I like to give it a crust of Ritz cracker crumble, which gives it an extra buttery crunch.
RELATED: Outside the Box: 13 Mouth-Watering Mac 'n' Cheese Recipes
Sweet Chick Mac 'n' Cheese
Serves 4-6
1 lb. medium pasta shells, cooked
2 oz. butter
½ cup flour
1 qt. whole milk
½ cup heavy cream
4 oz. shredded fontina cheese
6 oz. shredded cheddar cheese
6 oz. shredded gruyere cheese
Salt, pepper and nutmeg, to taste
Ritz crackers, crushed
1. Melt butter in medium sized sauce pot and whisk in flour to make a roux. Slowly begin whisking in milk and heavy cream. Simmer briefly until sauce is thickened and remove pot from heat. Whisk in the cheeses a handful at a time until melted. Season with salt, pepper and fresh nutmeg to taste.
2. In a large pot mix cheese sauce and cooked pasta shells. Cook over low heat until pasta is warmed through and coated evenly with the cheese sauce. Plate in a bowl and garnish with crushed Ritz crackers.