Talking with Chefs Jon Shook and Vinny Dotolo About Vans' New Line of Shoes for Kitchen Workers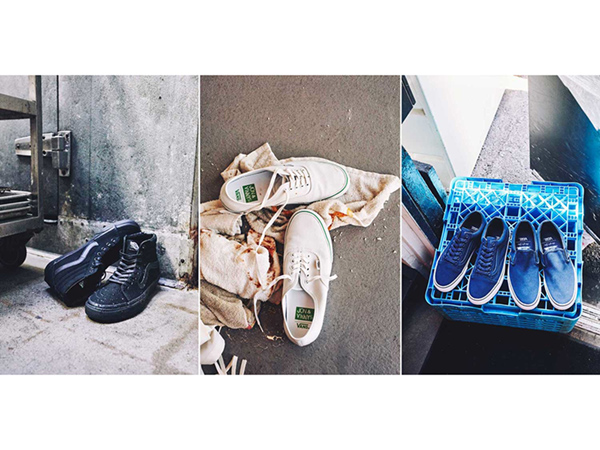 Vans
Of all the equipment essential to running a kitchen, shoes probably get the shortest shrift. Knives are shiny and sharp, and there are all kinds of neat gadgets to catch people's eyes, but the only attention a kitchen worker's shoes get is typically negative. (Mario Batali's Crocs, for example.)
Vans is working to change that. The California shoe brand is partnering with James Beard Award-nominated CA chefs Jon Shook and Vinny Dotolo for a new line of shoes aimed specifically at kitchen workers.
RELATED: Orange Crocs Are Discontinued, so Mario Batali Buys 200 Pairs
The shoes are built with specially coated water-and-dirt-resistant canvas uppers to reject spills and enhanced, extra-cushioned footbeds to provide comfort during long shifts on your feet. Four classic vans models have been subjected to the upgrade: The Authentic, Sk8-Hi, Classic Slip-On and the Old Skool.
"I worked as a busboy at Marie Callender's one winter break during college, and that was more than enough for me," Vans GM and North America VP Doug Palladini, tells PEOPLE. "But it did teach me immense respect for restaurant workers both front and back of house: The work ethic of these people was stunning, and ever since. I have gone out of my way to show appreciation for good service. During that experience, I distinctly remember ruining a few good pairs of Vans slip-ons that started to smell like aging cornbread and three bean soup."
"I grew up only having one pair of shoes for the whole school year," Shook, chef at L.A.'s Animal and Son of a Gun, says. "And I would pretty much get Vans every time. Both of us grew up surfing and a lot of our personal relationship outside of the kitchen was based off common interest, so it's fair to say our history with Vans and the cultures it represents runs deep. We first left our first meeting with Doug like two kids."
"Jon and I have always worn Vans," Dotolo adds. "Mostly the Slip-Ons because they're easy to get on and easy to get off. I used to go to the local surf shop and get Vans custom-made when I was a kid. I would get them in like corduroy and canvas, yellow and pink; whatever I could make, I would get. I used to be obsessed."
RELATED: The Essential Equipment for a Well-Stocked Kitchen
Keep an eye out for the Vans/Jon & Vinny collaboration in stores, and check out one of the chefs' restaurants in Los Angeles if you're in the City of Angels.
—Alex Heigl, @alex_heigl