Celeb Trainer Harley Pasternak: How to Lose Weight Just by Sleeping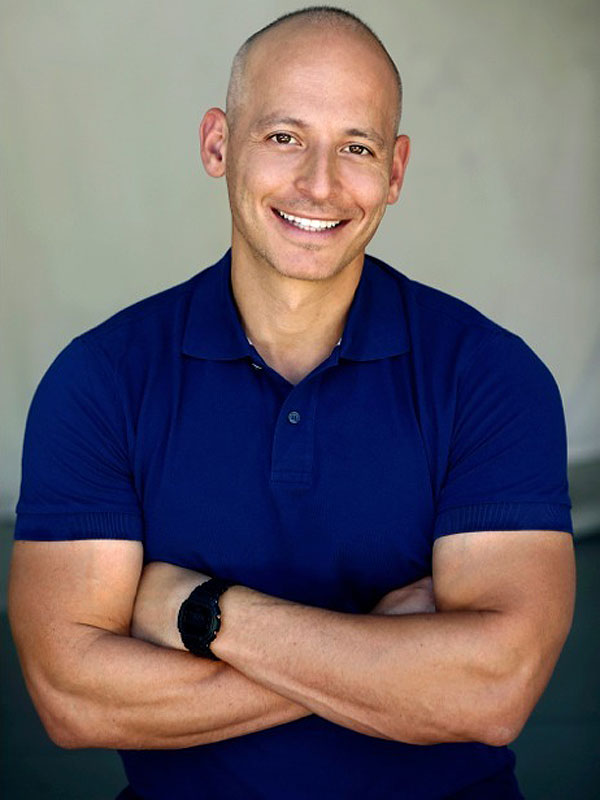 Courtesy Harley Pasternak
Harley Pasternak is a celebrity trainer and nutrition expert who has worked with stars from Halle Berry and Lady Gaga to Robert Pattinson and Robert Downey Jr. He's also a New York Times best-selling author, with titles including The Body Reset Diet and The 5-Factor Diet. His new book 5 Pounds is out now. Tweet him @harleypasternak.

You know how important it is to watch what you eat. You're careful not to let yourself get too hungry by going too long between meals. Your Fitbit keeps you on your toes — literally — activity-wise. So why can't you lose those last stubborn pounds?
Lose Sleep, Gain Weight
The answer may lie in your bedroom. No, I'm not talking about sex, not that that isn't a fun way to burn off some calories. If you're not getting enough sleep — for most people that means at least 7 hours of shuteye every night, but read on — your weight-loss efforts could be significantly hampered. Research reveals that sleep-deprived people eat more, particularly the refined carbohydrates that can pack on pounds, and as a result, have a harder time losing weight.
One study conducted in a sleep lab by researchers at the University of Colorado controlled the number of hours volunteers slept. Getting just five hours of sleep actually raised their metabolism, but compared to those who were allowed to sleep nine hours, the sleep-deprived subjects gained an average of 2 lbs. in a week. So, while they burned more calories while awake, their increased appetite more than made up for the difference.
When your sleep is curtailed, two crucial hormones get out of whack: levels of ghrelin, which stimulates appetite, rise; meanwhile, levels of leptin, which signal satiety, fall. Levels of the stress hormone cortisol also rise. The result is that you have a harder time dealing with hunger. This may explain the relationship between inadequate or interrupted sleep and weight, but leaves unanswered the question of why we are not sleeping as well, or as long, as we should be.
Blame It on the Wrong Light
A number of studies have blamed our chronic loss of sleep on the constant exposure to artificial light inherent in today's lifestyle. And by extension, there is considerable research indicating that light exposure well into the evening hours may be an important piece of the puzzle contributing to the epidemic obesity. The availability of light 24/7 has interfered with our link to the natural rhythms of night and day, which throws off our internal clock. Those circadian rhythms signal your brain when it is time to go to bed and time to awaken.
Compounding our excessive exposure to artificial light — and thanks to TVs, computers and smart phones, exposure to what is called blue light — we're not getting enough natural light. Daylight, and particularly morning sunlight, prompts your body to manufacture melatonin, Mother Nature's soporific. If you've been inside all day, your melatonin levels, which normally rise in the evening, remain low, inhibiting drowsiness. To make things worse, blue light suppresses the release of melatonin. Using such devices at the end of the day keeps you amped up when you should be winding down.
The Role of Temperature
To shine some light on the "natural" sleep patterns of our ancient human forbears, the authors of a recently published study looked at the sleep habits of groups of hunter-gatherers, specifically the Hadza and San tribes in Africa and the Tsimané tribe in South America. What the researchers found challenges some of the assumptions about how much sleep we humans need — and how much we should strive for.
The premise has always been that absent artificial light, people bed down when the sun goes down. That would suggest our ancestors used to get considerably more sleep, particularly in winter when the nights are longer, than we now do. But these aboriginal peoples didn't nod off until three or four hours after sunset and arose about an hour before sunrise. On average, they got slightly less than six-and-a-half hours of sleep — more in the winter, less in the summer — and less than that of supposedly sleep-deprived Americans. But these hunter-gatherers didn't suffer from the chronic diseases that plague so many of us. Nor were they overweight. And importantly, they didn't experience insomnia. In fact, two of the tribes had no word for this condition so common in our culture.
It turns out that the sleep period for all three tribes on two continents reliably occurred when the temperature began to drop at night and ended as it began to rise again the next day. The researchers noted, "The daily cycle of temperature change, largely eliminated from modern sleep environments, may be a potent natural regulator of sleep." Until now, light has gotten all the credit as the regulator.
This research leaves unanswered whether we modern humans need more than seven hours of shuteye a night, as well as whether getting less than that is really a major factor in the tendency to gain weight. It does suggest that getting quality sleep may be more important than logging a certain number of hours in bed. Sleep is important for weight management, but it is only one of several interrelated factors, starting with good eating habits. Although this recent study didn't address diet, we can be pretty sure the members of these tribes were not consuming potato chips, sugary drinks and other refined carbs. Nor were they leading sedentary lives.
The Take Away: 5 Ways to Improve Your Sleep
I'm eager to hear about the next chapter in this fascinating avenue of sleep research. Meanwhile, to get a better night's sleep, with the added bonus of enhanced appetite control:
1. Sync your body with the sun. Spend at least a half-hour a day, preferably in the morning, outdoors to set your internal clock.
2. Turn down the thermostat. Lower it at least 5 degrees Fahrenheit below the normal daytime setting to somewhere between 60 and 70.
3. Block light in the bedroom. Blackout shades or draperies will block even ambient light from streetlights. Even tiny lights like the one on your humidifier or TV or alarm clock can shed a bright light.
4. Establish a bedtime regimen. Go to bed and get up at about the same time each day, and wind down before bedtime with relaxing activities such as stretching, meditating, listening to soothing music or having a cup of herbal tea.
5. Banish blue light. Don't use any blue-light emitting devices such as cell phones or computers for at least an hour before bed.
Celeb Trainer Harley Pasternak Shares a Go-To Move to Get Buns like Beyoncé