PHOTOS: Step Inside Sean Hayes and Husband Scott Icenogle's Tudor-Style L.A. Home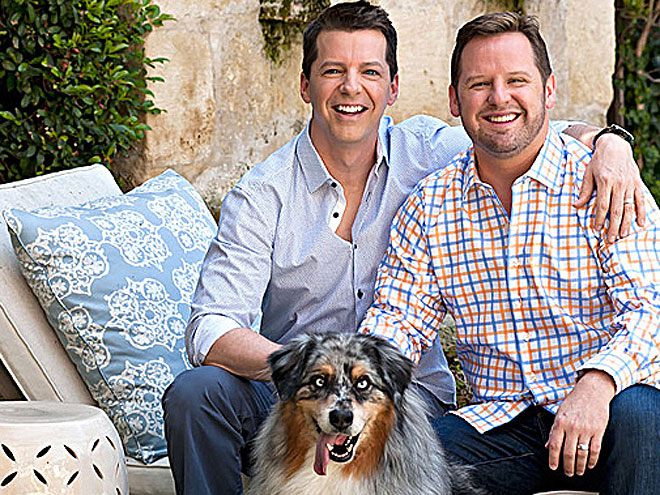 Michael Garland for Traditional Home
When Sean Hayes and husband Scott Icenogle decided to update their Los Angeles home, they were focused on making it a perfect place for entertaining guests.

Gracing the cover of the February/March issue of Traditional Home, the couple showed off their newly renovated Tudor-style house. With the renovation, they were basically going for the exact opposite of what they had.
RELATED: Step Inside the Ultra-Glam Homes of Khloé and Kourtney Kardashian
"Its scheme and tone seemed too dark and serious," Icenogle, a music producer, said. "This house needed to be comfortable, cozy, and fun, not only for us, but for all the people who we love to be around us. We wanted the update to be contemporary and classic, not too modern, and not museum-like."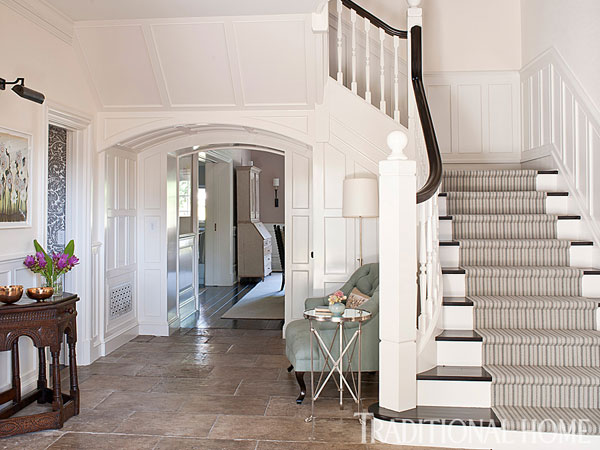 Michael Garland for Traditional Home
Interior designer Chris Barrett worked with the couple to brighten up the look of the house, which involved changing the color palette and repurposing rooms. For example, their dining room, which was only used during the evening, was turned into a library featuring floor-to-ceiling bookshelves and a homey window seat.
RELATED: Take a Tour of Naomi Watts and Liev Schreiber's Gorgeous N.Y.C. Duplex
"I wanted to take advantage of that daylight," Hayes said. "So many people have light-filled rooms that are reserved for night. That's how the dining room was. We only saw it at night when it was dark and could never fully enjoy it with natural light."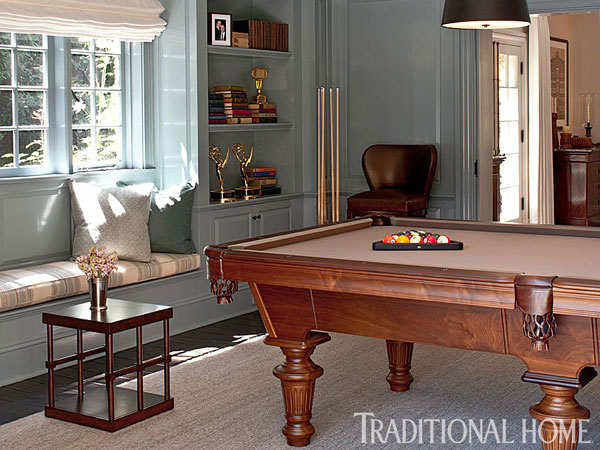 Michael Garland for Traditional Home
Making their home suitable for their often impromptu gatherings with friends meant also reducing its formality and creating more space to host them. For example, the Will and Grace alum's office was transformed into a billiards room, which now boasts the extra space needed for game nights with friends and other fun activities (and serves as a casual display area for his Emmys).
RELATED: Look Inside These Gorgeous Celebrity Kitchens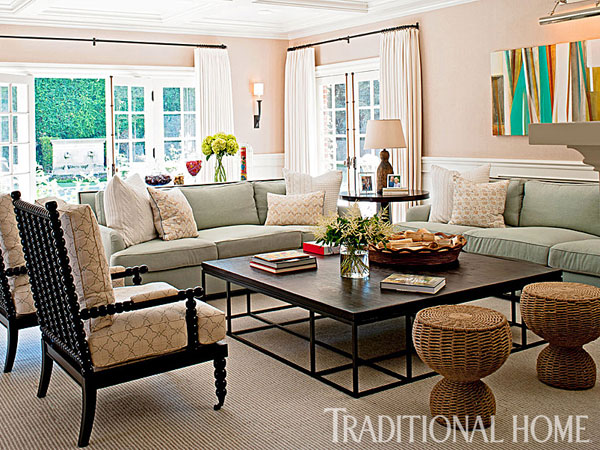 Michael Garland for Traditional Home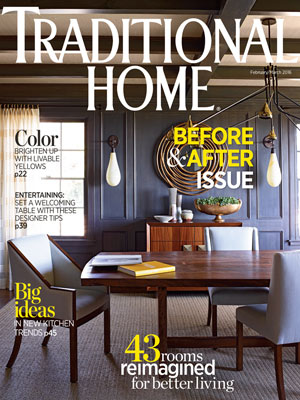 Michael Garland for Traditional Home
When Hayes and Icenogle have friends over, they tend to watch movies. So, Barrett increased the number of guests the room could accommodate by creating symmetrical arrangements with a pair of spool chairs with embroidered cushions, two woven rope stools, and two light blue sofas.
According to Icenogle, the couples' guests love the new design. "They always say how the design feels like a big, smiling 'hello,'" he says. "We can't ask for a better compliment than that."
—Chancellor Agard