This Taco Bell Lasagna Now Exists and We Don't Know How to Feel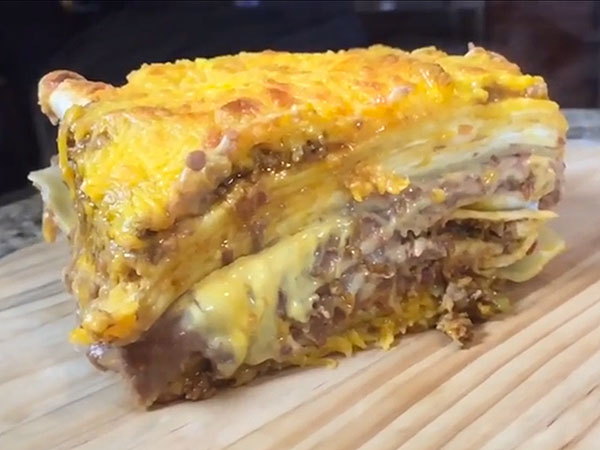 Food Beast
Everyone can go home, we are done with the Internet today.

An everyday hero at FoodBeast decided it would be chill to make a lasagna made almost entirely out of Taco Bell food items, and the results will make you fell all the strange feelings. (We say almost because it also contains actual lasagna noodles, which at first seemed redundant but upon further reflection is an outstanding achievement in fusion cuisine).
RELATED: Missouri Teen Takes Senior Portrait at Taco Bell, Wins High School (PHOTOS)
Here's how it all goes down, layer-by-layer: burrito-sized tortillas, shredded cheese, the contents of beef taco (no official word on what happened to those tortillas), lasagna noodles, 8 entire burritos, refried beans (again, scooped straight out of a bean burrito), nacho cheese, more lasagna noodles, 16 cheese rollups, mild sauce (we would've gone with fire tbh), more ground beef, and more shredded cheese. Bake and garnish with guac, sour cream, and more sauce.
As you can see from the video, while the process of making this creation is revolting, the final product is, dare we say…something we might actually eat? At least one bite, come on, y'all! You know you would.
In total, the project cost them $80 and at least 10 years of life, most likely. But the verdict? Worth it.
—Shay Spence, @chezspence