Kourtney Kardashian on Her Kid-Friendly Home: 'It's a Magical World For My Family and Me'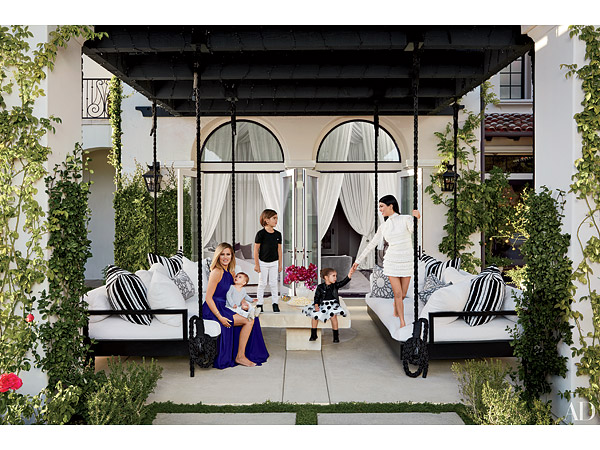 Roger Davies/Architectural Digest
With the help of interior designer Martyn Lawrence Bullard, sisters Khloé and Kourtney Kardashian transformed their neighboring Calabasas homes into oases of glamour.

"It has such a great vibe," Kourtney tells PEOPLE exclusively of her decked out space featured in the March issue of Architectural Digest. "When I bought the house [in February 2014] I knew what I wanted it to be like. I want it simple and neutral and somewhat modern."
RELATED: Step Inside the Ultra-Glam Homes of Khloé and Kourtney Kardashian
And kid-friendly of course. "The most important thing is that it's comfortable, so we can run around and I don't have to worry about it," says the mom of three (Mason, 6, Penelope, 3 and Reign, 1). "I want it be warm, but I also want it be chic and reflect my personal style. I think we really accomplished all of those things."
With an envy-inducing art collection (pieces by Roy Lichtenstein and James Turrell adorn walls; Penelope even has an Andy Warhol in her bedroom!) and wall-to-wall alpaca carpeting in the bedroom, (Khloé has the same), Kourtney says her home perfectly reflects this point in her life.
RELATED: Kris Jenner's L.A. Home Gets a Glam Makeover (PHOTOS)
"In my last house, we never used the pool," she says. "In this house we use every single room. And with the outdoors, [landscape artist] Jim Hyatt created such a magical world for my family and me. It's truly amazing."
The little ones are taking full advantage of what Kourtney refers to as "California living." Think giant slide, a 7×8-foot custom bed in Mom's room (perfect for snuggling) and a playroom stocked with toys.
"I buy things that I like the way they look," says Kourtney, of the unfortunate tendency for kids' playthings to be eyesores. "I just got Reign all new musical instruments and I picked out ones that I like the way they look, so if they're laying all over the floor, they look cool!"
RELATED: Khloé Kardashian Shows Off Her Meticulously Organized Cupboard: 'I Know Everyone's Not Going to Go This Far'
Similarly, when it comes to her kids' bedrooms (Penelope has a custom headboard in pink mohair; Mason has bunk beds and a ceiling covered in stars; Reign has a Moroccan Berber rug and art by Mr. Brainwash), Kourtney says they stay mostly chic and neat.

RELATED: Look Inside These Gorgeous Celebrity Kitchens
"They don't always look perfect," she admits. "But the thing about well-decorated kids rooms is they look great even when they're not perfect!"
–Aili Nahas