Vomit, Dennis Rodman and Boobs: What It's Like Inside the Philadelphia Wing Bowl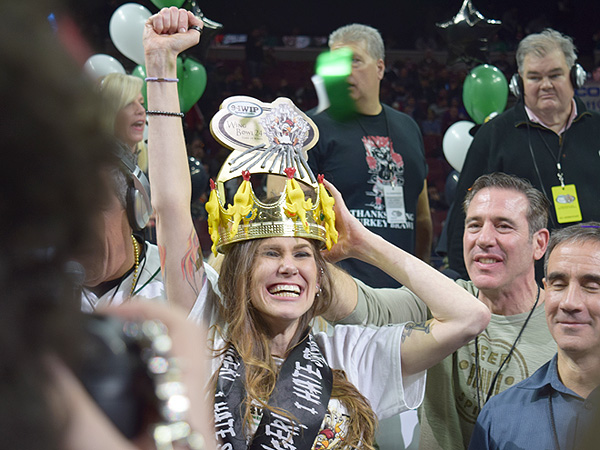 Maria Yagoda
Despite being from the Philadelphia area and pronouncing water as "wooder" until a very late age, I never knew much about the Wing Bowl, except that it seemed to incorporate two things I loved: wings and bowls.
Now 25, I decided it was time to truly understand my city. Because there is nothing more Philadelphia than this annual congregation of the city's drunkest men, who arrive by the thousands to tailgate in the Wells Fargo Center parking lot at 4:00 a.m. The main event? The spectacle of human beings consenting to the consumption of hundreds and hundreds of wings, as well as the thrill of guaranteed projectile vomit. Oh, and there are scantily-clad women. But people in this town – and now across the nation, Philadelphians will try to tell you – take it very seriously.
"I was in my morning English class in 10th grade, and another teacher came in to borrow my teacher's portable radio so he could listen to the final moments of the Wing Bowl in the teacher's lounge," my friend Peter Valelly, who follows the Bowl, told me recently. "It's so cool that Philly has this homegrown eating competition/Super Bowl tradition that started as a local thing, but eventually came in contact with the larger world of professional competitive eaters like Kobayashi, the 'Black Widow' and 'Patrick Bertoletti.'"
RELATED: Meet Molly Schuyler: The Burrito-Destroying, Wing-Guzzling 'LeBron James of Competitive Eating'
Some background: The Bowl is the nation's most prestigious – and only – professional wing-eating competition, and was  founded by Philly talk show hosts Angelo Cataldi and Al Morganti in 1993.
"We got the idea when we realized the Eagles would probably never win the Super Bowl," Cataldi, Sports Radio 94WIP Morning show host, tells me. "How could we do something that made Super Bowl weekend memorable in Philadelphia? How about an eating contest?"
The morning of the Wing Bowl 24, I woke up to my 3:30 a.m. alarm and the sight of my mom's car – which I'd be driving because I was home in God's Country aka Philadelphia and its surrounding towns – covered in sleet and freezing rain. Cool. I splashed what felt like 10 buckets of cold water on my face to make myself alert and slipped on my most demure outfit, as I was told by several people that a big component of Wing Bowl is showing/getting asked to show your boobs.
When I rolled up to the Wells Fargo Center (literally rolled, the roads were mad icy and I'd lost control of the vehicle), hundreds of people were outside in the pitch dark, tailgating in the sleet, getting trashed at 4:00 a.m.
I considered napping in my car throughout the whole event, but eventually mustered up the bravery to head to the media check in and claim my press credential. I made my way down to the floor of the arena, which was strangely serene.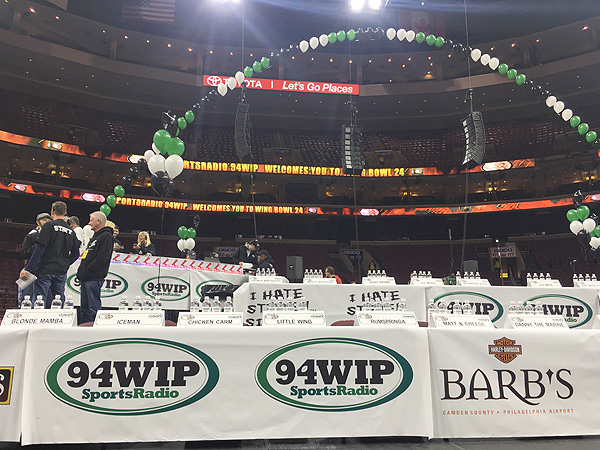 Maria Yagoda
As men and the occasional woman flowed in, talk show hosts Cataldi and Morganti filmed their live show with guest Rickie Ricardo.
"The pain of what's been done to our football team this year, there is even more of a need for Wing Bowl," Ricardo said.
(As is my understanding, the motto of the Wing Bowl is essentially: "Who cares about the Super Bowl? We're not bitter. It's fine. Let's drink or whatever.")
As a weak and generally non-resilient person, I already needed food and coffee. I ran up to the concession stands and spotted revelers dressed in jerseys, green body suits and dried beer. I checked my phone to see if I was really experiencing this: Yes, it was still before 5:00 a.m. A man next to me kept yelling, "Here we go!"
Related: Watch One Woman Eat 20 McDonald's Cheeseburgers in 16 Minutes
I bought a coffee and soft pretzel for $10.50 because I required the comforts of caffeine and simple carbohydrates. I ran back to the floor to my relatively spacious spot. I looked up at the Jumbotron, which was now displaying the "Can Cam." Can you guess what that is? By 6:00 a.m. alone I saw more female nipples than I'd seen all year. Essentially, the camera zoomed in on an unsuspecting woman's breasts, and she either had to show them or elicit boos. So yeah it was a super fun game that made me feel confident and welcome.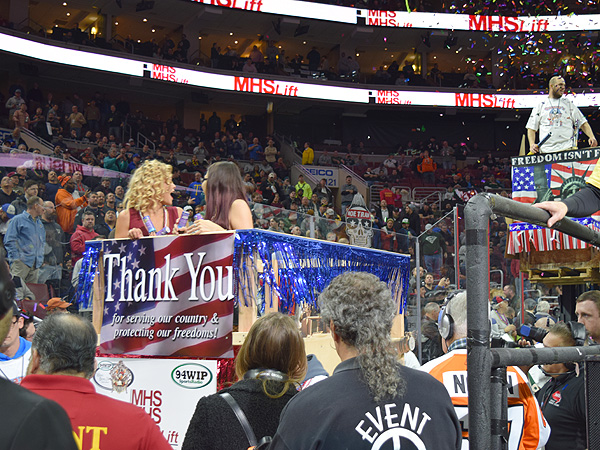 Maria Yagoda
I had to remind myself that I was here for the wings, and for Philadelphia, and for America, so I focused on those three things, the only things that truly mattered. I was also here for Molly Schuyler: a bad-ass, 5-foot-7 mom of four who won the Bowl in '14 and came in second by just four wings last year. I wanted her to retake the crown and once again prove the fearsome power of wing-loving women who aren't afraid of getting sauce on their face (the only demographic with which I truly identify.)
As a fun little warm-up, a man ate a cactus stuffed into a hot dog bun. As he convulsed, everyone cheered. He spit up a lot of weird stuff, and I was overcome with a deep, unshakeable melancholy.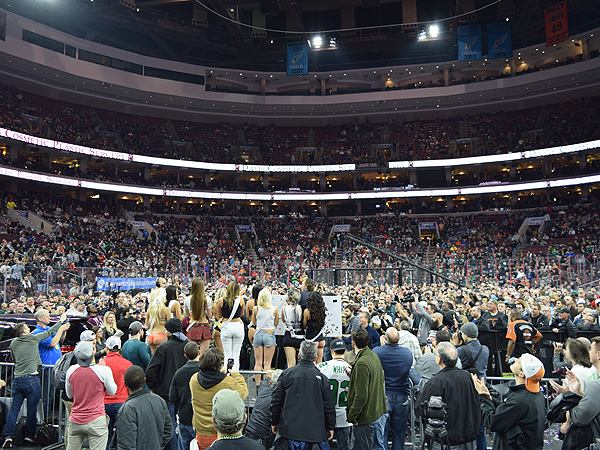 Maria Yagoda
The stadium was full now; people were screaming and pointing and doing all the other things that crowds are known for. I instinctively held onto my boobs, hoping that no one would suggest I reveal them. All thirty of the contestants entered the ring on their elaborate, obscenely decorated floats; they took laps around the arena and threw things like t-shirts and dried sausages into the belligerent crowd. Then I saw Schuyler's float approach; girl looked good. I screamed "WOOOOO!!!!!!" for the first and last time of my life.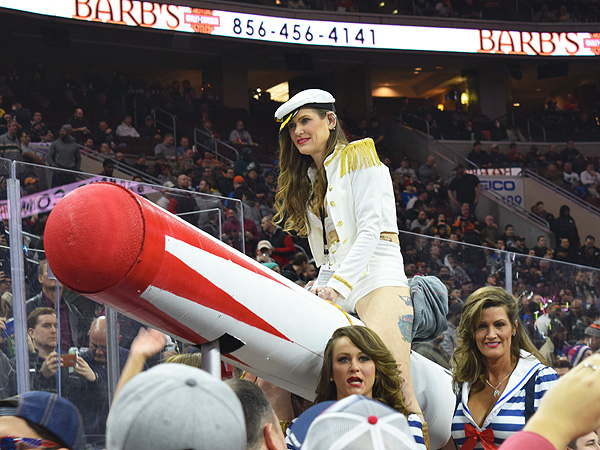 Maria Yagoda
Here's a quick aside that I don't feel like explaining: At one point in the morning I met Dennis Rodman, who was, inexplicably, in attendance.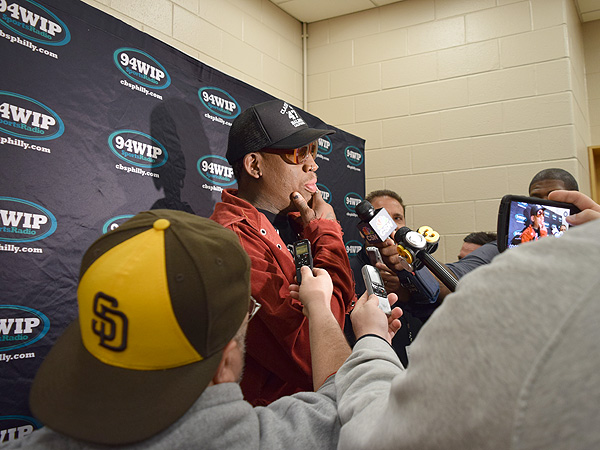 Maria Yagoda
When the actual wing-eating began, it soon became clear that the table was full of amateurs. In the first 14-minute round, four people were eliminated for vomiting. ("If you heave, you leave!" is the refrain, chanted by the hosts repeatedly.) One person projectiled hard core, which flashed across the Jumbotron. I wanted to die, but I still had to finish my $6 coffee, so I found the strength within.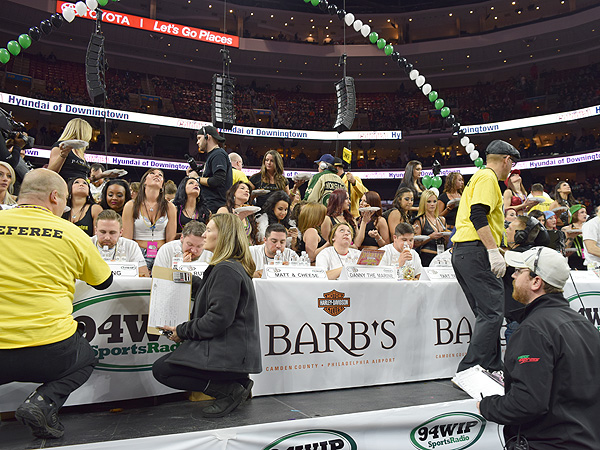 Maria Yagoda
Second round, Schuyler started in the lead. I was mesmerized by her mechanical, almost graceful technique, which made all the other men up there – who appeared to be arbitrarily stuffing their mouth holes with wings – look like monsters. Schuyler was focused and had a plan. Her wing-eating was rhythmic. I had a good feeling about this. I hopped up onto the stage to get a closer look. The stench of vomit was unmistakeable.
RELATED: Caution: These Super Bowl Dips Will Make You Melt
For the final two-minute round, Schuyler started in the lead, again. It was down to her and Bertoletti, who had taken the crown from her in 2015. And home girl DESTROYED those two minutes. I found myself shaking, jumping, crying silently. When the round ended, the winner still hadn't been announced, but Schuyler's fast pace indicated to me that she must have kept her lead. Meanwhile, on another stage, the hottest Wingette was being chosen; the final three women had to dance, and whoever received the most cheers won. I turned my attention back to Schuyler.
Then it happened: The numbers were announced – Schuyler had eaten 429, while Bertoletti only 408. The crown was placed on Schuyler's beautiful little head. Where did all the wing sauce go (which, coincidentally, will be the name of my memoir)? Where was her bloat? She had cleaned up in no time. As Schuyler laughed and pumped her fist, I felt inspired, and, quite honestly, emotional. Females are strong as hell.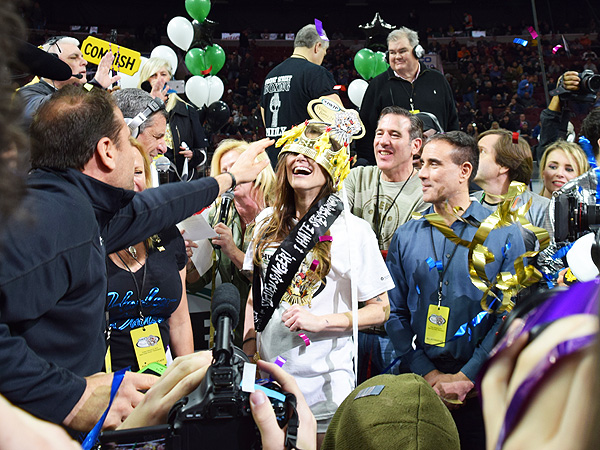 Maria Yagoda
And with that I ran to my car, sped home and kissed my dog on the head.
"We're safe now, Rocky. We're safe."
– Maria Yagoda, @mariayagoda