Camila Alves Blogs: How to Make My Favorite Valentine's Day Recipe Ever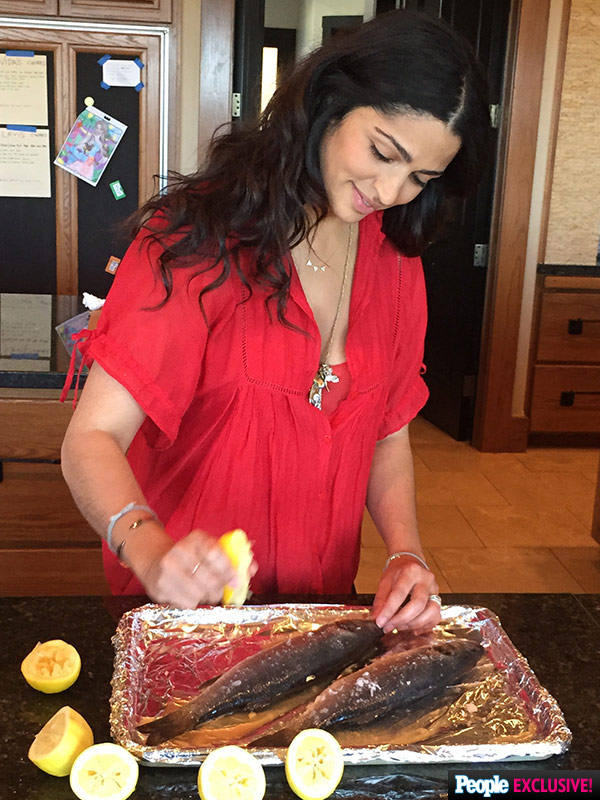 Courtesy Camila Alves
Our lifestyle blogger Camila Alves is getting you ready for the most romantic night of the year. She shares a Valentine's recipe that is not only easy-to-make, but is also a beautiful dish.  For more tips and recipes from Camila, check out her website WomanOfToday.com and follow her on Twitter at @iamcamilaalves, Facebook at iamcamilaalves and Instagram at iamcamilaalves!

I enjoy celebrating Valentine's Day. It's a nice way to say you're thinking about your family, someone special or dear friends. On this day, I really enjoy sharing a homemade dinner that is tasty, healthy and made with love. When I lived in Greece and off the coast of Italy, I enjoyed a branzino dish so much that I created my own version. This recipe can impress anyone with the presentation, plus it's so easy to make, you'll take your valentine on a journey to the Mediterranean Sea! I like to keep Valentine's dinner light, so you don't crash after and can keep the fun going through the night! Hope you enjoy what we call "The Great Branzino."
Valentine's Day Branzino 
2 Branzino whole fish cleaned (head and tail) (See notes below)
Flake salt
3 Lemons
2 large cloves of garlic, each clove sliced lengthwise to get three pieces per clove
1 large bunch of rosemary
Tips selecting the branzino: If you are not brave enough for the head ask the butcher to remove. It won't look as good but it is fine! Also, call your grocery or fish store ahead of time to order or make sure they have banzino available. And lastly, make sure to ask your fish store to butterfly and clean the fish really well. Check before you leave the store that it is right – you want to be able to open the fish all the way.
1. Preheat the oven to 400°. Put flake salt on both sides of the fish and inside the fish. Salt to taste (you can always add salt once it is almost all the way cooked and this kinda of fish can take a lot of salt.)
2.  Squeeze 1 1/2 lemons on each fish –half a lemon per side and inside. Make three slits on top of the fish in a diagonal design (make the slits from the base of the knife up). Insert one piece of garlic into the diagonal slit, repeat in other slits using all 6 slices of garlic. Insert 3 sprigs of rosemary diagonal inside each fish.
3. Cook fish uncovered for 20 minutes.
4. Turn the broiler on high or 450° and broil for another 5 minutes or until golden brown and crispy skin.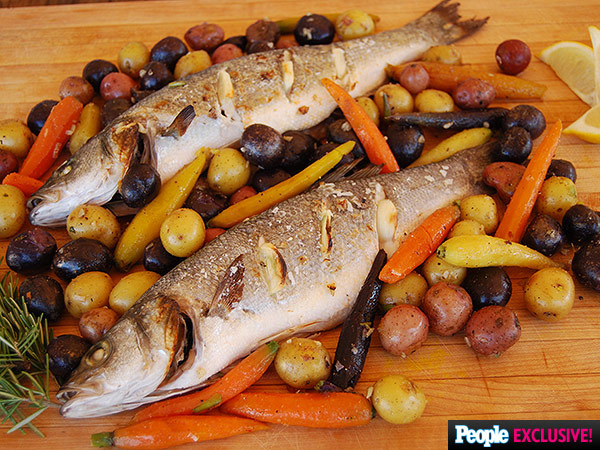 Courtesy Camila Alves
RELATED: Camila Alves Launches Live Streaming Cooking and Lifestyle Series
Baby Potatoes and Carrots
24 oz. bag of small round multicolored potatoes
7 oz. bag of baby carrots
2 tbsp. olive oil
2 large cloves of garlic, chopped
2 generous pinches of flake salt
1 or 2 Tbsp. of your favorite seasoning your taste (Note: I like steak seasoning)
1.  Boil the potatoes and carrots in a large pot of water until fork tender, approximately 10- 15 minutes. Drain vegetables.
2. Heat the olive oil in a large pan or wok. Add the chopped garlic until lightly browned. Add the drained vegetables, flake salt, and 1 or 2 tbsp. of your favorite seasoning. Toss to coat and cook for 2 minutes.
3. Serve with the branzino. I like to serve it all in the same plate for a Mediterranean presentation!
Enjoy!
RELATED: Camila Alves: My Valentine's Day DIY Gift Ideas You Can Really Make