Romance Isn't Dead: Learn to Make These D.I.Y. Doritos Roses for Valentine's Day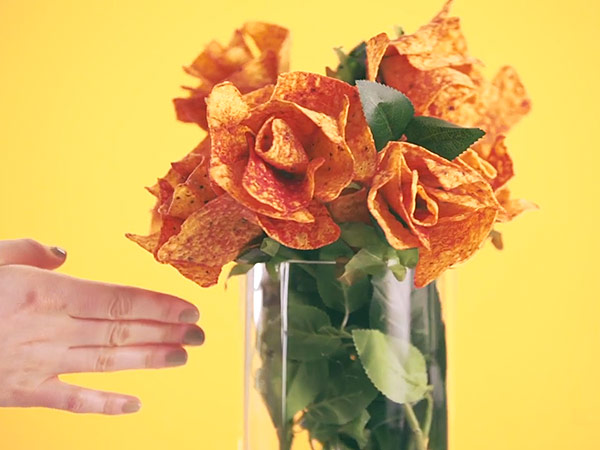 Doritos
Wake up and smell the Dorito dust.

Hopelessly hungry romantics in Canada have been given the opportunity of a lifetime to gift their loved ones a bouquet of ketchup-flavored Doritos, shaped into roses to be delivered straight to their door. Yes, they have ketchup-flavored Doritos in Canada and, no, we don't know how we feel about it.
RELATED: Stephen Colbert 'Salutes' the Creators of Doritos-Flavored Mountain Dew
Sadly for everyone, these were a limited edition item and quickly sold out due to popular demand, as you can imagine. But there is good news! You can make them yourself at home with some simple D.I.Y. steps the company g. Here's how it all goes down.
First, you need the right ingredients. If you are in an area that sells them, go with Ketchup Doritos. If not, plain ol' nacho cheese is fine. Now get some plastic roses and pluck off the petals.
Next, pick out your chips. It's important to start with 5 "perfectly triangular" chips for the outer petals. Now find a few curled up ones to go in the center.
Finally, glue it all together. Repeat until you've got a dozen.
RELATED: Chrissy Teigen Loves Doritos Dust (and Doesn't Care Who Knows It)
While it seems sacrilegious to taint the chips with super glue (and we're not totally confident they will stay in the proper shape), it may just be worth it for the grand romantic gesture. So go for it, you ol' dog, you.
—Shay Spence, @chezspence