Celeb Trainer Harley Pasternak: How to Banish Bloat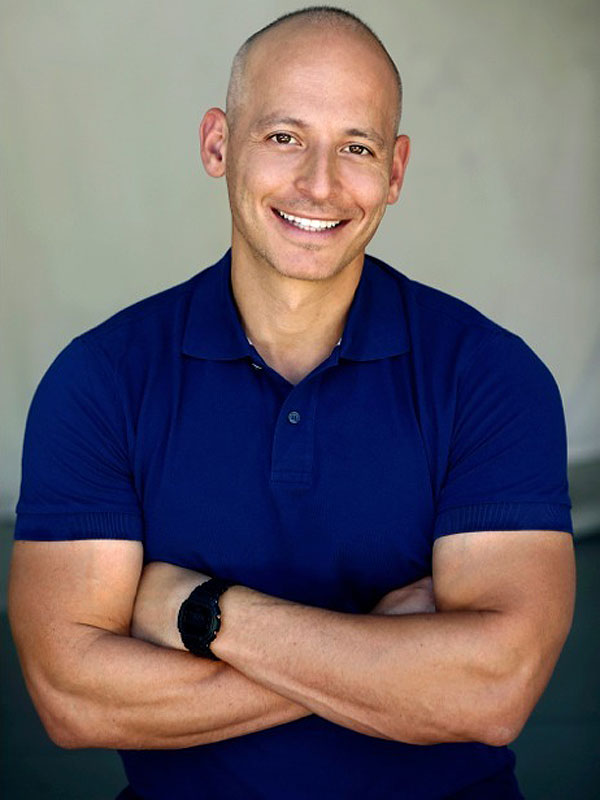 Courtesy Harley Pasternak
Harley Pasternak is a celebrity trainer and nutrition expert who has worked with stars from Halle Berry and Lady Gaga to Robert Pattinson and Robert Downey Jr. He's also a New York Times best-selling author, with titles including The Body Reset Diet and The 5-Factor Diet. His new book 5 Pounds is out now. Tweet him @harleypasternak.

Do you wake up some mornings feeling puffy and unable to slip comfortably into your favorite jeans? Do you occasionally feel like the Stay Puft version of yourself?
Bloating refers to a feeling of increased pressure in your gut, sometimes accompanied by a protruding belly. You may feel gassy or even in some pain. A significant percent of the population experiences this uncomfortable sensation at some time, although women are more likely to complain about bloat than men, perhaps because females are often more aware of differences in how their clothes fit from day to day.
When eating, it can take up to 20 minutes before your brain receives a satiety signal and curbs your appetite. When you snarf down your food, you increase the likelihood that you'll overeat, a sure way to feel bloated after a meal. In addition to simply eating too much (or drinking too much alcohol), here are the five most common reasons you may be fighting the occasional battle with bloat, along with suggestions for how to eliminate each cause. (Chronic bloating can be the sign of a serious intestinal issue and merits a visit to your healthcare provider.)
1. That Time of the Month
Abdominal bloating is a classic symptom of premenstrual syndrome, thanks to fluid retention of up to 3 or 4 lbs. This water weight can also manifest swollen hands and feet. Fortunately, these symptoms pass in a few days. Some women are just more sensitive to normal hormonal changes. Don't make the mistake of taking an OTC diuretic to eliminate fluid, which depletes your body of vital minerals, including potassium and magnesium, both of which actually help counter bloating.
Instead, make a habit of drinking least eight 8-oz. glasses of water every day of the month. While the impulse to drink more on hot days when you're sweating up a storm or engaging in vigorous exercise feels natural, it's just as easy to become dehydrated in cold and windy weather. Just keep imbibing, whether it's with water or another unsweetened beverage.
2. Overusing the Salt Shaker
You don't have to be premenstrual to feel bloated. When your body is properly hydrated, it is actually less likely to retain water. Equally important is watching your consumption of salt and salty snacks, which increase fluid retention.
You need a certain amount of salt in your diet, but most Americans consume far more sodium than is recommended. Most processed foods — and particularly fast food — are laden with salt. Don't automatically salt food before tasting it, and experiment with herbs and condiments to enhance flavor instead.
3. Intolerance to Lactose (or Casein)
If you experience uncomfortable bloating after eating cheese, milk or another dairy product, there's a good chance that you're lactose intolerant. This means your body doesn't produce lactase (or enough of it), an enzyme that helps digest milk. Less commonly, some people are sensitive to the casein in milk. (Casein is a protein in dairy, while lactose is milk sugar, a carbohydrate.) Try eliminating all dairy products for a couple of weeks to see if you feel better. If you do, but hate to give up dairy, lactase enzymes, which are sold over-the-counter in pharmacies or health food stores, make it easier to digest dairy products.
Alternatively, increase your intake of yogurt or kefir, which are both packed with probiotics that help digest lactose, eliminating bloating and discomfort. Plain, unsweetened low-fat or fat-free Greek yogurt or similar Icelandic- or German-style products should usually do the job. However, if you're still bloated, you're probably allergic to casein, which means cutting out all conventional dairy and replacing it with almond, coconut, soy or another plant-based "milk." Another option is to switch to goat or sheep milk and dairy products, which don't contain casein.
4. Fiber Overload
Eating fiber-rich foods can help you slim down and control your appetite, but, ironically, too much fiber can make you feel bloated in the short term. If you've only recently upped your intake of vegetables, fruits and whole grains, or if you've just started to use a fiber supplement, it's easy to overdo it. Certain fiber-rich foods, such as lentils and other beans, are well known for causing gassiness, partly because they contain a certain kind of sugar (oligosaccharides) that your body cannot digest on its own. Instead, bacteria in your intestines do the job, producing gas, which can result in bloating.
Certain other fruits and vegetables, including prunes and cabbage, are also notorious for causing intestinal distress, and whole grains are problematic for others. The solution is to take it slow. Increase your intake of fibrous foods gradually to gauge your response, and be sure to stay well-hydrated.
5. Too Much Sweetness
When you overdo sweets, your pancreas releases a burst of insulin to keep your blood sugar level from spiking, but the insulin also makes you retain salt, which results in bloating. If you've ever tried a very low-carb diet, you probably recall the initial fast loss of water weight (and salt) as your insulin levels dropped. Cut back on added sugars and avoid soft drinks, full of high-fructose corn syrup or sugar. Finally, avoid sugar alcohols such as sorbitol and mannitol, as well as the artificial sweeteners sucralose and aspartame. These sugar substitutes contain ingredients that are difficult to break down during digestion, and are well known to increase the intestinal gas that causes belly bloat.
3 More Quick Tips
Swallowing air also produces gassiness. To minimize bloating:
-Eat and drink slowly to minimize the amount of air you take in with each bite
-Don't chew gum or suck on hard candy; you may not realize it, but you swallow air as you do
-Don't drink through a straw for that very same reason
Celeb Trainer Harley Pasternak Shares a Go-To Move to Get Buns like Beyoncé