Hungry Girl: My Blueberry Muffin Overnight Oatmeal Is the Perfect Way to Start the Day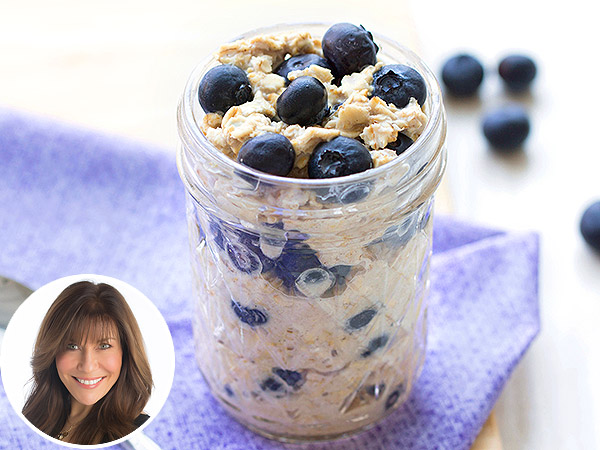 Courtesy Lisa Lillien
Lisa Lillien is the author of the popular Hungry Girl website and email newsletter, featuring smart, funny advice on guilt-free eating. She is also the author of ten books, six of which debuted at number one on the New York Times Best Sellers list. Read her PEOPLE.com blog every Monday for slimmed-down celebrity recipes and more.

One of the biggest obstacles in sticking to a healthy-eating plan is starting the day right. You wake up, get ready, and realize you have no time to make breakfast.
Well, forget about grabbing a calorie-packed muffin from the break room or coffee shop. Instead, make this on-the-go recipe the night before! And if you've never tried chilled oatmeal, get ready to fall in love.
RELATED: Hungry Girl: Why You Should Make Your Own Peanut Butter (It's Easy!)
'Til next time… Chew the right thing!
Blueberry Muffin Overnight Oats
Serves: 1

½ cup old-fashioned oats
½ cup unsweetened vanilla almond milk
2 tsp. brown sugar (not packed)
1 no-calorie sweetener packet
⅛ tsp. vanilla extract
2 drops almond extract
Dash cinnamon
Dash salt
½ cup fresh or thawed-from-frozen blueberries (if frozen, no sugar added; drained and blotted dry)
1. In a medium or mason jar, combine all ingredients except blueberries. Mix thoroughly. Stir in blueberries.
2. Cover and refrigerate for at least 6 hours, until oats are soft and have absorbed most of the liquid. Serve.
Nutritional Information: Entire recipe: 238 calories, 4.5g total fat (0.5g sat fat), 247mg sodium, 45.5g carbs, 6g fiber, 14.5g sugars, 6.5g protein
RELATED: Hungry Girl: How Technology Can Help You Lose Weight