Culinary Stars Share Their Favorite Recipes to Serve at an Oscar Viewing Party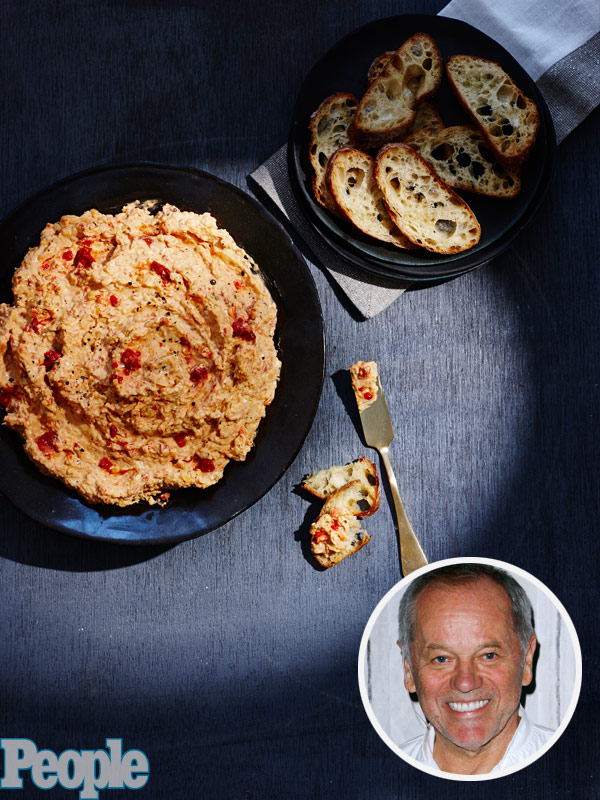 Iain Bagwell; Inset: Donna Ward/FilmMagic
You may not be attending the Oscars but it doesn't mean you can't party like a star!

Hollywood's biggest night is the perfect excuse for a celebration, but the last thing you want to do is fuss over the food (you want to be on the couch cheering on Leo DiCaprio with your guests, right?)
RELATED: How to Make Award-Worthy Sugar Cookie Statues for the Oscars
So, we called on culinary stars – including Robert Aikens, chef of New York City's Rainbow Room; Tiffani Thiessen, actress and host of Dinner at Tiffani's; and The Kitchen cohost Marcela Valladolid – to share their easy, go-to finger foods and snacks that you can prep in advance. There is even a recipe that will be served at the Academy Awards Governor Ball, courtesy of Wolfgang Puck, who is the chef of the event.
All you have left to do is, pop open the champagne!
Wolfgang Puck's Pimento Cheese Dip
Makes: 3 cups
2 medium red bell peppers, roasted, peeled and chopped
2 medium yellow bell peppers, roasted, peeled and chopped
1 cup cream cheese, softened
½ cup crumbled goat cheese
¼ cup shredded white cheddar cheese
¼ cup shredded Manchego cheese
¼ cup shredded aged Gouda cheese
1 tbsp. Sriracha chili sauce
2 tsp. kosher salt
¼ tsp. black pepper
¼ tsp. celery salt
1. Pulse all the ingredients in a food processor until mixture is smoothly combined but with small pieces of bell pepper still visible.
2. Transfer mixture to an airtight container, and chill at least 1 hour or up to overnight. (Let stand at room temperature 30 minutes before serving if chilled overnight.) Serve with warm bread, crackers, chips or vegetables.
Active time: 20 minutes
Total time: 1 hour 20 minutes (includes chilling)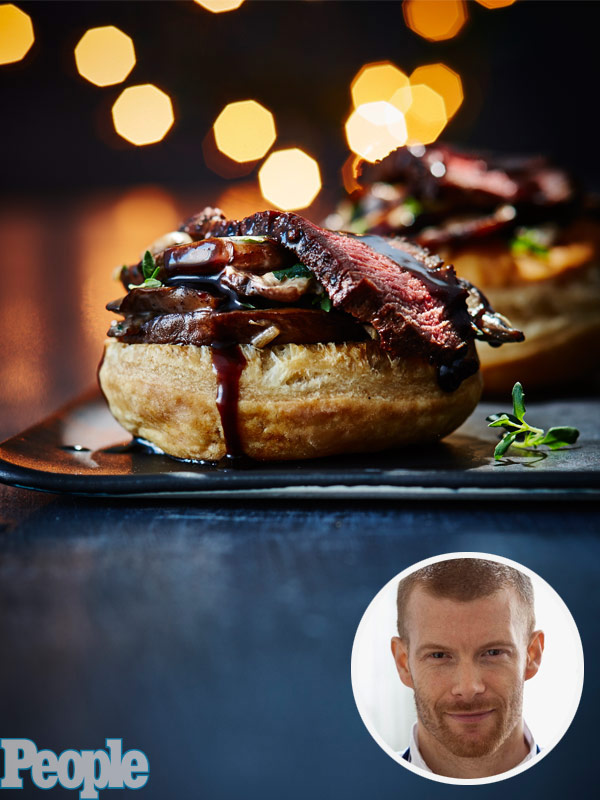 Iain Bagwell; Inset: Robert Aikens
Robert Aikens' Beef Wellington Sliders
Serves: 8
2½ cups beef stock
¾ cup dry red wine
1 tbsp. honey
6 black peppercorns
1 bay leaf
3 fresh thyme sprigs, divided
½ (17.3-oz.) package frozen puff pastry dough, thawed
8 tbsp. unsalted butter, divided
1 (8-oz.) beef tenderloin fillet
½ tsp. kosher salt
½ tsp. black pepper
1 lb. assorted fresh mushrooms, sliced
1 shallot, finely chopped
¼ cup heavy whipping cream
2 tbsp. chopped fresh flat-leaf parsley
1. For the wine sauce, stir together the stock, wine, honey, peppercorns, bay leaf and 1 thyme sprig in a medium saucepan. Bring to a boil over high heat; reduce heat to medium, and simmer until mixture reduces to about 1/3 cup, 30 to 35 minutes.
2. Preheat oven to 400°. Roll puff pastry sheet into a 10-in. square on a lightly floured surface. Using a 3-in. cookie cutter, cut 8 rounds. Place rounds on a baking sheet, and prick all over with a fork.
3. Bake until golden brown, 15 to 20 minutes, pricking again with a fork halfway through, if needed, to prevent rounds from puffing too much.
4. Remove sauce mixture from heat; discard peppercorns, bay leaf and thyme. Add 3 tbsp. butter, 1 tbsp. at a time, whisking until melted.
5. Season beef with salt and pepper. Melt 1 tbsp. butter in a small ovenproof skillet over medium-high heat. Add beef; cook until well browned on all sides, about 6 minutes. Transfer skillet to oven.
6. Bake until a meat thermometer inserted in thickest portion registers 135° (medium-rare) or desired temperature, 3 to 10 minutes. Remove from oven, and let rest.
7. Remove and reserve leaves from remaining thyme sprigs; discard stems. Melt remaining butter in a large skillet over medium-high heat. Add mushrooms, and cook, stirring occasionally, until liquid evaporates and mushrooms are lightly browned, about 10 minutes. Add the shallots; cook 1 minute. Stir in cream; cook, stirring constantly, until almost all liquid evaporates, 1 to 2 minutes. Remove from heat, and stir in thyme leaves and parsley.
8. Cut steak into thin slices. Spoon mushroom mixture over the puff pastry rounds. Place one or two slices of beef on each round, and top with a spoonful of wine sauce.
Active time: 40 minutes
Total time: 1 hour, 15 minutes
RELATED: Wolfgang Puck Blogs: My Easy, No-Fuss Recipe for Fall-Off-the-Bone Ribs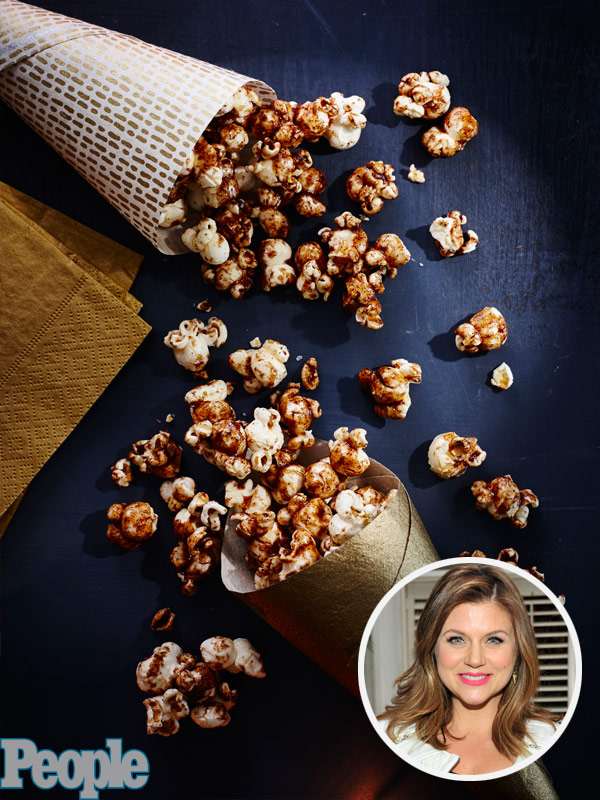 Iain Bagwell; Inset: Donato Sardella/Getty
Tiffani Thiessen's Sweet & Spicy Popcorn
Serves: 4
½ cup unsalted butter
⅓ cup packed light brown sugar
1 tbsp. ground cinnamon
1 tsp. ground chipotle chili pepper
1 tsp. kosher salt
20 cups popped popcorn
1. Preheat oven to 200º. Line a large baking sheet with parchment paper. Combine the butter, sugar, cinnamon, ground chipotle chili and salt in a saucepan. Cook over medium heat, stirring often, until the butter melts and starts to bubble, 4 to 5 minutes.
2. Pour the popcorn onto the prepared baking sheet. Working quickly, drizzle the butter mixture over the popcorn, and stir, using two rubber spatulas, until popcorn is evenly coated. Bake in the oven until the coating is crispy and dry, about 20 minutes.
Active time: 10 minutes
Total time: 30 minutes
RELATED: Lobster, Caviar & Mac 'n' Cheese: Here's What's on the Oscars Governors Ball Menu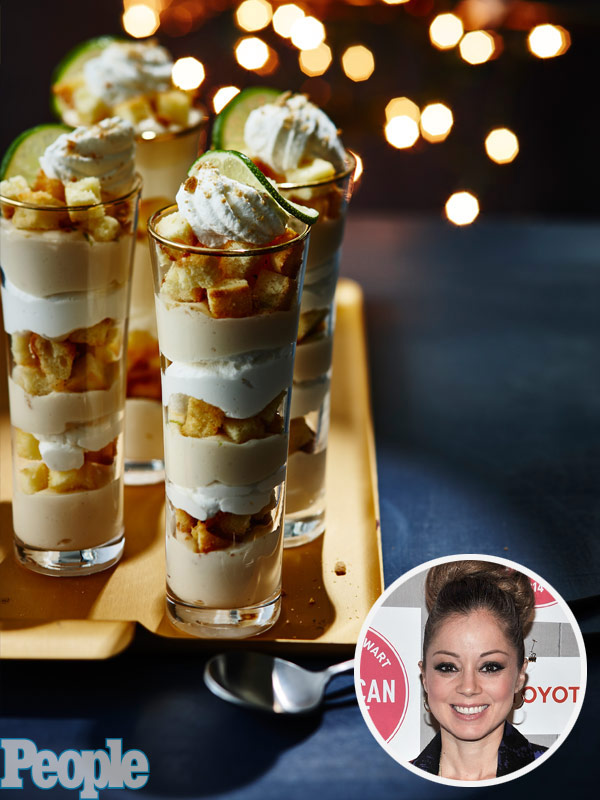 Iain Bagwell; Inset: Daniel Zuchnik/WireImage
Marcella Valladolid's Lime Cream Trifle
Serves: 10
1 (12-oz.) store-bought pound cake, cut into 1-in. cubes (about 6 cups)
2 cups heavy whipping cream
¼ cup powdered sugar
1 (14-oz.) can sweetened condensed milk
1 (12-oz.) can evaporated milk
4 limes, zested and juiced
Garnish: lime slices, crushed graham crackers
1. Preheat oven to 400°. Spread pound cake cubes in a single layer on a baking sheet. Bake until cake is golden brown, about 10 minutes. Cool completely, about 15 minutes.
2. Beat whipping cream and sugar at high speed with an electric mixer until stiff peaks form.
3. Process the condensed milk, evaporated milk and ½ cup lime juice in a blender until smooth.
4. Spoon 1 cup of lime mixture into a large glass trifle dish (or divide among 10 tall, individual glasses). Sprinkle with ½ tsp. lime zest. Spread 2 cups pound cake cubes over the lime mixture in a single layer, and top with 1 cup sweetened whipped cream. Repeat layers twice. Top with remaining lime mixture, and sprinkle with remaining ½ tsp. lime zest. Top with remaining sweetened whipped cream in center. Cover tightly with plastic wrap, and chill until set, at least 2 hours or up to 12 hours. Before serving, garnish with lime slices and crushed graham crackers, if desired.
Active time: 15 minutes
Total time: 2 hours 15 minutes (includes chilling)
–Michelle Ward Trainor