Everything Doughnuts Now Exist and We're Not Sure How to Feel About It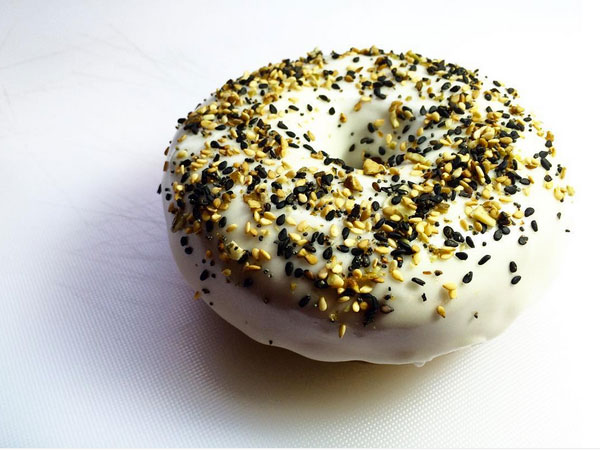 The Doughnut Project/Instagram
The breakfast pastry mash-up trend continues to thrive, but has it finally gone too far?

The Doughnut Project, a recently-opened N.Y.C. eatery, started serving up a new hybrid treat on Wednesday: the Everything Doughnut. Yes, it's essentially an everything bagel in sweetened, fried form.
RELATED: Comfort Foods Unite in this Spaghetti Sandwich Mash-Up
Here's how it goes down: take a standard yeast doughnut, dip it in a sweet cream cheese glaze, then top with traditional "everything" toppings — roasted sesame seeds, garlic, poppy seeds, pepitas and salt.
If you're a little apprehensive about this sweet-savory combo, that was the intention. "People are already arguing about it, which I think is wonderful," co-owner Troy Neal told Gothamist. "I knew we kind of hit a chord a little bit because not everybody's on board, or they're a little skeptical about what it's going to be like."
This isn't the restaurant's first endeavor into non-traditional flavors, either — their menu also includes doughnuts like maple bacon, beet and ricotta, and olive oil-black pepper.
RELATED: 11 Boozy Doughnuts That Will Have Everyone Buzzing
So , what do you think? Is this a breakfast lover's dream or an exercise in pastry sacrilege? Let your voice be heard on this important matter in the comments.
—Shay Spence, @chezspence