Coolio Reveals His Secret to Great Chili — and How to Be 'a Kitchen Pimp' like Guy Fieri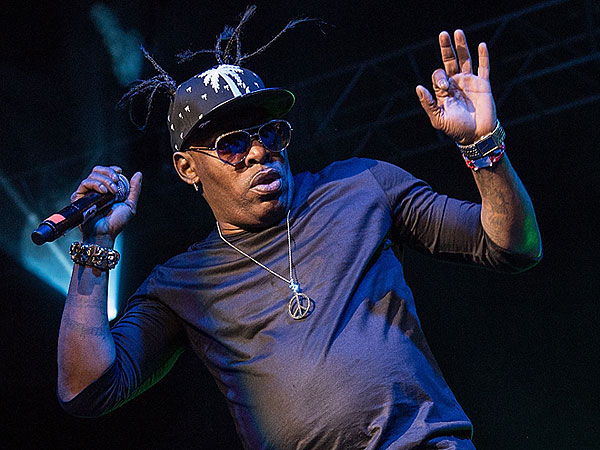 Rick Kern/WireImage
Ever since '90s rap icon Coolio discovered he had a refined palate, he's been busy in the kitchen, demonstrating fresh techniques on his YouTube show "Cookin' with Coolio" and wowing friends with his chicken, which he claims is so good "it will give you a lap dance."
"You could kill a chicken right there and I'd bring it back to life," the rapper told a crowd at Hill Country Barbecue in Brooklyn, New York on Monday. "After it's been cooked, I'll make it dance around all these tables."
Coolio self-identifies as a kitchen pimp, which boils down to the following ethos: "Pimp your kitchen and don't let your kitchen pimp you." This requires having the necessary tools, functional nonslip footwear and a willingness to put time and love into the food you're cooking.
RELATED: Make Rachael Ray's Chili Recipe
"Guy Fieri is a kitchen pimp. Bobby Flay is a kitchen pimp. Rachael Ray is a kitchen pimp. George Foreman? He's a kitchen pimp. I dare you to say that he's not," Coolio said. (Don't tell Anthony Bourdain, but the rapper stocks his kitchen with Fieri's knives: "I like that dude. He takes chances.")
Coolio expressed his respect for Paula Deen, too, despite her controversial comments in 2013.
"Listen: People are people. People make mistakes. People say the wrong thing sometimes, I know I do. So I don't hold that against nobody," he said. "I really don't think she meant it like that. If she did, she got to deal with that later on. Everybody got to face judgment one day. It's not for me to judge. It's for me to observe and report."
RELATED: Guy Fieri Fires Back at Anthony Bourdain: 'He's Definitely Gotta Have Issues'
While Coolio tells PEOPLE "every dish is [his] best dish," he's especially proud of his vegetarian chili (recipe below.) The secret to a perfect chili is simple: "Love and time is all it takes." And make sure to prep enough to have "chili cheese Fritos" the next day, a dish that sounds both spectacular and painful.
Coolio's Damn Hot Veggie Chili
People I know are always complaining about food not having enough flavor. Let me tell you, you don't need to have meat in a dish to give it the wallop of a .45 Magnum. I created this dish for exactly one reason: I wanted to prove that I could make a vegetarian chili without compromising even a little bit on the taste.
How long it takes: 10 to prep, 1 full-ass hour to cook
How much it makes: enough for 4 people to get warm
What you need:
1 medium white onion, diced
3 garlic cloves, minced
2 tablespoons olive oil
Two 14½-oz cans diced tomatoes
 ¼ cup chili powder
1 nickel bag cayenne
1 nickel bag ground cumin
1 nickel bag red pepper flakes
1½ cups salsa (hot as hell)
1 cup water
3 cups cooked kidney beans (two 15-oz cans, drained)
1 dime bag salt (Fire extinguisher)
What to do with it:
1. In a large-ass pot, sauté your onion and garlic in olive oil until they're nice and soft.
2. Add in the tomatoes, along with the chili powder, ½ teaspoon cayenne, 1 teaspoon cumin, 1 teaspoon red pepper flakes, your hot-ass
3. Stir it up so it all gets coagulated! Now, allow this mixture occasionally.
4. Add the kidney beans and let simmer for 30 minutes. Sprinkle in salt to taste.
5. Serve this chili nice and hot. Maybe put a loaf of toasted whole wheat bread out to help sop it all up. Keep your fire extinguisher nearby. This chili is so hot, you may need it as a chaser. Shaka!
— Maria Yagoda, @mariayagoda