Nigella Lawson: 'I Can Never Say How My Life Is Because I'm Too Busy Living It'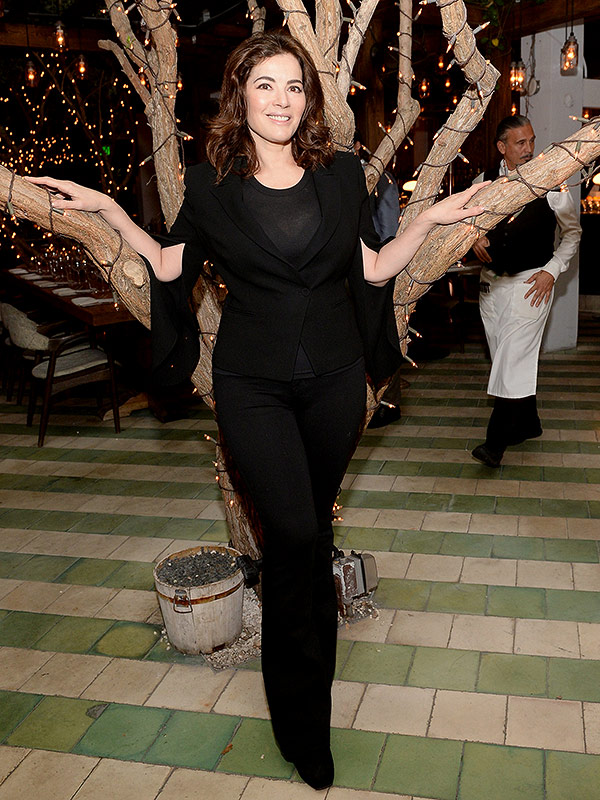 Rodrigo Varela/Getty
The last few years have not been easy for Nigella Lawson: She went through a messy public divorce, braved drug-use allegations against her, testified in the fraud trial of her former assistants, and had to start over financially on her own. But the celebrity chef is coming out on top with a new cookbook and a positive outlook on life.

"The thing that's quite interesting about doing a new book is that there's always a new beginning as it relates to the past," Lawson tells PEOPLE at a dinner Friday night for her cookbook Simply Nigella, held at the Soho Beach House during the South Beach Wine & Food Festival in Miami.
RELATED: Why Nigella Lawson Will Never Use the Term 'Clean Eating'
"For me, one of the joys of cooking is that mixing—the comfort of the familiar and the exuberance of the new. So, things are never completely new but there's always new enthusiasm and new direction," says Lawson, 56.
As for new directions, Lawson, who looked striking in a sleek black pant suit, said, "My life is great…the thing is, I can never say how my life is because I'm too busy living it."
RELATED: Nigella Lawson Keeps Salt, Mustard and Hot Sauce by Her Bedside: 'It's Not Meant to Be Funny, It's Very Helpful'
During the dinner, which was sponsored by Santa Margherita wines, Lawson told the crowd of her new book: "The 'simply' really is about food that is not complicated. None of my food is ever complicated, but I do feel always the need to say that cooking is really just about flavor and you can get enormous complexity of flavor while having a very easy process."
The self-described "home cook" also gave some insight as to what she actually cooks at home — and, not surprisingly, her approach is all about comfort and ease. "I'm like most people, there's an awful lot of chicken and I always like vegetables," she says. "I do find I make lots of roast vegetables with many sauces." In fact, the author admits, "I'm a bit of a condiment queen. I love making a cheese sauce, I like a bit of tahini sauce, I love all that."
RELATED: Giada De Laurentiis and Boyfriend Shane Farley Share Laughs and Burgers at South Beach Wine & Food Festival
Her book was recently credited for a rise in UK buckwheat sales after Lawson featured a cookie recipe using the grain. As to the connection, Lawson says, "It's very nice if you can make people interested in a certain food." But, the chef certainly doesn't see that as her ultimate goal. "What I love is people cooking a recipe and it's making them have a lovely dinner at home and they are thrilled with it."
Lawson does admit to loving her social media interactions with fans, saying, "When people say on Twitter, 'I'm cooking this' and they send me a picture, or if I do a hashtag 'Simply Nigella' and I see all the recipes they're cooking from the book, it's so nice."
RELATED: How Nigella Lawson Looks So Good — Even Though She is Surrounded by Delicious Food
"That is why it's so personal because you're cooking something that is a part of my life, and then it goes and becomes a part of someone else's life and that's a very intimate connection."
—Becky Randel