Blake Shelton Introduces New Brand of Vodka: 'I'm Excited for Everyone to Finally Taste'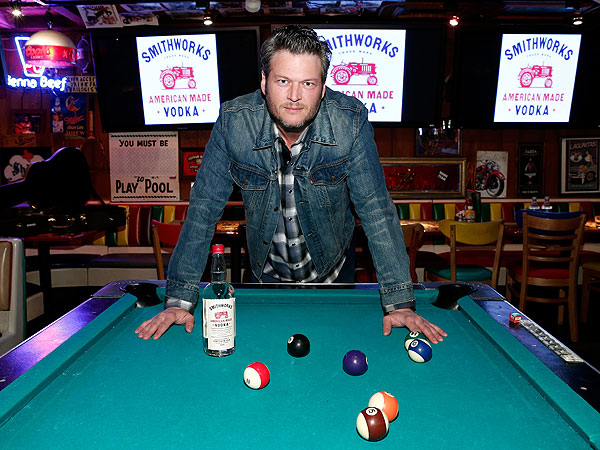 Rich Polk/Getty
The only thing more country than being a country artist is introducing a line of Arkansas-made vodka.
On Tuesday, Blake Shelton announced the launch of his new boozy brand, Smithworks.
"I grew up in Ada, Oklahoma and was raised on the values of hard work, humility and an appreciation for the simple things that make up a good life," he said in a statement. "As part of the Smithworks family, I've been involved in the development of the brand, and I'm excited for everyone to finally taste what we've been crafting. At its core, Smithworks celebrates that moments in life are better spent with good people and great drinks."
RELATED: Drop Everything and Watch This Crazy Video of Justin Timberlake Dressed as a Lime
The vodka, which Shelton likes to drink with ginger ale (respect), is made with corn from Kansas, Missouri and Oklahoma and is finished and bottled in Fort Smith, Arkansas.
Shelton isn't the first musician to try his hand at the alcohol business. The country star will join such burgeoning liquor moguls as Drake (whiskey), 50 Cent (vodka) and Jay Z (Armand de Brignac Champagne).
RELATED: Drake Is Launching His Own Whiskey Line So You Can 'Celebrate with Class'
This has been a big week for the singer, who hit the red carpet with girlfriend Gwen Stefani for the first time as a couple at the Vanity Fair post-Oscars party. (They seemed awfully "giddy," according to onlookers, which begs the question: Were they hiding flasks of the new vodka?)
Smithworks will roll out in limited markets across the U.S., including Arkansas, Colorado, Kansas, Missouri and Oklahoma.
—Maria Yagoda, @mariayagoda