Hungry Girl: 4 Sneaky Habits Sabotaging Your Diet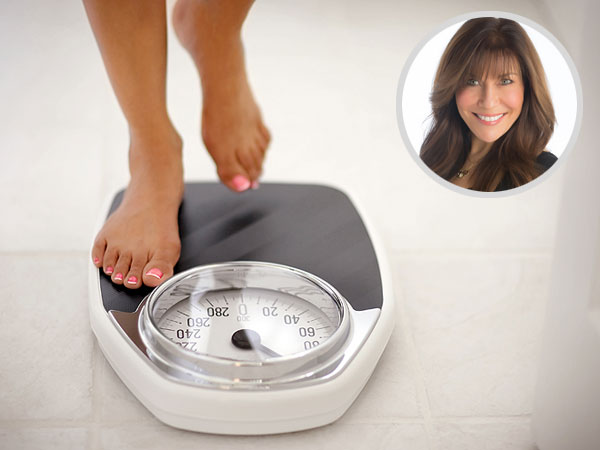 Getty; Inset: Lisa Lillien
Lisa Lillien is the author of the popular Hungry Girl website and email newsletter, featuring smart, funny advice on guilt-free eating. She is also the author of ten books, six of which debuted at number one on the New York Times Best Sellers list. Read her PEOPLE.com blog every Monday for slimmed-down celebrity recipes and more.

Heads up: common misconceptions about diet and exercise could be messing with your weight-management efforts! If any of these four habits sound familiar to you, take note.
"I'm FAT."
Your brain is tricky. If you think of yourself as overweight – even if you're not – this study found that you're more likely to gain weight over time than those who don't have that belief. I'm not saying that ignorance is bliss, but you don't want to set yourself up for failure, either. My advice? Make healthy choices, but don't obsess. Researchers found that people who saw themselves as overweight were more likely to overeat in response to stress. Berating yourself will do nothing but make you feel bad, so treat yourself right, inside and out!
RELATED: Hungry Girl: My Blueberry Muffin Overnight Oatmeal Is the Perfect Way to Start the Day
"Fitness-branded foods are always good choices."
It's common to see products on shelves that display fitness-related words or images, like the word "Fit" in the product name or active models on the packaging.  It's especially prevalent in snacks. But before you load up your cart, read this: a recent study found that weight-conscious participants ate far more of a given snack mix when the product name and packaging promoted fitness. Those same snackers also went on to exercise less afterward. Eeeks! Remember to always read nutritional panels, and keep an eye on your portions. If you can't be trusted, I suggest portioning out single servings as soon as you get home from the store.
"I drink calorie-free coffee and soda to keep my weight down."
While those things might not have many calories themselves, drinking those beverages may be a sign that you're overdoing it in other areas. This study found that drinking coffee and consuming diet drinks were both associated with eating calorie-dense, low-nutrient foods. Don't go overboard on high-cal foods just because you're cutting calories from your drinks! If you're shooting for weight management, keep track of your daily calorie intake; I love websites like MyFitnessPal and activity trackers like Fitbit.
RELATED: Hungry Girl: How Technology Can Help You Lose Weight"
I tend to eat on the go… It's better than eating in front of the TV!"
OK, this one is super intriguing. According to this small study, subjects who ate a cereal bar while walking went on to consume more calories that day than those who ate the bar while talking to someone or watching TV. Apparently, physical activity can be even more distracting than other dining habits – your brain's not getting the message that you've been fed. So take a seat, enjoy your food, and then get back to your hustle.
'Til next time… Chew the right thing!