These Rainbow Doughnuts Are Guaranteed to Brighten Your Day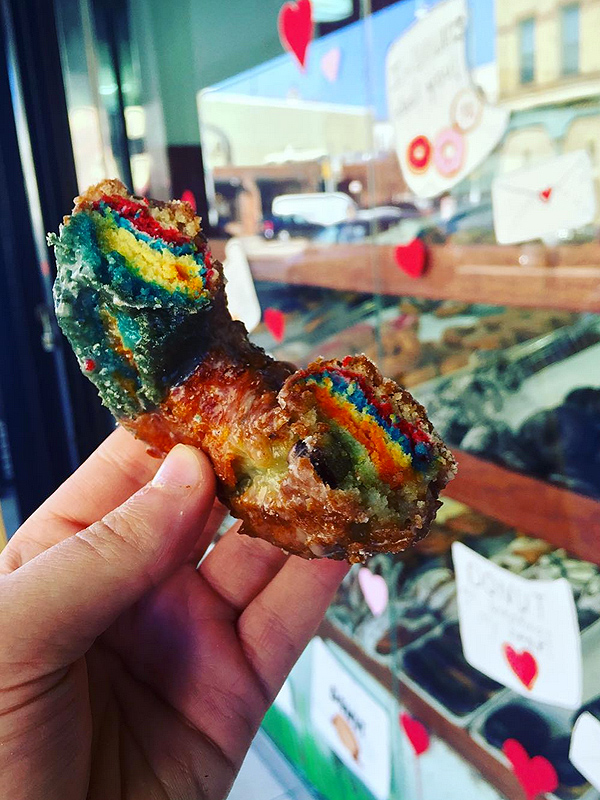 Moe's Doughs/Instagram
ICYMI: Rainbow bagels launched a colorful craze in New York City back in October and has continued to reign supreme ever since—even leading The Bagel Store to temporary close due to its inability to meet the crowd demand.

But now, the tie-dye bagels have some colorful competition … in the form of rainbow doughnuts. That's right: Vibrant colors are here to stay, but it's the medium that's changing.
RELATED: Is This the End of Rainbow Bagels? N.Y.C.'s The Bagel Store Has Closed Indefinitely
Moe's Doughs, a doughnut shop located in Brooklyn, N.Y., recently launched its first multi-colored doughnut.
"We're changing the game with this new Rainbow Cake Donut," reads the eatery's Instagram caption. "Just a little secret … It's not food coloring, but it's a mixture of your favorite cake donuts."
RELATED: Here's How Those Instagram-Famous Rainbow Bagels Are Really Made (VIDEO)
The new pastry has even captured the attention of Instagram's famed foodie Food Baby.
Through the years, we've seen different takes on hybrid foods, such as The Bagel Store's very own cross between a bagel and croissant, a clear response to Dominique Ansel's Cronut.
RELATED: Hungry for More Oscars Fashion? Check Out the Stars' Gowns Reimagined as Cookies
Tell Us: What do you think about the rainbow food trend? Are you interesting eating one? Sound off! 
—Grace Gavilanes