Kevin Bacon Is Promoting Eggs (Naturally) in This Hilarious New Commercial (VIDEO)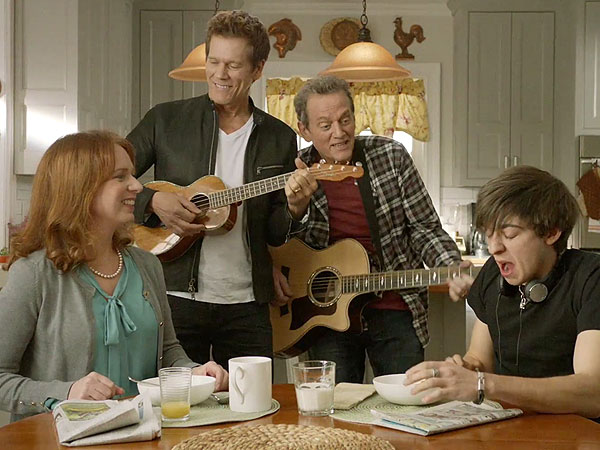 What's better than waking up to eggs and bacon? Waking up to eggs and Kevin Bacon.

The Footloose actor, 57, has once again teamed up with the American Egg Board, this time bringing his brother, Michael along for a new ad campaign called "Wake Up to Eggs with the Bacon Brothers". As part of the campaign, the Bacon brothers released a music video for  "E-G-G-S," a song they wrote and produced together.
RELATED: 11 Glorious Dishes Crowned With an Egg
The humorous video begins with a couple waking up to find Kevin in heir bed and Michael sitting in chair with a guitar in hand ready to sing.
"We're here to teach you about the power of waking up to eggs," Kevin, 57, tells the horrified couple. "Cause, who knows eggs better than the Bacon brothers."
From there, the brothers interrupt breakfast between a mother and her moody teenage son —who isn't nearly as receptive to their message and storms off because he thinks Kevin's movie are "pathetic."
"You know what's not pathetic? Eggs," says Kevin, and Michael adds, "Six grams of high quality protein and no sugar or carbs."
RELATED: Daphne Oz's Eggs with Sweet Potato Pancakes
Then, their next victim: a man in the middle of a shower. "Do you know that eggs are a good source of Vitamin D with nothing artificial?" sings Kevin as he hands the man a towel.
Unfortunately, their song is then interrupted by the cops, who show up because, well, what they're doing is kind of illegal.
—Chancellor Agard