Rage Yoga 'Is Just Like Any Other Yoga Class, Except with More Obscenities,' (and Beer) Says Its Founder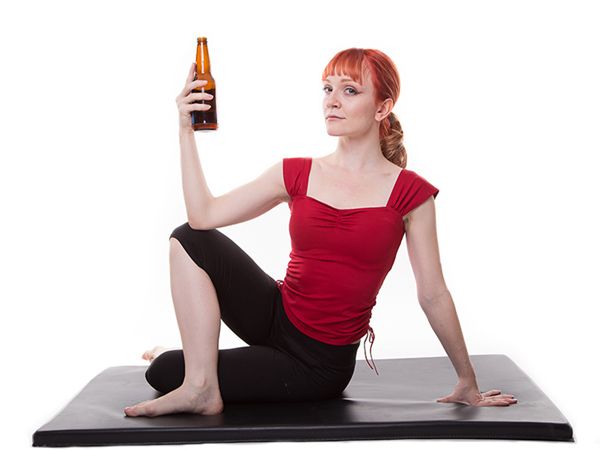 Courtesy Andre Goulet
Lindsay Istace created Rage Yoga after going through a painful breakup.

"My [yoga] practice is what got me through it," Istace, 24, tells PEOPLE. "But I was hurt, confused and angry. This started to come out in my home practice. There was a lot of swearing and shouting in poses, and I found that it felt great to let it out on the mat!"
The Canadian personal trainer joked about her unconventional home practice on Facebook, and one of her followers told her she should actually teach a "Rage Yoga" class.
"A joke lead to a one-off workshop, which was a success, and it got booked for another event," says Istace. "I had a lot of fun teaching it and people really liked it, so I decided I wanted to teach it regularly."
Istace says she often felt uncomfortable in her usual yoga classes, and thinks her students also appreciate the deviation from the norm.
"I never really felt like I fit into most typical yoga studios," she says. "There were times when I would start giggling, when I was about to fall over and I got glared at by the other students. Other times I felt that the overly serene approach actually had the opposite effect for me so I couldn't relax. It works well for some, but it's not for everyone – and I knew I wasn't the only one who felt this way!"
Now Istace teaches the class twice a week at a local pub to five to 15 students per session. Because of the less-than-typical venue, her classes are more laid back than a conventional yoga class.
"Before class starts, some people crack jokes, some grab a pint, some just hang out," she says. "We often start the class with some quiet breathing to strange music. We use everything from soft progressive rock to your typical soothing yoga music. I recently threw in the Jurassic Park theme song, just for kicks."
Then Istace guides her students through a practice based on Vinyasa yoga.
"For the most part, it is just like any other yoga class except with more obscenities and joking around," she says. "One of my favorite parts is when we get everyone to inhale up nice and tall, and then flop forward while screaming whatever they want. It's super therapeutic, allowing people to let out whatever might be bothering them and generally laughing about it afterwards."
Instead of concluding the class with a "Namaste," "everyone sits on their mats and we close with a big satisfying group 'f— yeah,' " says Istace.
Istace hopes her class will help her students find relief from any anger or negativity they have been holding onto.
"The main benefit that is more unique to Rage Yoga is that we create a safe space to deal with negative emotions in a positive way," says Istace. "I've never been able to will away negative feelings. Rage Yoga is a great way to harness and use them in a constructive way that makes you a stronger and happier person."
While Rage Yoga is currently only offered at Dickens Pub in Calgary, Istace may begin certifying others to teach the class.
"This won't happen anytime soon but I can see it coming to fruition within the next five years," she says. "In the meantime, I am building online classes and planning a teaching tour."
—Gabrielle Olya, @GabyOlya