Chicago Hot Dog Stand Is Selling 3-Inch 'Footlongs' Inspired by Donald Trump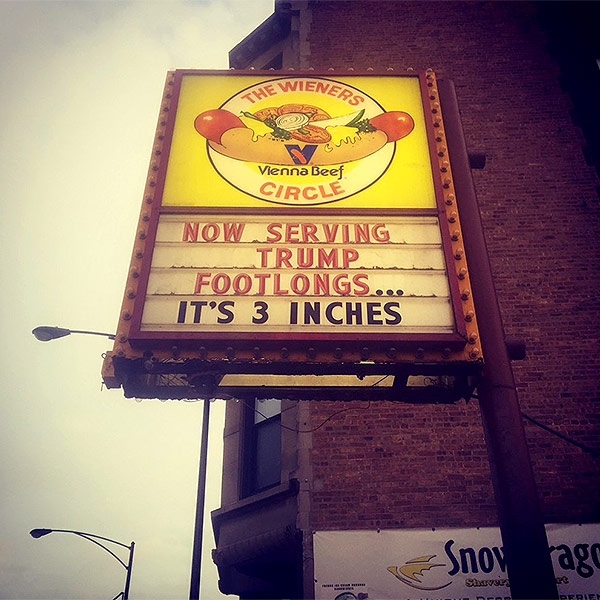 Source: The Weiner's Circle/Instagram
Everyone knows what they say about small … hot dogs.
The Wiener's Circle, a beloved Chicago hot dog establishment, is now offering some new dog specials inspired by GOP presidential front-runner Donald Trump.
RELATED: Iowa Restaurant Creates 'No-Nonsense' Donald Trump Burger
The Trump-inspired dogs are all three inches, a tongue-in-cheek reference to ongoing jokes about the size of Trump's hands. According to RedEye, The Wiener's Circle have put up Trump campaign signs that read "Trump Footlongs: Make Wieners Great Again," but a "Trump Footlong" hot dog is actually only three inches long. The restaurant has been having a lot fun on Twitter promoting the dogs (and mocking Trumpspeak).
Despite their tiny size, the dogs look pretty delicious, dressed with a pickle, tomato and raw onion.
RELATED: Rachael Ray Creates Burgers for the Presidential Candidates
Customers can purchase the 3-inch Trump footlong for $2.69, but if they're still hungry after (as we would be), they can go with the Trump Package, which includes two mini dogs with fries and a drink for $8.30, or the Super Pac, which includes four mini dogs and a drink for $12.56.
The topic of Trump's hands (and, well, other body parts) has resurfaced in recent weeks after Marco Rubio accused him of having small hands. At a recent rally in Virginia, Rubio said, "He's like 6'2" which is why I don't understand why his hands are the size of someone who is 5'2″. Have you seen his hands? You know what they say about men with small hands? You can't trust them."
Shortly after, Trump fired back during the Fox News Debate: "He referred to my hands, if they're small, something else must be small," said Trump at the GOP debate. "I guarantee you, there's no problem."
—Maria Yagoda, @mariayagoda