Gwyneth Paltrow Eats What She Wants When Traveling: 'I Don't Want to Be in Paris and Not Have a Croissant'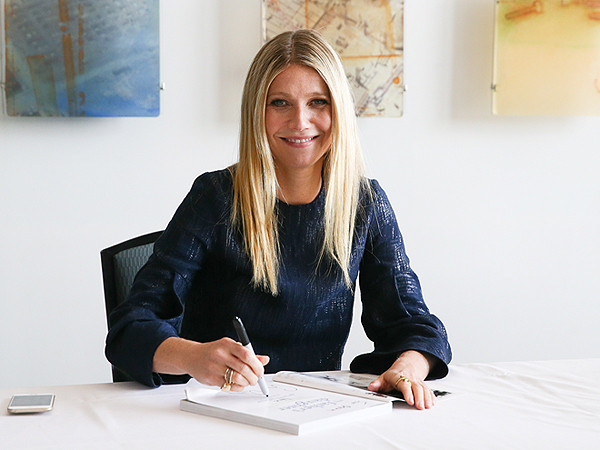 Gwyneth Paltrow?

The L.A.-based star has taken some pretty fabulous vacations and stayed at some of the most amazing places – and although we may not be able to vacation like her, we can learn from her useful travel tips. The Goop founder, who documents many of her getaways on her lifestyle site, opened up to the New York Times about her life on the road.
First and foremost, Paltrow makes sure to stay hydrated on the flight and beyond. "I drink tons of water, and I have a vitamin sachet that I put in it," she said. "I try not to eat rubbish either. I'll pack salad and fruit. If I'm going on an overnight flight, I'll drink whiskey or a glass of wine and then go to sleep, but on day flights, I try not to drink. When I land, I try to find a sauna to sit in for 20 minutes to help me sweat out all the germs from the plane."
RELATED: Look Inside Kris Jenner's Private Jet to Rome — Giant Tub of Caviar Included
The famous foodie – who is known for her healthy, yet occasionally indulgent diet –  doesn't concern herself with calories while abroad. "When I'm traveling, I would rather eat what I want and come home and tighten it up," she said. "I don't want to be in Paris and not have a croissant or goose fat potatoes. I love pasta in Italy, bread and cheese in Spain and wine everywhere. You don't have to indulge all day, every day, but I think it's important to your psyche to have flexibility and genuinely enjoy the food wherever you are."
Paltrow has the same philosophy when it comes to her exercise routine. "If I'm in Paris, I'd much rather take a walk and discover something amazing than be stuck on a treadmill at my hotel," said the actress.
The lifestyle guru also likes to make her travels family outings. "The best vacation I've ever taken was with my kids to Indonesia. We stayed at a resort in Bali and then slept on a wooden boat for three or four nights and also hiked with the Komodo dragons. It was a magical trip."
RELATED: Cameron Diaz and Benji Madden Cook for Gwyneth Paltrow: See Their Stunning Dish
Now, we know what you must be wondering — of all the incredible meals Paltrow has eaten on the road, what is her most memorable? "There's a restaurant on Koh Kood Island in Thailand called Benz's. You get on a boat and go up a river to get there. It is the most exquisite, spicy Thai food I've ever had. The flavors were incredible," she said.
–Michelle Ward Trainor