Hungry Girl: My Favorite Easter Candies Under 150 Calories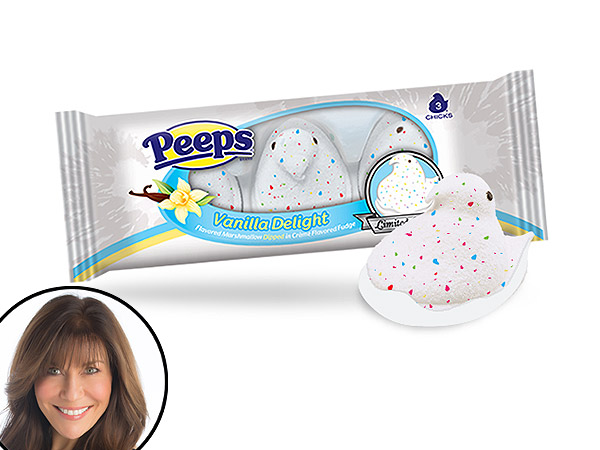 Courtesy Peeps; Inset: Courtesy Lisa Lillien
Lisa Lillien is the author of the popular Hungry Girl website and email newsletter, featuring smart, funny advice on guilt-free eating. She is also the author of ten books, six of which debuted at number one on the New York Times Best Sellers list. Read her PEOPLE.com blog every Monday for slimmed-down celebrity recipes and more.

When Easter rolls around, retailers basically go into Halloween-like mode –loads of candy, but all in pastel colors. Well, some of those sweets are smarter choices than others. (Sorry, life-size, solid-chocolate Easter bunny!) Here are a few treats to enjoy (in moderation, of course!)…
Peeps Vanilla Delight Marshmallow Chicks
These speckled marshmallows are the prettiest Peeps I've ever seen. And the great thing about marshmallow-based candies is that they're pretty light and low in calories. These are dunked in a crème-flavored fudge, so they're not as low as plain Peeps, but at 50 calories per chick, they're worth it! (BTW, this Peeps flavor is available exclusively at Target.)
Twizzlers Easter Grass Candy
"HG, isn't this just green apple Twizzlers Pull-n-Peel?" Yes, but it's such a fun way to market it that I don't really care. Well played, Twizzlers! Plus, a serving size of the green candy is 18 strands (140 calories), so it's pretty tough to eat too much of it.
RELATED: Hungry Girl: 4 Sneaky Habits Sabotaging Your Diet
M&M's Milk Chocolate Candies Fun Size Easter Packs
I'm a sucker for pretty colors, but plunging your hand into a giant bag of Easter-egg chocolate candies is probably going to result in a chocolate coma. Hooray for mini packs! The fun-size packages have about 75 calories each — portion control rocks.
Jelly Belly Superfruit Mix Jelly Beans
Jelly beans are an Easter classic, but this is 2016 – we can do better than the standard beans that basically just taste like sugar. Jelly Belly (a.k.a. the gold standard of jelly beans) makes this line with all-natural flavors and colors from natural sources. Acai Berry, Blueberry, Cranberry, Pomegranate, and Barbados Cherry? WOW. As always, each bean has 4 calories, so count out a reasonable serving and enjoy!
RELATED: Hungry Girl: How Technology Can Help You Lose Weight
Cadbury Creme Egg
Enough dancing around it, I know you want one. So when you inevitably cave to the Cadbury Creme Egg, know that each has 150 calories and 6g fat. And they're so insanely sugary that just one should satisfy you for the rest of the season.
'Til next time… Chew the right thing!