These Over-the-Top Doughnuts Are What Dreams Are Made Of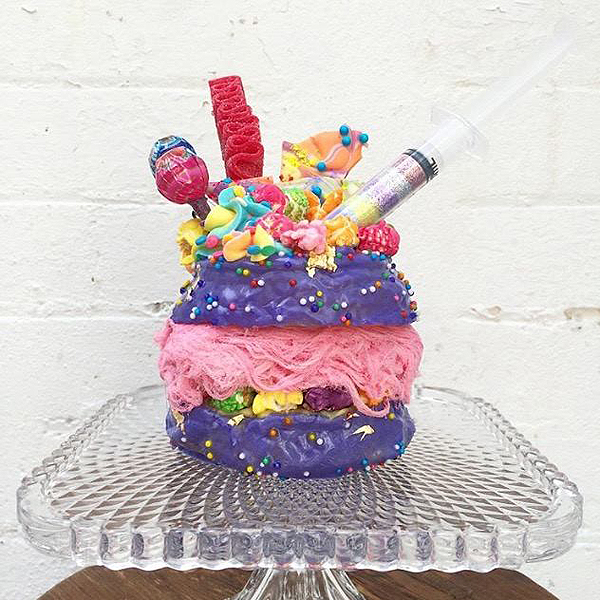 Doughnut Time/Facebook
In case you had any doubts, we are indeed blessed — particularly when it comes to out-of-this-world, amazing desserts.

More specifically, milkshakes, rainbow bagels and doughnuts have been clogging our feeds for months (not a complaint, just an observation), which has filled us with equal parts envy, happiness and wanderlust.
RELATED: These Rainbow Doughnuts Are Guaranteed to Brighten Your Day
And this most recent finding is no different. Hailing from Brisbane, Australia, Doughnut Time has been churning out a mix of modestly frosted doughnuts and over-the-top creations since it first opened in 2015.
In honor of its one-year anniversary, the bakery enlisted the help of 120 bakers to dream up extravagant and stunning doughnuts, which included one that was stacked with popcorn, chocolate bark, strawberry sour strips and more Willy Wonka-type treats (pictured above).
RELATED: These Crazy, Over-the-Top Milkshakes Are Taking Instagram by Storm
Keep scrolling to see 7 of our favorite doughnut towers from the shop's celebratory call-to-action, and the people who could really benefit from
1. For the Person Whose Resolution Is to Eat More Fruit
And yes, passionfruit glaze counts.
2. For the Person Whose Glitzy Dream Is to One Day Star on The Real Housewives

This just screams Lisa Vanderpump.
3. For the Person Who Refuses to Eat Anything Not in Sandwich Form
We can't blame you.
RELATED: Starbucks' New Frappuccino Flavor Is Like Spring in a Cup
4. For the Person Who Can Always Go for a Midnight Churro
Read: Every living, breathing human on this earth.
5. For the Person with Three Secret Wedding Inspo Pinterest Boards
No judgments.
6. For the Person Who Is a Kid at Heart (and Is Obsessed with His/Her Birthday)

It's like your 10th birthday party and Halloween rolled into one.
7. For the Person Who Never Turns Down a Challenge
Bring it on, four-tiered doughnut dessert.
RELATED: How to Make Rainbow Bagels (VIDEO)
Seems like a good enough excuse to pack our bags and move there, right? The answer is yes, because where there are over-the-top doughnuts, there is life.
—Grace Gavilanes